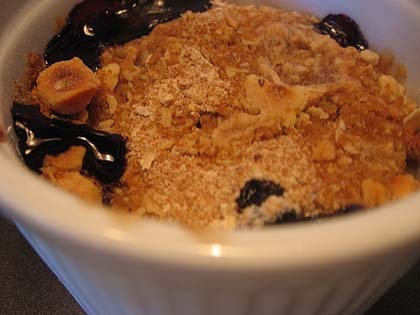 I have been meaning to make a blueberry pie all Summer — in fact, I have always wanted to make a blueberry pie. Unfortunately, I hadn't done so yet but then I came across some tasty looking berries at Limbo and was inspired. Sure I was hot and yes, I was kind of lazy. That's when I decided a blueberry crumble would be just as good. It was. Was there really any doubt? Nope. So, grab yourself some blueberries, a lemon, some assorted crumble accoutrements and you're all set.
And, as if that was not enough, as an experiment, I mixed up some plain, non-fat yogurt, seeds from a vanilla bean, a little sugar and some cinnamon and threw it in the ice cream maker. I didn't strain it or anything, just mixed it all up and that's it. I ended up
with some pretty tasty non-fat frozen yogurt for the top of the crumble.
Blueberry-Hazelnut Crumble
Slightly based on a crumble recipe from the Whole Foods web site
2.5 cups blueberries (about a pint)
1 tsp sugar
1/2 tbsp flour
1/2 tbsp lemon juice
1/2 cup flour
1/2 cup brown sugar
1/4 cup oats
1/4 cup chopped hazelnuts
1/2 tsp cinnamon
4 tbsp butter
Preheat oven to 375 degrees. Rinse the berries and drain thoroughly. Put the blueberries in a mixing bowl and add lemon juice, sugar and one half tablespoon of flour. Set aside until you are all ready with the crumble topping.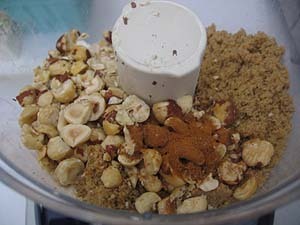 In a food processor, pulse together the remaining ingredients until they resemble coarse breadcrumbs. Okay, fine, course breadcrumbs made of butter, oats, sugar and nuts.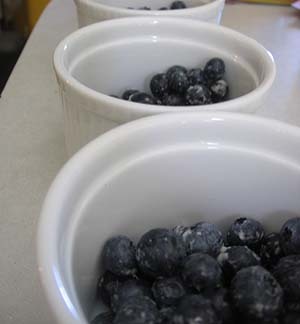 Combine, and pour the blueberries into four 1 1/2-cup ramekins. You could, of course, just make one big crumble in a 9-inch pie pan. Next, cover the berries with the topping and bake for thirty minutes until the top has browned and the fruit is bubbling.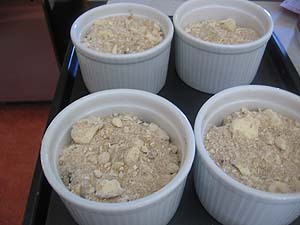 You may have a little topping leftover — just store it in the fridge and make yourself another small, single-sized crumble one night after work. Shhh!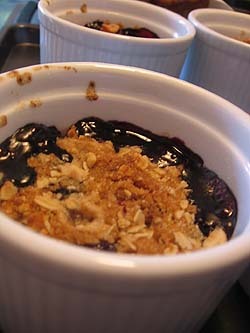 Can be served hot or at room temperature. Goes very well with ice cream or frozen yogurt — store bought or experimental.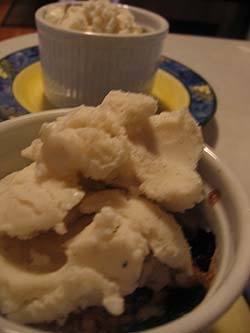 Coming up also this week: a fish dish with olives, capers and…bacon (!) and September's Weekend Cookbook Challenge from one of my most favorite cookbooks of all time.