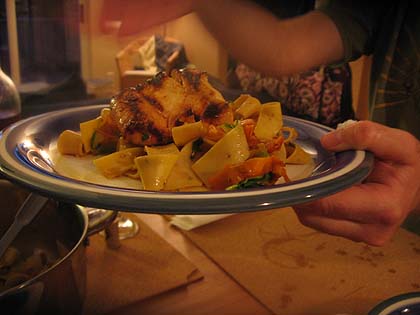 Over Labor Day Weekend, jwa and I headed to the coast to celebrate his birthday. We had a really nice time and a dinner that was so good I'm pretty positive that I'll be making it again soon. It's always a little challenging working in an unfamiliar kitchen but this worked out pretty well.
I put the marinade together at home and brought it to the beach in a cooler and we picked up some halibut in Cannon Beach at the Ecola Fish Market. The original recipe was for tuna (on epicurious.com) but it was great with the halibut. Plus my new favorite thing to do is toss avocado with fish (salmon, tuna, halibut, etc…) and this fit that bill perfectly.
Marinade:
3 tbsp unseasoned rice vinegar
2 tbsp finely grated peeled fresh ginger
2 tbsp peanut oil
2 tbsp toasted sesame oil
2 tbsp soy sauce
2 tbsp honey
2 tbsp chopped fresh cilantro
1 serrano chile, seeded, minced (or a pinch red pepper flakes or a few dashes chili oil)
Along with…
halibut (about a pound for two)
Pasta (linguine, fettucine, etc…)
1 avocado
1 lime
sesame seeds
more cilantro
1 tbsp olive oil
2 medium carrots
1 medium zucchini
red pepper flakes
salt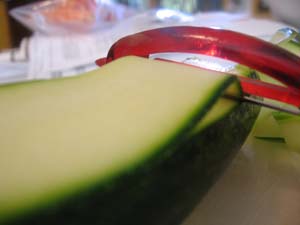 Mix the marinade ingredients together and marinate the halibut for about an hour. Meanwhile, clean the carrots and use a vegetable peeler to make very thin strips.
Do the same with the zucchini. Add a little olive oil to a pan and saute the vegetables with a little salt until tender and starting to get a little color.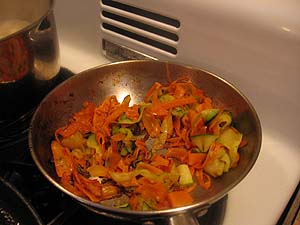 When the fish is ready, heat a little olive oil in a pan and grill on the stove top for a few minutes on each side until done to your liking. You can bring the marinade to a boil and then simmer for a few minutes to mix in with the pasta and serve with the fish. You can also double the marinade recipe and use half for the fish and half for the pasta/serving.
Dice the avocado and toss with the juice of a lime, chili flakes, salt, sesame seeds and extra cilantro.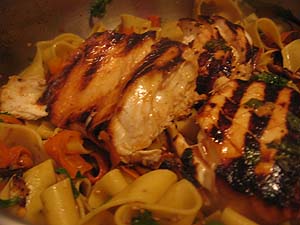 To serve, pile the pasta in a big bowl and top with the halibut and avocado.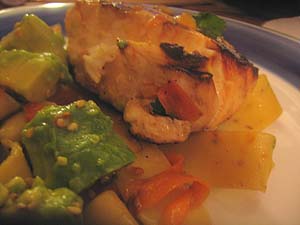 The Lighthhouse
Manzanita, OR
As if the meal wasn't enough, we also found a pretty nice place to stay in Manzanita. It's a 1/4 of a block off the ocean and has a balcony with a great view. It's also cheaper than Coast Cabins, has a nice kitchen and (imho) is in a better location.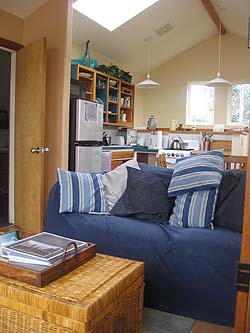 \
View of the couch, kitchen and dining area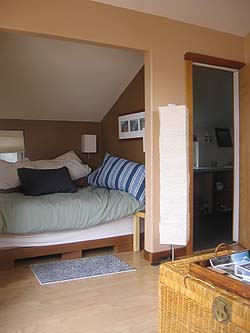 Sleeping alcove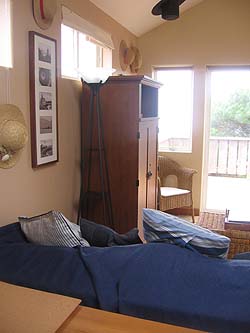 "living room" area and balcony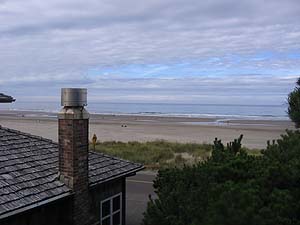 View from the balcony
Pros: nice atmosphere/interior, great location, full kitchen (microwave, stove/oven, fridge, sink), balcony with ocean view, cozy, good comparative price
Cons: couch smelled a little like dog (pets are allowed), have to light burners with a match, uh, that's all I can think of!