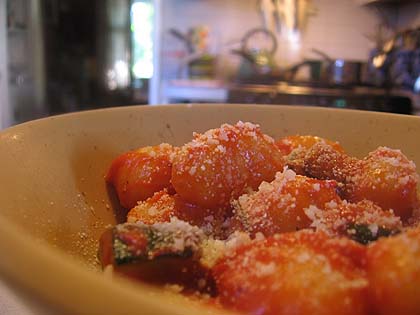 A week or so ago, jwa and I were outside surveying the garden and we noticed we had about 40 tomatoes (a mix of Early Girls and Romas) that had all ripened at once. Seriously. Something needed to be done and be done fast.
Enter Provencal Tomato Sauce. Wow — so tomatoey and garlicky. Make a batch or two and enjoy a little bit now and a little bit later from the freezer. I found this sauce to be so rich and intensely tomato flavored, I even added a little vegetable stock to thin it out just a bit.
We had some over some plain store bought gnocchi. Wonderful. The rest will be enjoyed over some linguine one night, once the weather is chilly again.
Provencal Oven-Roasted Tomato Sauce
Recipe adapted from Gourmet magazine
olive oil for brushing pans
1 head garlic
4 pounds vine-ripened red tomatoes
1 tbsp fresh rosemary leaves
1 tbsp fresh thyme leaves
3 tbsp fresh orange juice, or to taste (I used the juice from 1 medium orange)
Optional: 1/4 cup vegetable stock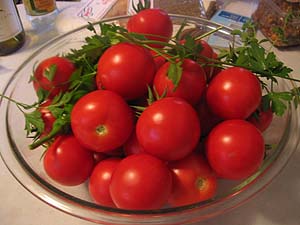 The garden tomato bounty
Preheat oven to 450 degrees F. and lightly brush 2 shallow baking pans with oil. Now, if this temperature is too high for your oven (read: if it's not spotlessly clean, it'll smoke), do it at 425 degrees and just increase the cook time about 5-10 minutes. How do I know this works? Let's just say I will be cleaning the oven soon…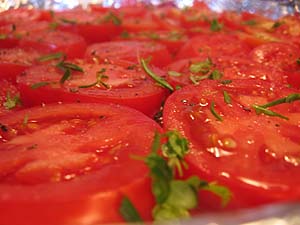 Separate garlic head into cloves, discarding loose papery outer skin but keeping skin intact on cloves, and wrap in foil, crimping seams to seal tightly. Cut tomatoes into 1/2-inch-thick slices and arrange in one layer in baking pans. Sprinkle 2 teaspoons each of rosemary and thyme evenly over tomatoes and season with salt and pepper.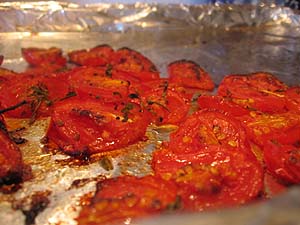 Put foil-wrapped garlic in one of baking pans with tomatoes and roast garlic and tomatoes in upper and lower thirds of oven, switching position of pans halfway through roasting, about 35 minutes total, or until garlic is tender and tomatoes are slightly charred. There will be tomato shrinkage — that's okay. Unwrap garlic and cool slightly.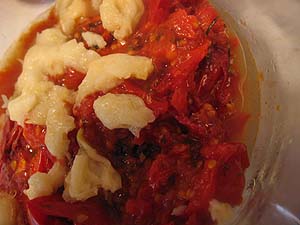 Peel skins from each clove and force pulp with warm tomatoes and herbs through a food mill fitted with small disk into a bowl. Another option is to use a hand-held blender and puree it that way. The blender will leave little bits of tomato skin, skin but I didn't mind that at all. It builds character.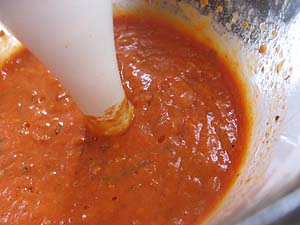 Finely chop remaining teaspoon rosemary and remaining teaspoon thyme and stir into sauce with orange juice. If it's a bit thick, this is where you an add a little vegetable stock. Season sauce with salt and pepper and reheat if necessary. Sauce keeps, covered and chilled, 4 days or, frozen, 4 months. To reheat, simmer sauce over low heat and reseason with orange juice, salt, and pepper.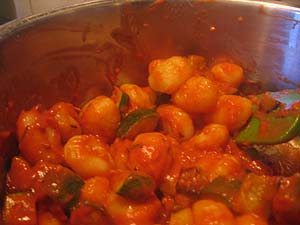 Like I mentioned above, I served this sauce with gnocchi and sauteed zucchini. It made great lunches for both jwa and I to bring to work.