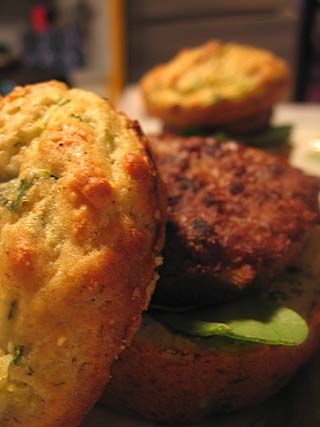 I love these muffins — for they helped me use up some zucchini and the pepper and parmesan is a nice change from the typical zucchini bread spices. Also, sliced in half with a sausage patty in between makes a great breakfast!
You could also easily turn this into zucchini bread, just start checking on it's doneness after about 35 minutes or so. If I had to guess, I'd say 45 minutes for bread.
Zucchini Basil Muffins
Adapted from Gourmet Magazine
1 1/4 cups all-purpose flour
3/4 tsp salt
1/2 tsp baking soda
1 tsp double-acting baking powder
1/2 tsp black pepper
2 tbsp vegetable shortening, softened
1 tbsp sugar
1 large egg
1/2 cup buttermilk (add more if it doesn't seem moist enough — I think I used somewhere between 1/2 – 3/4 of a cup)
1 1/4 cup coarsely grated, well-scrubbed and drained well zucchini (about 2 medium)
1/4 cup finely chopped fresh basil leaves
2 tbsp + 2 tsp Parmesan cheese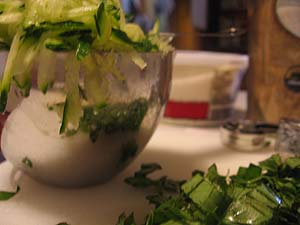 In a small bowl whisk together the flour, salt, baking soda, baking powder, 2 tablespoons of cheese and the pepper.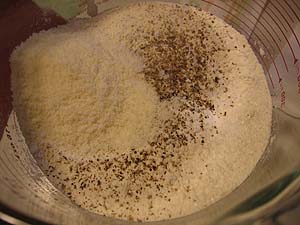 In a bowl cream together the shortening and the sugar, beat in the egg and the buttermilk, beating until the mixture is combined well. Then, stir in the zucchini and the basil. I find it helpful to drain the zucchini before adding to the mix by gathering it in a tea towel and squeezing, squeezing and squeezing.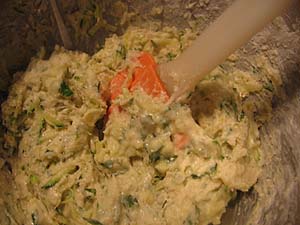 Add the flour mixture to the zucchini mixture, stir the batter until it is just combined, and divide it among your buttered (or canola oil sprayed) muffin cups. Sprinkle a little of the remaining cheese on the top of each muffin and hit it with a little oil spray.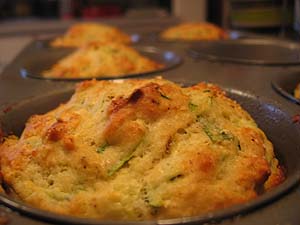 Bake the muffins in the middle of a preheated 400 degree F oven for 15 to 18 minutes, or until a tester comes out clean, turn the muffins out onto a rack, and let them cool.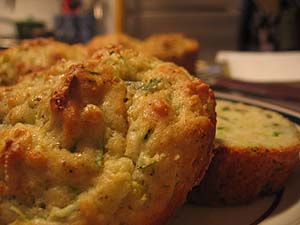 As mentioned earlier, for a tasty breakfast sandwich, halve the muffins horizontally, spread one of the cut sides with a little Dijon mustard, and add a cooked and browned vegetarian sausage patty. Maybe even throw on a few leaves of spinach. Go crazy.