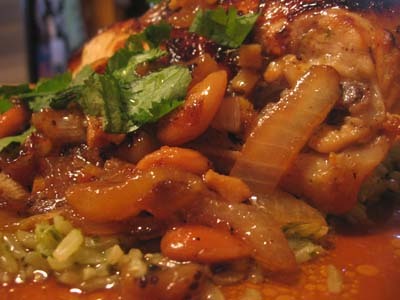 For this Weekend Cookbook Challenge we're supposed to pick a cookbook that we want everyone to know about. Well, honestly, this one was pretty easy for me. The Farmhouse Cookbook by Susan Herman Loomis is one of my most favorite cookbooks ever. Ever! It's also one of the first cookbooks I ever bought. From the cover:
"A cook's two-year odyssey through the small farms, ranches, dairies, vineyards and orchards of America, with 300 recipes fresh from their kitchens."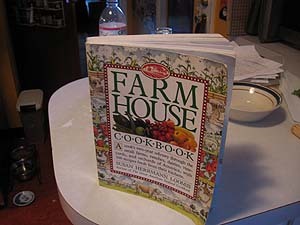 For those who like to read cookbooks as a type of story, it really doesn't get any better than this one. It also has such a great collection of eclectic and interesting recipes. Here are just some I've made since I first got the cookbook in 1991:
* Lamb Chops with a Hazelnut Crust and Rosemary Cream Sauce (for jwa's 27th birthday dinner — for reference, he just celebrated his 36th birthday. Scary!)
* Mary Navarette's Garlicky Enchiladas
* Chilled Honeydew Soup
* Blueberry Muffins
* Sunburst Lentil Salad
But, for this event, I made something new, "Becky Campbell's Chicken with Carambola." Well, I kind of did. See, I thought it was starfruit (carambola) season but I couldn't find any at all. Anywhere. So, I substituted gold kiwi. I think it worked well but the next time I see some starfruit, I will pick some up and make this again!
Becky Campbell's Chicken with Carambola
1 3.5 to 4 lb. chicken cut in pieces (since there were only two of us, I used 2 bone-in chicken breasts, which was probably about 1.5 to 2 lb total)
1/4 cup olive oil
1/4 cup lie juice
zest of 2 limes
2 small onions, peeled and thinly sliced
2 tbsp honey
1 tbsp fresh ginger; minced
1 serrano or jalapeno with seeds; minced
4 carambola (or kiwi if you have to sub) cut in 1/4″ thick slices
salt & pepper
1/2 cup almonds, raw and whole
1 small bunch cilantro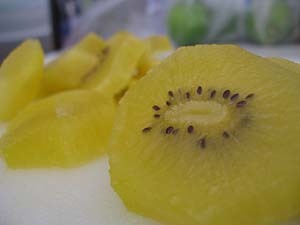 Rinse chicken well and pat it thoroughly dry. In a large bowl, whisk together olive oil, lime juice and zest, onions, honey, ginger and minced pepper. Stir in three-fourths of the carambola slices. Then add the chicken, and turn it until it is coated with the marinade. Cover and refrigerate overnight, or up to 2 days, turning the chicken occasionally so it marinates evenly. I just used a freezer bag and squished it around every so often.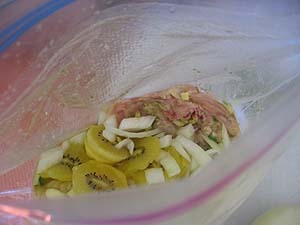 Now, I deviated from the recipe slightly by browning my chicken first. So, season the chicken with salt and pepper and then brown the chicken quickly on each side in a hot pan, about 2 minutes per side. If the skin gets a little too brown (the honey can burn a little), you can always pull the skin off before serving.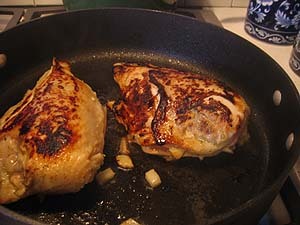 Arrange chicken in a single layer in a 9 x 13″ baking dish. Add almonds to the marinade, stir, and spoon it over the chicken. If you used an oven-proof pan to sear the chicken, you can also just do all of this in the pan.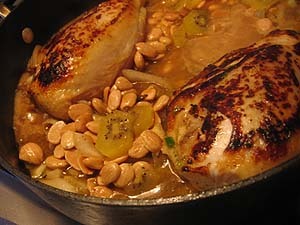 Bake at 375 F. in the center of the oven, basting frequently with pan juices and turning any chicken pieces that get too brown, about 30 minutes. Add remaining carambola, stir, and continue cooking until the chicken is golden and a thigh yields clear juice when pricked at its thickest part, 15 to 20 minutes. Now, for my two chicken breasts, they were in the oven for about 35 minutes total — 25 minutes, then I added the extra kiwi, then about 10 more minutes and they were done. Use a thermometer and check the temp as needed.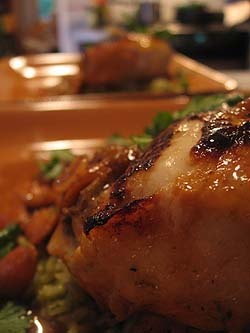 Taste the sauce and adjust the seasoning. Just before serving, mince the cilantro if you are using it. Serve chicken right from the baking dish, or divide among four warmed dinner plates. Spoon sauce over the chicken, garnish with cilantro and serve. We had the chicken with jasmine rice made green by some pureed spinach in the cooking broth.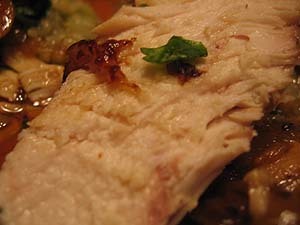 Using chicken breasts with the bone and skin really kept it all moist. All in all, we were both very pleased with this meal! The breasts were so big, we even had leftovers for lunch the next day. As always, thanks again to Sara at Weekend Cookbook Challenge for another great event!