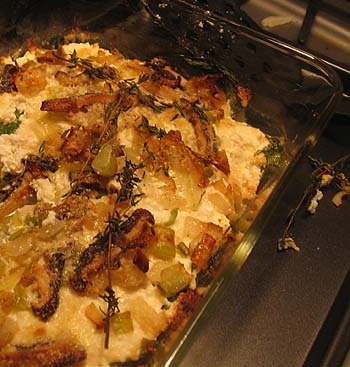 So, I was all set to do an Indian-inspired Mahi Mahi next when Guilty Carnivore sung the praises of Tilapia in a recent comment. I am very easily influenced by the things that I read so I decided to pick some tilapia up on the way home last week — $5.99/pound at the Whole Foods by work (if I remember correctly). The Mahi Mahi in the freezer will have to wait until next weekend. I'm sure the Mahi Mahi won't mind — it's hanging out by some vodka.
I wasn't sure of what to do with the tilapia first. I saw a recipe where prosciutto is wrapped around it and the fish is grilled with sage. I even considered throwing some Parmesan into that equation, but after being mocked by jwa last week for cooking fish with bacon, I decided to try a different approach this time.
What I ended up with was actually pretty good — kind of like a fish lasagna. Both jwa and I agreed that we would definitely eat it again. And there was no bacon or pork products involved at all! Hooray! (or boo!) — I don't know which one.
Baked Tilapia Layered with Ricotta and Vegetables
about 1 lb tilapia
1 tbsp olive oil
1/2 tsp dried basil
1 leek, washed well, trimmed and sliced (use a large leek or 2 small leeks)
3 cloves garlic, minced
2 medium zucchini, sliced into rounds
20 shitake mushrooms, stems removed and sliced
1 cup loosely packed baby spinach
3 tbsp (or so) white wine
1 cup low fat ricotta cheese
1/3 cup Parmesan cheese, grated
5 sprigs fresh thyme
salt & pepper
On the side
Cooked pasta (parpadelle works well) tossed with:
2 tomatoes, chopped
1/2 cup pitted green olives
olive oil
salt & pepper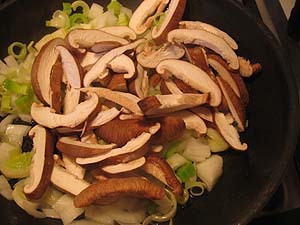 Preheat the oven to 375 degrees. Heat a pan over medium heat and add the oil. Sauté the leek, garlic and mushrooms with the dried basil until the veggies are starting to get soft and they have a little bit of color — about 5-6 minutes.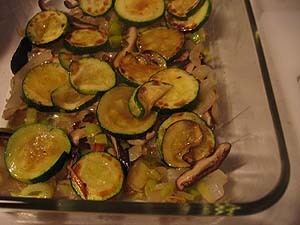 Spread about 1/2 of the vegetable mixture in a casserole dish. It should just cover the bottom. My dish was about 8 inches by 6 inches. If you are using a bigger dish, you may want to sauté few more veggies. Salt and pepper the fish on both sides and lay that down on top of the veggies and sprinkle with the wine.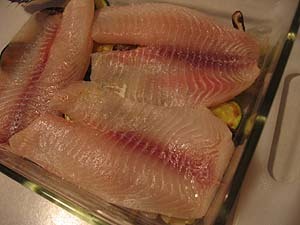 Next comes the spinach. Lay that down and spread the ricotta over it. Finish it off with the remaining vegetables and the Parmesan cheese. Drizzle with a little olive oil and lay the thyme sprigs on top.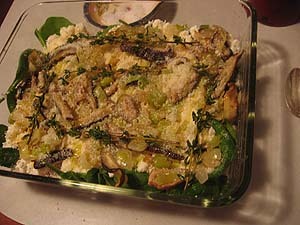 Bake in the oven for about 40 minutes, until the spinach, veggies and wine have given off some liquid. My theory was that this would help the fish stay nice and moist while the top got a bit golden. I think it worked well.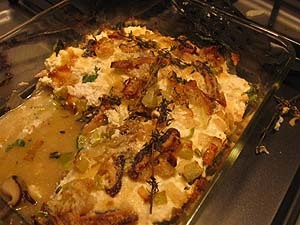 So you see, I didn't lie about the liquid in the pan after removing a piece. I chose to not cook the spinach first so it gave off some water. This didn't bother me but if you want less liquid after baking, just sauté the spinach with the veggies and just add it that way. Anyway, after it comes out of the oven, let it all sit for a couple of minutes and serve with the pasta. In a surprising turn, I must say that the leftovers brought for lunch were even better a couple of days later!
Now, back to watching some more Burn Notice episodes! Maybe fish experiment number three will be prepared with only my cell phone, laptop and things I can get at the hardware store. Oh and there will be yogurt.