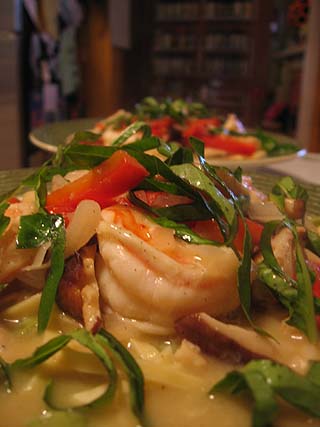 For Weekend Cookbook Challenge #19 the theme is dinner and a DVD and is being hosted by Chef Girl. For this WCC, I pulled out my brand new copy of The Joy of Cooking and thumbed through the seafood section as one of the movies we had at the house via netflix, was, "Lady in the Water." It's a little bit odd, unexpected, it makes you wonder if it'll be any good or not. Then there's the movie. Hahahahaha. Just kidding.
And, if I hadn't just started a new job, I would have picked a well-loved and favorite movie for this and not just used the most recent netflix option but, hell, I am tired — Lady in the Water it is. Although, we are at some point planning a Rushmore / The Royal Tenenbaums dinner film festival soon. It just didn't happen for this WCC event.
Anyway, vanilla bean in a coconut-y, somewhat Asian-inspired shrimp dish — could it work? Let's find out!
Vanilla Coconut Shrimp
Based on a recipe in The Joy of Cooking, although, I added the garlic, shitake and red bell pepper
1/ 4 cup olive oil
2 shallots, finely chopped
12 shitake mushrooms, sliced, stems removed
1 red bell pepper, sliced
2 cloves garlic, minced
1 1/2 cups dry white wine
1 vanilla bean, split and seeds scraped out
1 cup chicken or vegetable broth
1 14 1/2 oz coconut milk
2 tsp minced ginger
1/4 tsp salt
1/4 tsp pepper
1 lb large shrimp, peeled and deveined (I had a bit under this amount — 10 large shrimp total — worked fine)
1/4 cup chopped fresh basil
cooked rice or pasta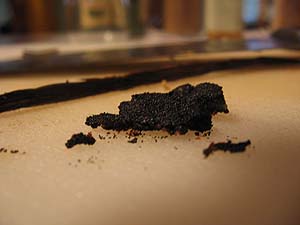 Heat the oil in a large skillet over medium high heat. Add the shallots, garlic, mushrooms and belle pepper (it's a lady pepper!). Cook about 5 minutes and then add the wine and vanilla bean. Bring to a simmer ad reduce the wine by half — about 7-8 minutes.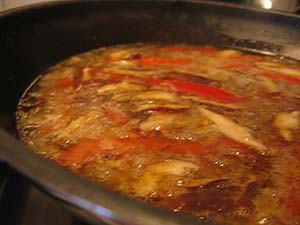 Next, add the broth, coconut milk, ginger, salt and pepper. Bring to a simmer again and reduce sauce by half — about 8-10 minutes.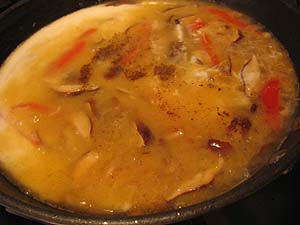 Th shrimp goes in next. Turn it once while cooking, for a total of about 8 minutes.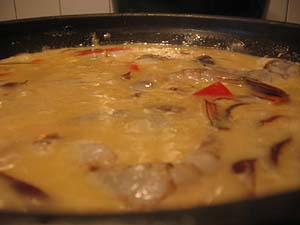 Also, don't forget to cook your pasta or rice. Hey — what's this in my pasta water? Oh, it's a Stash lemon & ginger herbal tea bag for a little extra flavor.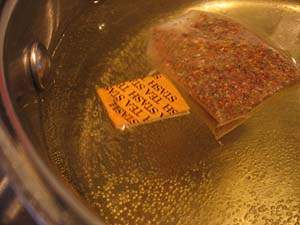 Serve the shrimp and coconut-vanilla sauce over the pasta (or rice) and top with the basil. Pop your movie in and pour some wine.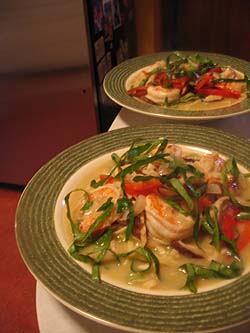 We found that yelling out, "I'm not drinking any fucking merlot," periodically throughout the movie (especially during suspenseful moments) is much fun — and we were drinking a sauvignon blanc so it was factual as well.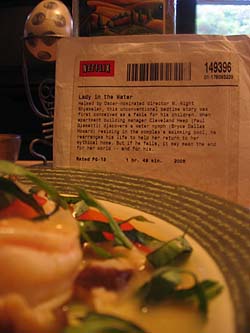 Both jwa and I were pleasantly surprised by how well the vanilla and coconut milk came together. This was a very good meal made even better by a simple yet delightful dessert of vanilla frozen yogurt, peaches and port. Did that have anything to do with the movie? Not really, it was just tasty.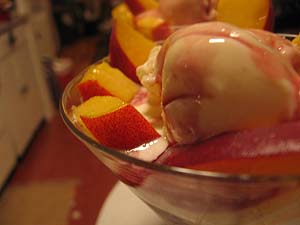 As for the movie, I thought it was okay. It was definitely missing that creepy in the ordinary, atmospheric vibe that I expected but Paul Giamatti carried it the best he could.
Thanks again to Chef Girl for such a great theme!