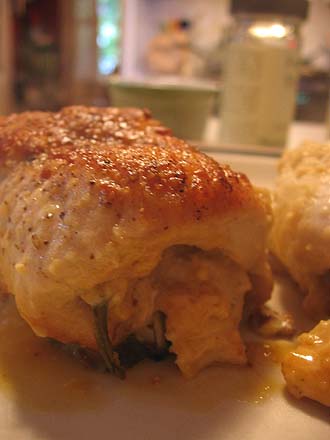 A fairly quick and healthy dinner. Minimal cheese. Spinach. Beans. Carrots. See? Pretty healthy. We had this meal two Sundays ago, after we got back from Port Townsend. I believe I used roasted garlic hummus but you could use any kind you like. You could also, of course, make your own hummus or hummus-like dip.
The Parmesan cheese on the outside of the breasts give it a really nice and tasty crust. The sprinkle of Parmesan on the inside is just for fun. Fun!
Hummus and Spinach Stuffed Chicken Breasts
2 boneless, skinless chicken breasts
1/4 cup hummus
8 or so spinach leaves
1/4 cup Parmesan cheese, grated
2 tbsp olive oil
salt
pepper
1/4 cup orange juice
1/4 cup chicken broth
Optional: Your favorite spice blend — for instance, I used a little Sunny Paris (probably about 1 teaspoon total)
Spread a piece of plastic wrap out over a cutting board and lay a chicken breast down. Fold a layer of the plastic wrap over it and pound the breast out until it's much thinner. Repeat with the other breast.
Sprinkle a little seasoning mix if using and lay down some spinach leaves on each flattened piece of chicken. Divide the hummus between the breasts. Sprinkle each with a little Parmesan.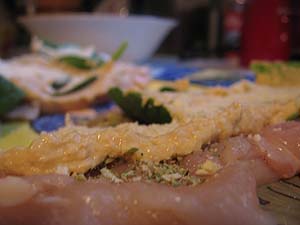 Roll up. It might be a little messy but you should be able to get it into a rolled shape.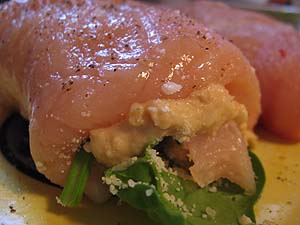 Sprinkle each chicken roll-up with some salt, pepper, a little more seasoning mix and some Parmesan cheese. Heat a skillet over medium-high heat and add the oil. Then, add the chicken, seasoned and parmed side down. Go ahead and season the side facing up and let it brown for a couple of minutes.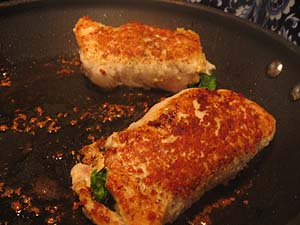 Flip it over and brown the second side. Add the orange juice and broth to the pan and reduce the heat to medium. Cover partially and let cook until the chicken is done (165 degrees — make sure you are checking the hummus temperature too).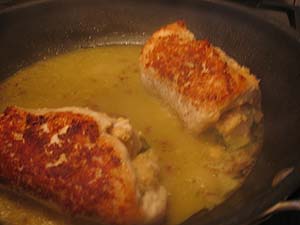 Remove the chicken and cover with foil to rest. While it's resting, turn the heat up on the pan and reduce the sauce by about half — 5-7 minutes. Serve the chicken with a little orange sauce drizzled over it.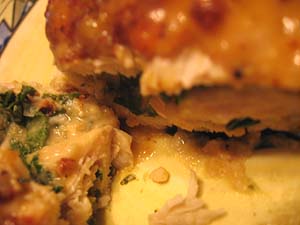 Now the carrots came about like this: while in Port Townsend, jwa and I were walking around the Uptown area after the Farmer's Market had ended. One of the vendors was having trouble getting the door up on the back of her truck. jwa and I helped her get it attached and she gave us a bunch of carrots. Awesome.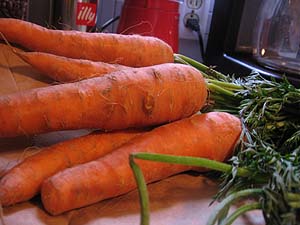 That night, when we got home I whipped up this side dish to go with the chicken.
Good Samaritan Carrots
1 bunch carrots, preferably procured through a good deed
5 cloves garlic
1 tbsp olive oil
salt & pepper
Clean the carrots and cut off the tops. I like to scrape off a bit of the peel but you don't have to. Cut up into about half the size of baby carrot snacks. Peel the garlic and slice thinly. Heat a pan on medium heat and add the oil. Add the carrots and pan roast slowly, for about 5 – 7 minutes, until they start to get a little color. Add the garlic and continue to cook about 10 more minutes, stirring frequently. Don't let the garlic burn but it should have a nice golden color.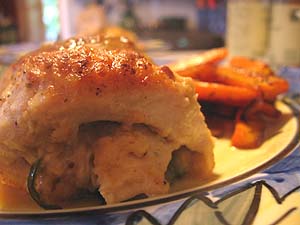 When the carrots are tender and done, remove from the pan and serve with the chicken.