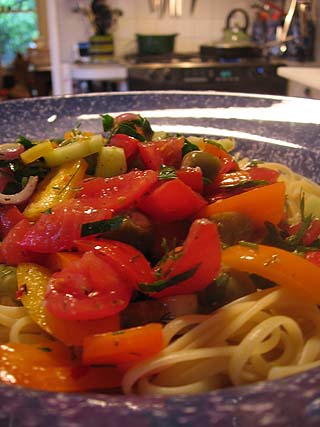 Too hot outside? Yep. I agree. If you can suffer through the boiling water and the grill pan (if you choose to add the tuna), this is a great meal. I just serve it room temperature. It's delicious. I usually use frozen albacore tuna from Trader Joe's — just defrost it the night before in the refrigerator and it's ready to go.
Instead of the basil and dill, you could also use different herbs — really whatever you like. Plus, with all the veggies and white beans, this is very healthy. Hooray!
Summer Spaghetti
1/2 lb spaghetti
1/4 cup green or black olives (I used green, stuffed with feta)
1 bell pepper, diced
2-3 cloves garlic, minced
1/2 Englished cucumber, diced
1/4 tsp dried oregano (or more fresh if you have some)
1/2 cup feta (or more)
1/4 cup red onion, diced
2 tomatoes, diced
1 can white beans, drained and rinsed
Olive oil
Splash of red wine vinegar
1/4 cup fresh basil, chopped
Fresh Dill, chopped (about a tablespoon)
salt and pepper
Optional: Grilled albacore tuna, lemon
Add all the veggies and beans in a big bowl. Add the herbs, garlic, some salt and pepper and a little olive oil.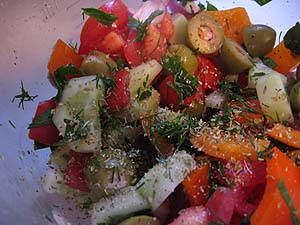 Cook the pasta. Toss with the veggies. Let come to room temperature and if you are using, grill the tuna (salt and pepper first). When it's done, give it a squirt of lemon juice.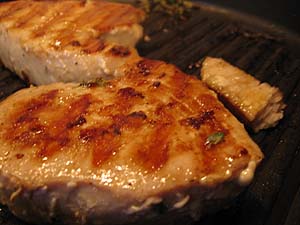 When the pasta and veggies have cooled a bit, add a bit more oil if desired, a bit of red wine vinegar and the feta. Taste and adjust salt and pepper. I typically slice the tuna up and then add to the top.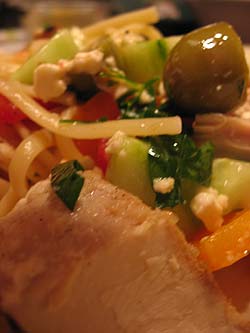 The leftovers also travel very well for the next day's lunch.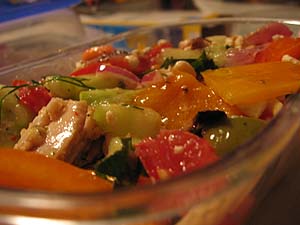 Coming soon: WCC19, ricotta gelato and possibly even a pie. Now, as part of my new lifestyle, I will be going to bed soon so I can drag myself out of bed by 6:15AM. But, it is totally worth it as I love Stash Tea.