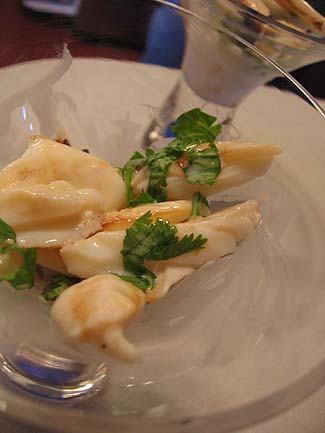 This recipe is from Food & Wine magazine and is by Bobby Flay. Typically, I'm not big on Flay's TV personality but this was from a magazine so it's not like I had to watch him on TV or anything. So, it's fine. Actually, it was better than fine.
We tried it recently as a possible first course for the reception dinner. Yeah, I think it's a go — this will be the First Course at Wedding Feast 08 — of course, there will be a vegetarian option for those who don't eat crab.
But, back to those of us who do — this was so very good. We passed the recipe off to the caterer and they are definitely up for making something like this for us. Hooray!
Now, when I prepared this at home, I made about a 1/6 of the recipe as listed below, since it was only for the two of us and damn, Dungeness crab is expensive.
Coconut Dungeness Crab Cocktail
This will feed about 6 people as a first course.
1 can (13 1/2 ounces) unsweetened coconut milk
1/4 cup fresh lime juice
A couple of dashes habanero hot sauce (we actually had some of this — in a pinch I would use Tabasco as a sub)
Kosher salt and freshly ground pepper
1 1/2 pounds lump crabmeat, picked over
1/4 cup chopped cilantro
Optional: 2 tbsp diced red bell pepper
lime wedges for garnish
In a bowl, whisk the coconut milk, lime juice and hot sauce and season with salt and pepper. Now, I think this would be good with a little diced red pepper. Toss that in too if you use it. Next time, I think I will try it. Gently fold in the crabmeat. Let stand for 15 minutes. Since I made this while it was a little warm in the house, I stored the crab mixture in the fridge for the 15 minutes.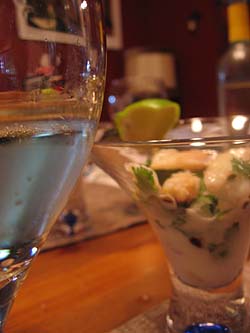 Using a slotted spoon, transfer the crabmeat to shallow bowls and garnish with the cilantro. I thought it looked especially nice in martini glasses. A lime wedge on the rim is also fun.