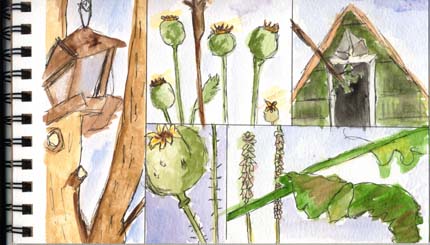 A few panels that I did during watercolor class, in the Garden Home are of Portland, Saturday, July 21..
I took a watercolor workshop today (Saturday) through PCC, taught by Jude Siegel. Funny story — I bought her book, A Pacific Northwest Nature Sketchbook a couple of months ago to inspire me and then I thought I would sign up for a class for further inspiration.
A couple days before the one-day workshop, I figured out that the woman teaching the class that I signed up for, was actually the artist who did the Northwest sketchbook I had just bought. Ha! What a wacky coincidence!
My best painting of the day is the title image — five panels of sketches around Jude's yard. I liked the class a lot although I wish we would have spent more time on watercoloring. Oh well, I believe I will be doing some watercolors in the yard tomorrow.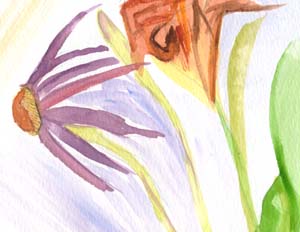 Perhaps the raised garden beds, and the flowers in front and maybe even the new fence. Then, I will come in and post either about curried macadamia nuts or seared ahi tuni with a shitake cream sauce. Woo!