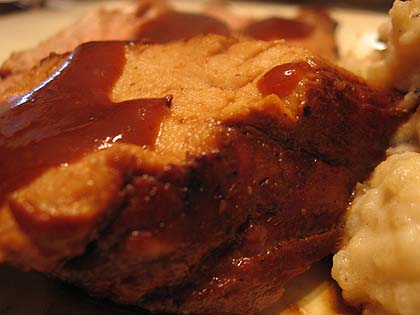 Well, one of the best, anyway. We were going to grill this outside but it was all cold and rainy so we opted for the grill pan. The marinade gives it such a good flavor. And I think one of my favorite elements of it was the accumulated juices after letting the pork rest — so excellent poured back over the sliced tenderloin.
Grilled Pork Tenderloin with Molasses and Mustard
From Bon Appétit magazine
1/4 cup mild-flavored (light) molasses
3 tbsp apple cider vinegar, divided
2 tbsp Dijon mustard
2 tbsp coarse-grained mustard
1 3/4-pound pork tenderloin
Whisk molasses, 2 tablespoons vinegar, and both mustards in small bowl to blend. Place pork in heavy-duty resealable plastic bag. Pour marinade over. Seal tightly and refrigerate 4 hours.
Prepare barbecue (medium-high heat). Drain marinade into heavy small saucepan. Sprinkle pork with salt and pepper. Grill pork until thermometer inserted into center registers 145 degrees F, turning occasionally with tongs, about 20 minutes. Transfer pork to serving platter; let rest 5 – 10 minutes.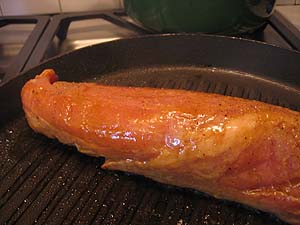 As mentioned in the intro, you can also very easily do this indoors on a grill pan. Just preheat the oven to 375 degrees, while you sear the pork on all sides, stovetop, in a grill pan (about 5-6 minutes).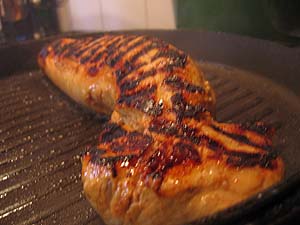 Then, finish it off in the oven, roasting until the pork reaches 145 degrees — about 10-15 minutes. Let it rest about 10 minutes before serving. Pour any accumulated juices onto the pork before drizzling with the reduced marinade sauce. It'll make extra-extra moist and tasty!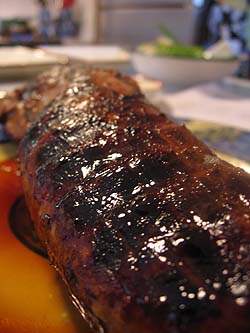 Speaking of the sauce…
Meanwhile, (as in while you rest the pork), add tablespoon of remaining vinegar to pan with marinade and boil until thickened to sauce consistency, about 5 minutes.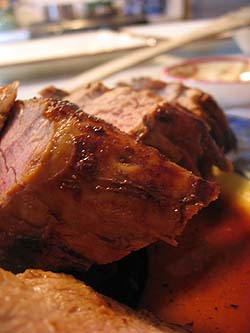 Cut pork crosswise on slight diagonal into 1/2-inch-thick slices. Arrange pork slices on platter; drizzle the thickened sauce over. We had this with some sautéed green beans & mushrooms and smashed goat cheese potatoes. Cool weather breaks in the Summer can be fun!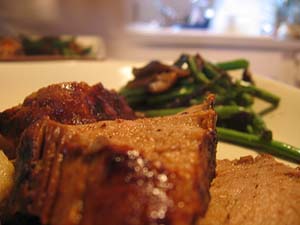 The nuts and tuna that the pork bumped, will be later in the week, I believe. Ina Garten's Peanut Butter & Jelly bars may also make an appearance.
Oh and belated happy birthday to Je Mange la Ville! My blog turned two years old on July 14th. Terrible Twos! Yeah.