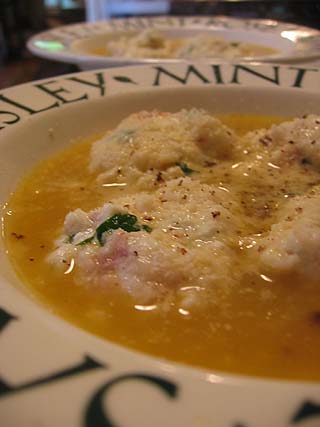 A few weeks ago (of course now, it's a very distant memory) it was a bit chilly. Pulling out Everyday Pasta, I came across this very interesting recipe for gnudi. I had never even heard of gnudi before but they seem to be like bigger, lighter, poofier gnocchi without the potato. Well, okay then. I'll try those.
I found that cooking them was a bit challenging — some of the dumplings sort of shed little, poofy bits of the dough as they cooked, but the end result was still very good. I also think I made my gnudi slightly bigger than Giada's, as I only got about 10 gnudi and I was able to cook them all at once, in one huge pot of water.
Quite honestly, I was afraid that they would just fall apart while cooking, but thankfully, they were a bit sturdier that I thought. The gnudi are very loose but held their form well enough to still somewhat resemble the shapes I started out with, before I lowered them into the bubbling water. They were also quite tasty so it didn't actually matter much to me (or jwa) that in the bowl, they got a little disheveled due to their delicate disposition.
So, if you are feeling up for an experiment and the weather is cool enough for a fluffy dumpling type meal, give these a try!
Ricotta Gnudi in Parmesan Broth
Recipe by Giada De Laurentiis
For Parmesan Broth:
6 cups low-sodium chicken broth
1 tsp freshly ground pepper
1/4 cup grated parmesan cheese
optional: 2-inch piece of parmesan rind (the end rind piece from a triangle of parmesan cheese)
For the gnudi:
2 1/2 cups whole milk ricotta
1/2 cup grated parmesan cheese
1 egg
1 egg white
2 oz prosciutto, chopped
2 tbsp chopped flat leaf parsley
1/4 tsp ground nutmeg
1 tsp kosher salt
1/2 tsp freshly ground pepper
1/2 cup + 2 tbsp AP flour, plus 1 cup for dusting
Bring the chicken broth to a boil in a medium saucepan over high heat. If you have parmesan rind, throw that in the pot too. Reduce the heat to medium-low and simmer until the broth has reduced to 4 cups, about 20 minutes.
Meanwhile, make the gnudi, Bring a large pot of salted water to a simmer over high heat. In a large bowl, combine the ricotta, Parmesan, egg, egg white, prosciutto, parsley, nutmeg, salt, and pepper and mix thoroughly.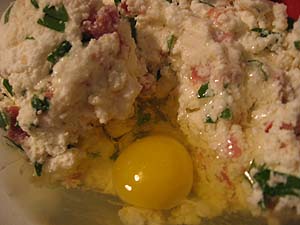 When the water is simmering and ready, stir the flour into the ricotta mixture. (It is important not to add the flour too soon; otherwise they will become dense and gummy, not light.)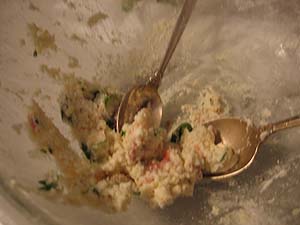 Shape the gnudi using two large soup spoons; scoop up a large spoonful of ricotta mixture into one spoon, then scoop the mixture onto the other spoon and back again, forming a three-sided oval. I'm afraid my gnudi were a little sloppy, resembling drop cookies rather than a three-sided oval. ::shrugs:: I can live with that.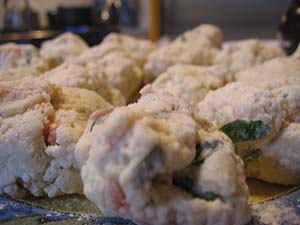 Drop the gnudi into the dredging flour. Form the rest of the gnudi, dredge in flour on all sides, and tap off the excess. I got all of my gnudi formed and dredged, storing them on a plate until they were all ready for the next step.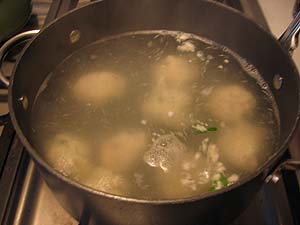 Slide the formed gnudi into the simmering water, being careful not to overcrowd the pot. Remove the gnudi using a slotted spoon after they have floated to the top and have cooked for about 4 minutes total. Like I mentioned in the intro, I had some little gnudi floaters that I had to skim off the top. So watch out for that situation. If you can't fit all your gnudi in the pot of boiling water without crowding, rest the cooked gnudi on a plate while you cook the second batch.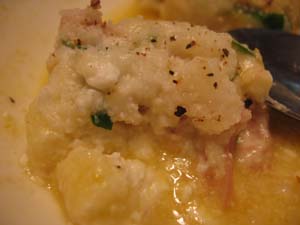 Divide the finished gnudi among the serving bowls. Pour the reduced broth over the gnudi. Sprinkle with a pinch of the pepper and a spoonful of grated parmesan and serve.
Tomorrow should be a coconut-crab cocktail (if it's not too hot upstairs to edit the photos) and there is some decadent seared tuna coming up soon too. Excellent!