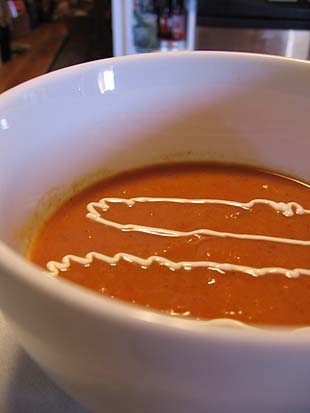 Here we are with another Weekend Cookbook Challenge. WCC 18th's theme is Red & White. For this theme, I chose to use my newest cookbook, Super Natural Cooking by Heidi Swanson, which I recently picked up after being a fan of her blog for the past year. The fact that I am posting about one of her recipes from her new cookbook on my food blog is amusing to me. I am easily amused.
I made the Roasted Tomato & Paprika Soup, which is quite red and drizzled it with plain yogurt, which is white. Hooray! It had a really great taste and the smoky paprika added a great depth of flavor. My only changes are that I threw in a sprig of rosemary and I used a yellow bell pepper instead of a red one.
Roasted Tomato & Paprika Soup
5 tomatoes, cored and quartered
1 large red bell pepper, seeded and quartered
3 small yellow onions, quartered
5 cloves garlic, unpeeled
3 cups vegetable stock
1/4 tsp smoked paprika
1 sprig rosemary
kosher salt and freshly ground pepper
olive oil
Optional: plain yogurt for garnish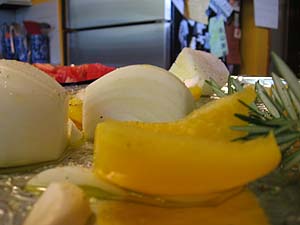 Preheat the oven to 375 degrees and rub two rimmed baking sheets with a little olive oil.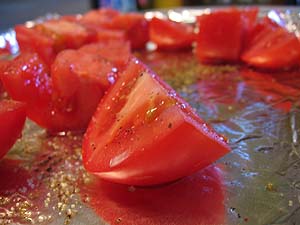 Arrange the tomatoes, skin side down, on one of the baking sheets. Coat the pepper and onions with oil and place them on the other sheet along with the garlic. Add the sprig of rosemary to the onion/pepepr sheet.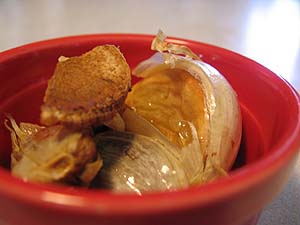 Give both sheets a sprinkling of salt and pepper and then bake until the tomatoes start to collapse and the onions begin to brown and caramelize — about 45 minutes. Remove the garlic or turn the onions if either gets too dark.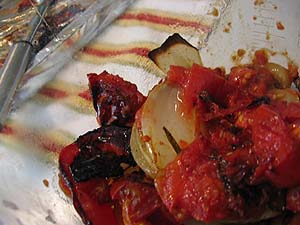 Peel the garlic and dump all of the vegetables into a big bowl. Discard the rosemary sprig, allowing any loose leaves to go with the vegetables into the bowl. Add the stock (start with two cups and add more to your desired thickness) and puree with a handheld blender. You could also use a food processor or regular blender. Add the paprika and taste. Adjust the salt and pepepr as needed. When serving, drizzle with the yogurt if desired.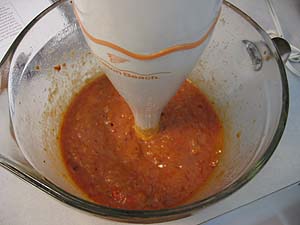 I found it very helpful to roast the vegetables in the AM, while it was still cool out and in the house. I made the soup early, refrigerated it and then the flavors got to come together a little more than they would have if I made it right before serving. Also, I didn't have my oven on while it was super hot out! Just before serving, you can reheat. Or, just serve cold or room temperature.
Thanks again to Sara for hosting another great Weekend Cookbook Challenge!