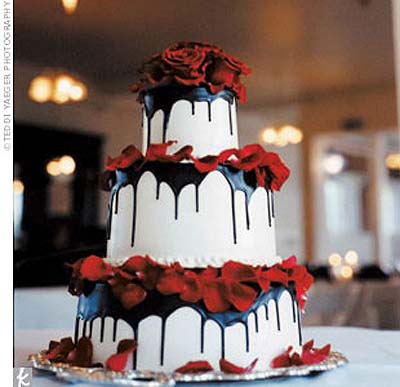 First off, I'll just say that Astoria has somewhat limited catering choices. It was a little frustrating at first but it has come together just fine — better than fine, actually. We have been in discussions with our caterer over our wedding reception dinner menu and I think we have come up with a great and tasty celebratory spread. jwa and I are both very, very pleased. The menu has a kind of Asian-Swedish-Italian-Moroccan-Greek-French fusion thing happening. Mmmm….tasty, tasty fusion.
The gluttony feast will begin after the ceremony, on the rooftop, where there will be snacks (or as the fancy-pants are apt to call them, Hors d' oeuvres) that will consist of the following:
* Halibut Cakes with Green Salsa (avocado, lime, cilantro, green apple)
* Seared Black-Sesame Encrusted Ahi Nigiri Sushi
* Caramelized Onion and Sweet Red Pepper Tartlet (vegetarian)
* Middle Eastern Sesame-Lamb Meatballs with Yogurt-Mint Sauce
* Chevre Spanakopita with Lemon-Honey (vegetarian)
* Rogue River Creamery Blue Cheese with Hot Pepper Jelly on Walnut Crostini (vegetarian)
It is also at this point that the wine and champagne will begin to flow. After a little while — when the snacks are gone or the guests get restless — we will head downstairs to the hotel's wine bar and have dinner.
Course One:
Dungeness Crab Cocktail
Course Two:
Wild Mushroom Soup
Course Three: (A choice of one, although, jwa has already decided that he is having all three. What the hell, it's his wedding too, I suppose).
* Grilled Wild King Salmon with Swedish Dill-Mustard Sauce; with jasmine rice & baby garbanzo bean pilaf and oven roasted asparagus
* Moroccan Chicken (boneless dark meat chicken with Middle Eastern spices, Kalamata olives, onions & garlic) — or possibly coq au vin — served with soft polenta and oven roasted asparagus
* Wild Mushroom & Spring Vegetable Ragout with soft cheese polenta for our vegetarian guests and oven roasted asparagus
Course Four: (How European!)
* Small Salad of Seasonal Baby Organic Greens with Salalberry Vinaigrette, Toasted Hazelnuts & Radish Sprouts
Course Five — The Final Course — this is where it gets awesome:
Wedding cake, coffee, tea, port.
It looks like the cake will be petite yet three-tiered, with the bottom and mini top tier being an almond cake with a bittersweet chocolate-espresso ganache filling. The middle tier will be a citrus-infused cheesecake. The whole thing will be slathered in vanilla-orange buttercream. Oh yeah, there will also be bittersweet chocolate drizzle cascading down the sides of the cake, as in the title picture.
Catering Choice
We looked at three places for catering: a well-known restaurant in Astoria that we were super-super-unimpressed with at a recent lunch, Voila Catering in Portland and the Shoalwater Restaurant in Seaview, WA. We really liked Voila but, you know, they're in Portland and the wedding is in Astoria. Very expensive travel fees but, if you are getting married in Portland, you should check them out!
No comment on the Astoria place. *sigh*
Finally, Ann at the Shoalwater (and soon to be in Astoria at the Bridgewater) is awesome. So nice and calm and dedicated to using local, fresh, in-season ingredients. Also, she has such a calming presence and stress-free way about describing how everything at the reception will work. It was such an easy choice to go with them for the catering. I have the feeling this may actually come together!