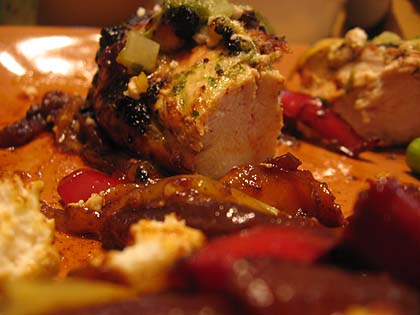 The other night we pulled the little Weber grill out of the garage again and grilled some chicken, caramelized some bell peppers and onions (inside, in a pan, with a little salt, cumin and chili powder), made some guacamole and to accompany it all there was a pitcher of tasty, tasty sangria.
The sangria recipe is from the old red and white checked Better Homes and Gardens cookbook. This is probably one of the only recipes I still use this cookbook for, but that alone makes it worth the shelf space, imho. I'm not sure how completely authentic it is, but it is dependably good.
Really Good Summer Sangria
1 bottle red wine (I used $4 barefoot merlot)
1/2 cup sugar
1/2 cup water
1 lemon, sliced
1 orange, sliced
1 lime, sliced
1-2 cups sparkling water
Add the sugar, water and the end fruit slices (6 total from the ends of the lemon, lime and orange) to the pan and heat until boiling and all the sugar is dissolved. Remove from the heat and let cool.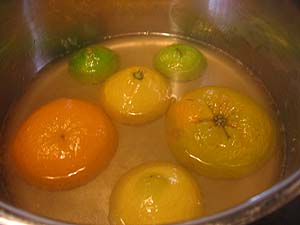 Meanwhile, pour the wine into a big pitcher and add the uncooked fruit slices. After the syrup has cooled down add that too, reserving the cooked fruit slices. Squeeze as much juice out of those as you can into the pitcher and then discard. Stir.
I usually make this a couple of hours before serving, just storing it in the fridge. When you are ready to drink it, add a cup of the sparkling water. Taste. Add more sparkling water if desired and serve over ice.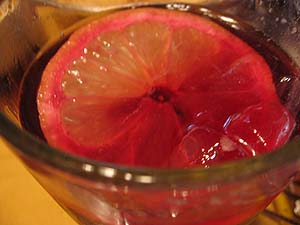 Now, to go with your awesome sangria, you may just want to grill some chicken. If you do, first slather some boneless, skinless chicken breasts with a paste made of fresh cilantro leaves (2 big handfuls), garlic (1-2 cloves), lime juice (about 1 tbsp), jalapeno pepper (1/2 a pepper), salt, olive oil (1/4 cup or so) and green onion (2-3). You get this paste by adding all these items to a food processor and letting it go for a few minutes. *whir* *whir* *whir*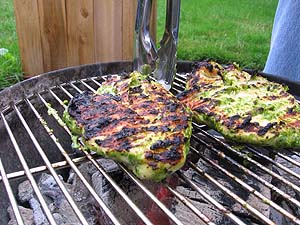 Slather. Then grill. Then eat.