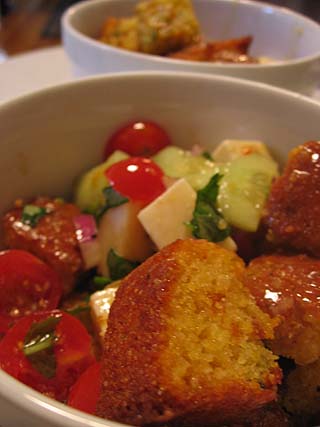 This is a great meal for when you don't really know what you feel like or what you want for dinner. It has everything — bread, cheese, veggies, and basil. If you wanted to go crazy, I bet you could even add some cooked, cubed chicken. jwa and I enjoyed it quite a bit. The slightly sweet cornbread really works with the tomatoes, cheese (what doesn't work with cheese?) and lemony olive oil.
I just used a box of cornbread mix (Trader Joe's brand), baked that (I added a little garlic, sautéed leeks and fresh herbs to the mix) and then let it cool before cubing it and drying the cubes of bread out a little in a 290 degree oven. That worked just great.
Cornbread Panzanella Salad
This recipe is based on one by Giada De Laurentiis.
4 cups cornbread, cut into cubes
1 cup halved cherry tomatoes
2 cloves garlic, minced
1 cup fontina cheese, cubed
1/2 hothouse cucumber, cubed
1/4 cup red onion, diced
1/2 cup chopped fresh basil leaves
2/3 cup extra-virgin olive oil
1 lemon, zested and juice
1 tsp kosher salt
1 tsp freshly ground black pepper
pinch red pepper flakes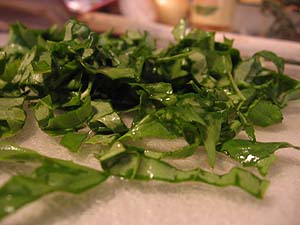 Combine the cornbread, garlic, cheese, cucumber, onion, basil and cherry tomatoes in a large bowl. Toss gently.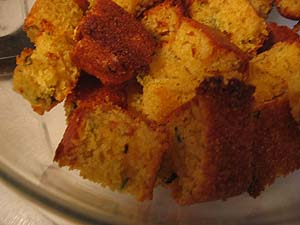 Mix together the zest, lemon juice, olive oil, salt, pepper, and pepper flakes. Toss with the veggies and bread in the same large bowl.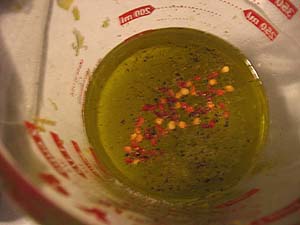 Now, just sit down and eat!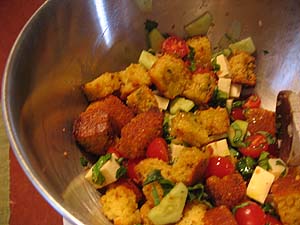 Wedding Flowers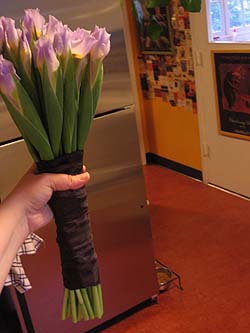 I kind of tested out making a hand-tied bouquet with some $3.99 a bunch irises. For the wedding, I'm going to use burgandy calla lilies (and possibly a few fiddlehead fern thingies), but I figured the small irises would be a good practice flower.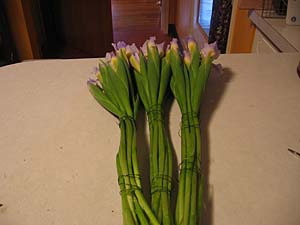 I think it'll work. I've decided to go the diy-route with Fiftyflowers and for our size wedding and flower needs, I am convinced this is a great choice. I gathered the flowers in bunches of three (10 flowers each bunch) and secured with floral wire.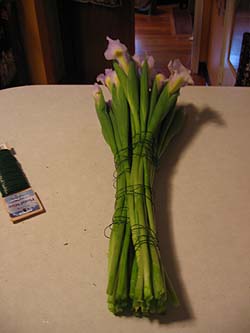 Then, I wrapped everything together with more wire and then wrapped the big bunch in chocolate-colored satin ribbon.