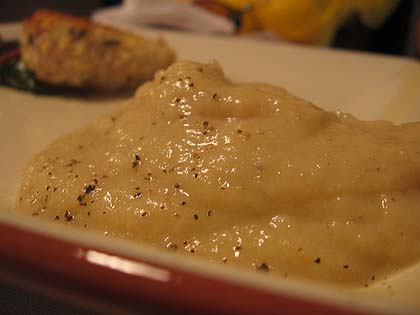 This is a recipe based on a dish from Sara Moulton. I omitted the cream in the original and replaced it with some manchego cheese. Mmmmm, cheese. It was flavored much like the soup I had a Dundee Bistro last month (that was on purpose as I loved that soup).
The Sara version was featured on a show called, "Cooking for One", which I don't really understand. jwa and I both had some of this along with some chicken the other night and I was able to use leftovers the next day to make soup. So, one? Probably more servings than that but it's not really a problem as this puree is awesome.
Cauliflower & Manchego Cheese Puree
1/2 pound cauliflower florets, chopped (2 2/3 cups)
1 garlic clove, smashed
1/3 cup chicken broth
1/2 tsp salt
1/4 cup cubed manchego cheese (I won't tell anyone if you add more cheese)
1 tsp unsalted butter
1/2 tsp smoked Spanish paprika
Freshly ground pepper
Simmer cauliflower, garlic, broth, and salt in a small saucepan, covered, until cauliflower is very tender, about 10 minutes. You will have a lot more cauliflower than broth, so really, you'll be kind of steaming it.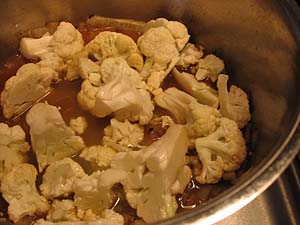 Puree mixture with cubed cheese, paprika and butter in a food processor until smooth (use caution when blending hot liquids), or mash with a potato masher or a fork. Although, if you mash it, grate the cheese instead of just cubing it.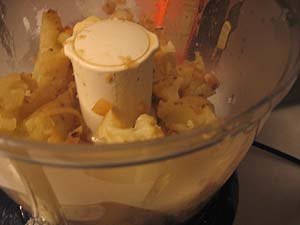 Serve with some freshly ground pepper on top and you will be happy. We had this with lavender and rosemary crusted chicken on top of some sauteed spinach with red wine, orange peel, garlic and almonds. I'll have to post about that later in the week as I am on this new exercise kick and need to now go do arm curls with jwa.