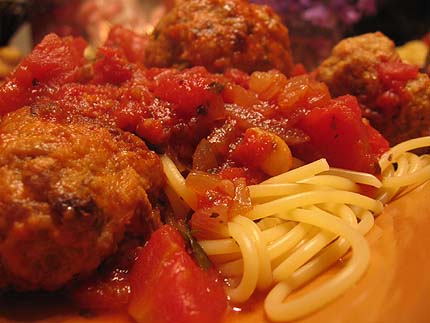 Ah, Spring. Rainy pasta weather (well, sometimes). A week or so ago we were had a lovely pasta meal while the wind and storms raged outside. The dilemma — jwa likes spaghetti best whereas I prefer rigatoni or a pasta more like that. Needless to say, we really rarely have spaghetti.
I think it was the meatballs that convinced me to make this spaghetti and meatballs dish. Forming meatballs is fun. So, he got a spaghetti dinner and I got to make a bunch of little meatballs with currants and pine nuts (oh and pork, too). Everyone wins. Actually, the meal was very tasty and I may just have become a spaghetti convert after this one.
I came across this recipe (and now, I can't remember where. I'm 90% sure it was at www.foodnetwork.com, so it's probably one of the usual suspects there). I added a few extras to the sauce (olives, red wine and a pinch of sugar) and fennel to the meatballs.
Sauce
2 tbsp olive oil
1 1/2 cups chopped onion
4 garlic cloves, minced
2 28-ounce cans diced tomatoes in juice
4 tbsp chopped fresh basil
1/2 cup red wine
1/2 cup chopped black olives
1/2 tsp dried oregano
pinch of sugar
Meatballs
2/3 cup fresh breadcrumbs
3 tbsp milk
1/3 cup freshly grated Parmesan cheese
1/4 cup finely chopped onion
3 tbsp chopped fresh basil
1 large egg
2 garlic clove, minced
1/4 tsp ground black pepper
1 pound sweet Italian sausages, casings removed
1 tsp fennel seeds
2 tbsp pine nuts, toasted
2 tbsp dried currants
1 pound spaghetti
For the Sauce
Heat the oil in heavy large pot over medium-low heat. Add onion and sauté until golden, about 10 minutes. Add garlic and stir about for 1 minute. Add tomatoes with juices, 2 tablespoons of the basil, the olives and the red wine. Bring to boil.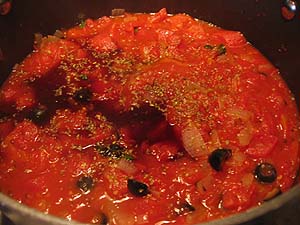 Reduce heat the heat and simmer until sauce thickens, breaking up tomatoes with fork, about 1 hour. Mix in 2 tablespoons basil and a pinch of sugar. Season with salt and pepper. Set sauce aside.
For the Meatballs
Preheat oven to 350 degrees. Lightly oil baking sheet. Mix crumbs and milk in medium bowl; let stand 5 minutes. Mix in Parmesan, onion, basil, egg, garlic and pepper. Add sausage, pine nuts, fennel and currants and blend well.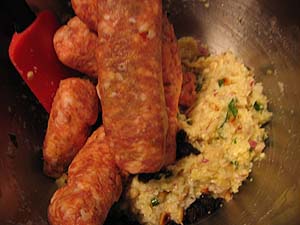 Using wet hands, form mixture into 1 1/4-inch balls. Place on baking sheet.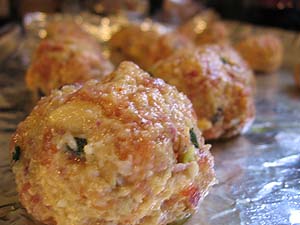 Bake until meatballs are light brown and cooked through, about 30 minutes.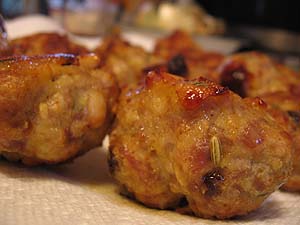 Add to sauce and barely simmer until the pasta is done.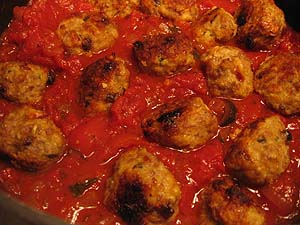 Cook spaghetti in large pot of boiling salted water until just tender but still firm to bite. Drain and mound on yoru plates. Spoon some sauce and meatballs over the spaghetti. Top with Parmesan cheese.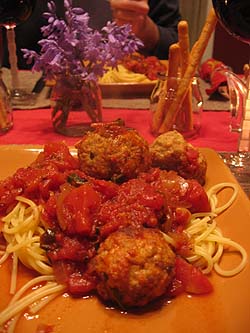 Dig in.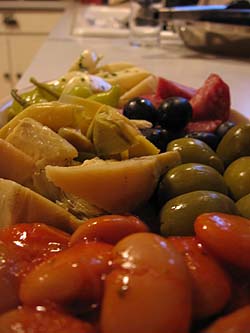 I even made an antipasto platter to go with out meal — marinated artichokes, salami, peppers, black & green olives, parsley and garlic braided mozzarella and those big Italian beans I like. On the side, we also had steamed broccoli because, seriously, a whole plate of pork meatballs and pasta? You really need some steamed broccoli on the side.
***
Man, what was I thinking? A pasta meal when I have only 6-8 months to get into shape before my wedding dress comes in? Ha! Yeah, I found a dress at Tres Fabu (across the street from Caprials — see? It's food related). I ordered it and now I just wait for the factory to make it and ship it. And, the one I picked was only 50% of the budget I had allotted for the dress. Awesome — now I can get that tiara I've had my eye on. Joking!