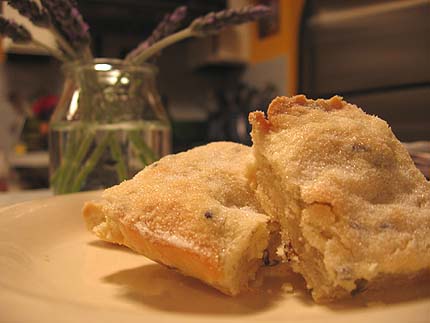 This month's Sugar High Friday is hosted by Coconut Chutney and the theme is edible flowers. Hey — it's a great time to break into my stash of dried lavender! In case anyone has trouble finding dried lavender, I usually buy it at Cost Plus, where it comes in nicely sized bags in the spices section. You can also use fresh lavender flowers, of course.
This recipe by Gale Gand, another person I wish still had a show on the Food Network.
Be warned — these are very addictive. The only problem I had is that the dough was way too dry and I had to add a little milk. So, I guess the lesson here is just have a little milk on hand in case your dough needs a bit more moisture.
Lavender Shortbread
8 tbsp (1 stick) cool unsalted butter, cut into pieces
1/4 cup plus 2 tbsp sugar
1 cup all-purpose flour
1/4 cup cornstarch
1/4 tsp salt
2 tbsp dried lavender flowers
Optional (if needed) 2-3 tbsp milk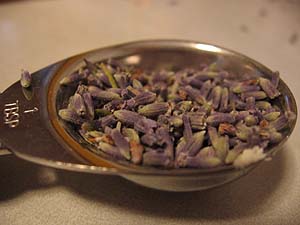 Heat the oven to 350 degrees. Cream the butter until soft in a mixer fitted with a paddle attachment. Add 1/4 cup sugar and mix until incorporated.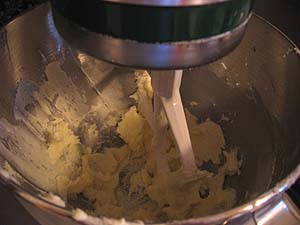 Stir together the flour, cornstarch, and salt in a medium bowl. Add the dry ingredients to the butter mixture and mix at low speed just until the ingredients are almost incorporated, then add the lavender, and mix until the dough starts to come together.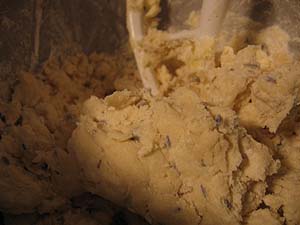 This is where my dough did not come together. Just way too crumbly and floury. I added about 2 tablespoons of milk and it came together just fine.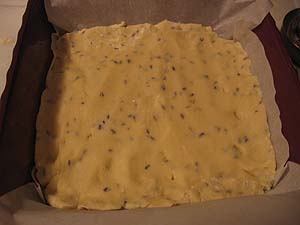 Flour a work surface, turn the dough onto it, and knead it 5 to 10 times, to bring the dough together and smooth it out. I opted to press the dough into a 8 X 8 inch baking pan (lined with parchment), rather than rolling the dough out and then placing it on the pan. I think I made the right decision. I used my fingers to press it down and then smoothed it out with the bottom of a metal measuring cup.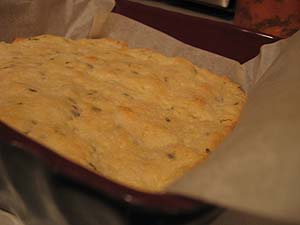 Prick the shortbread all over with a fork to prevent any buckling or shrinking. Sprinkle the surface evenly with 1 tablespoon of the remaining sugar. Place in the oven and bake for 15 minutes. After 15 minutes, deflate the dough if needed, by knocking the pan once against the oven rack then rotate the pan to ensure even cooking and a flat surface. You know, my finished surface was not entirely flat (probably because I pressed) but I am fine with that — it just looks homemade and rustic!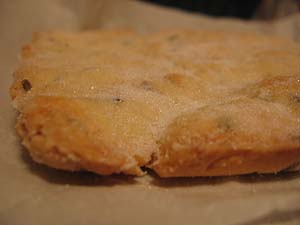 Bake 10 to 15 minutes more, until golden all over and very lightly browned. As soon as it comes out of the oven, sprinkle the surface evenly with the remaining tablespoon of sugar.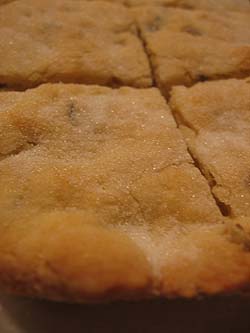 Let cool about 5 minutes. Using a very sharp knife, cut into 3 rows by 5 rows making about 1 1/2-inch by 3-inch bars. Let cool completely in the pan. Now, since the shortbread was on parchment, I actually lifted it out to cut the bars, then I replaced them back in the pan and let the shortbread finish cooling that way. After it is colled, it'll store in an airtight container for up to 1 week.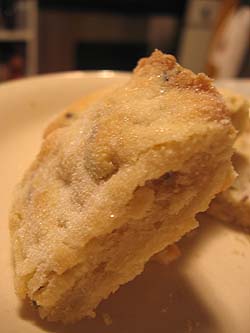 Thanks again to Coconut Chutney for hosting this month's event!