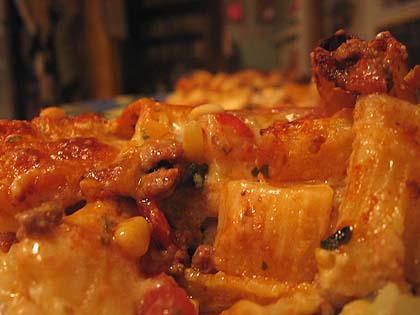 Well, it least it was a little while ago. Ahhhh, Spring.
This makes a lot (let's say 6+ servings) so you can invite a couple of people over or have extra lunches for the week. It also freezes beautifully. In fact, jwa's having a defrosted container of it for lunch today. Myself, I'm going to my new favorite lunch place, Voila Cafe on SW 9th. Today, the special is salmon over soba noodles. But, I believe that'll be another post.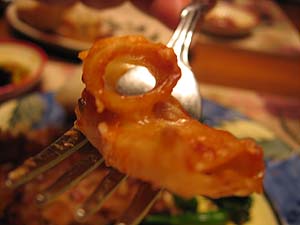 Baked Bolognese with Lamb
Adapted from a recipe by Dave Lieberman
For the tomato sauce:
2 tbsp extra-virgin olive oil
1 pound ground lamb
4 large cloves garlic, minced
2 tsp dried oregano
Couple dashes red chili flakes
1 (28-ounce) can whole peeled tomatoes
Sugar
Dash of ground cinnamon
1/2 cup red wine
Salt and freshly ground black pepper
Preheat oven to 350 degrees. Add oil to large skillet over high heat. Add ground lamb and saute, breaking up the meat as it cooks. Add garlic, oregano, dash of cinnamon and chili flakes and cook a couple minutes. Add the wine, stir and then the tomatoes and season, to taste, with sugar, salt and pepper. Simmer for 15 minutes, breaking up the tomatoes as it simmers.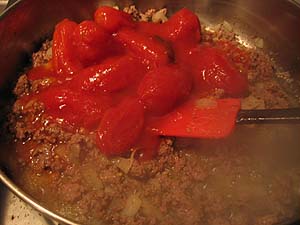 For the bechamel:
3 tbsp butter
1 large onion
3 tbsp all-purpose flour
1/3 cup white wine (I used a pinot grigio)
1 1/2 cups 2% milk, warmed
Dash ground nutmeg
2 cups grated three-cheese blend, divided
The Rest
1 pound parcooked rigatoni
1/4 cup pine nuts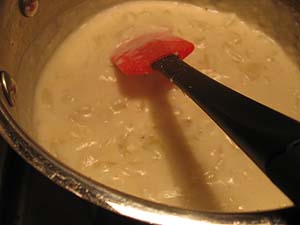 In a large saucepan melt butter over medium-high heat until bubbling. Add onions and saute until translucent. Sprinkle with flour, stirring constantly and cook until the mixture begins to thicken. Gradually whisk in the wine, if using, and then gradually whisk in the milk and nutmeg and cook until smooth, thick and creamy.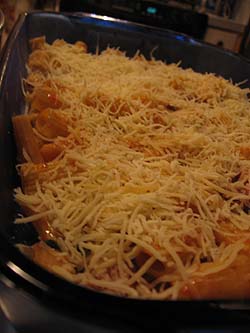 Combine the meat sauce and pasta. Cover with almost half the cheese — I like to use a little more than half the cheese covering the top of the dish.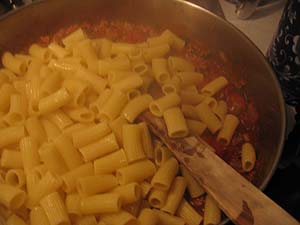 Then pour half of that into your baking dish (lasagna pan sized — 9 X 13 — works well for this).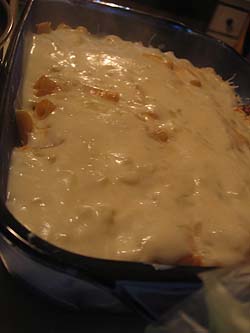 Spoon the bechamel over the pasta and top with the remaining pasta, ending with the rest of the shredded cheese. Sprinkle pine nuts over the top. Bake 30 to 45 minutes until browned and bubbly.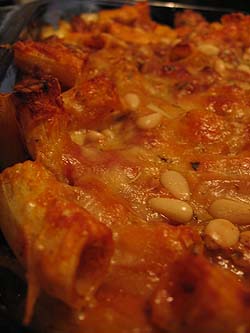 We had this with some broccolini on the side and a bottle of red wine. Delicious! Hopefully where you live, you can still sneak in one more cold-weather comfort meal before Spring hits in full.