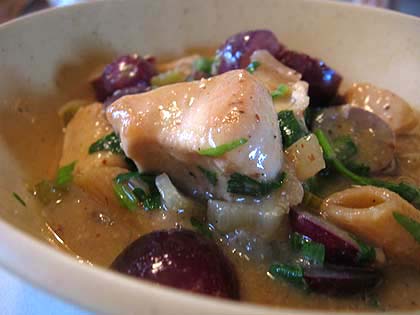 This was a recipe I found on Slashfood, which in turn was an overview of the Boston Globe Food Section. They, in turn had adapted it from Jamie Oliver. Hmmm, this dish gets around — it's kind of a slutty recipe.
Anyway, it was very tasty. It makes the best weeknight dinner — it's relatively good for you, it's quick and damn, it's addictive. I have to admit, I had two bowls. But, but, it's healthy so that's okay.
Chicken Stew with Grapes and Tarragon
1/4 cup + 1 tbsp AP flour
1/2 tsp salt
1/2 tsp pepper
1/2 tsp garlic powder (use good stuff — NOT garlic salt, I get garlic powder from Penzey's and it's very good quality and I love using it in coatings)
2 skinless boneless chicken breasts (about 3/4 pounds), cut into 1-inch cubes
2 tbsp olive oil
1 tbsp butter
1 large shallot, finely chopped
2 cloves garlic, crushed
2 stalks celery, trimmed of leaves and thinly sliced
1 cup dry white wine
1 3/4 cups chicken stock
1 tbsp whole-grain mustard
1/2 cup wheat rigatoni
1/2 cup seedless grapes, halved (so, here, I actually ended up using grapes with seeds. They were the best looking grapes, so I got them. I just scooped the seeds out when I halved the grapes. Green or red will work but I think red looks especially pretty)
2 tbsp chopped fresh parsley
2 tbsp chopped fresh tarragon
Optional: 5-6 leaves red leaf lettuce, torn into smaller pieces
In a shallow bowl, combine 1/4 cup of the flour with the salt, pepper and garlic powder. Toss with the chicken. Discard the leftover seasoned flour.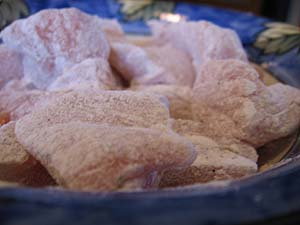 In a large soup pot on medium heat, heat the oil. Brown half the chicken. Remove the chicken from the pan; set aside. Add another tablespoon of oil if needed to brown the remaining chicken and remove it from the pan too. Cover with foil. Of course, if your pot is big enough, you can do all the chicken at once, just don't crowd the pan.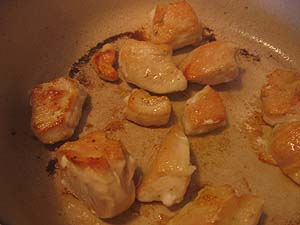 Turn the heat to medium-low. Add the butter. Cook the shallot, garlic, and celery over medium heat, stirring often, for 5 minutes. Add the remaining 1 tablespoon of flour. Cook, stirring, for 2 minutes.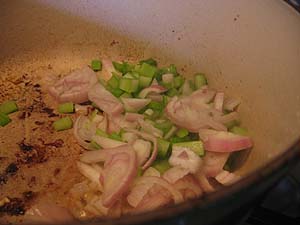 Stir in the wine, stock, and mustard. Scrape the bottom of the pan to remove any browned goodies. Next, return the chicken to the pan. Also add the uncooked wheat pasta. Bring the mixture to a boil. Lower the heat, cover the pan partially, and simmer for 8-10 minutes, until the pasta is just tender.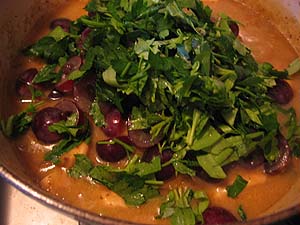 Turn off the heat and add the grapes, parsley, and tarragon. Cover and let the mixture sit for 3 minutes. Stir and dish up.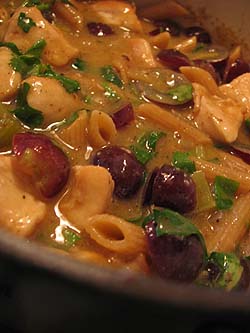 If desired, also add the torn lettuce before you lid the pan or if you just want to try it on a single bowl (and not the whole pot), you can add a few lettuce leaves to your bowl and cover with foil for 3-4 minutes so that the lettuce wilts a bit. I found that I didn't dislike the lettuce but I think I liked it better without it. It's worth trying though, because it certainly wasn't bad.