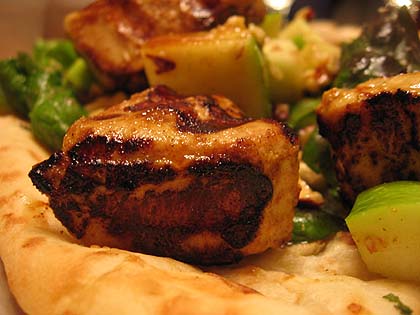 This was an experiment that was based on a lunch that I recently had in Cannon Beach. It was at the Lazy Susan Cafe (not bad — definitely overpriced, though), but it was basically just a quick meal to tide us over until dinner that night — Cilantro-Chicken Pizza at Pacific Way Cafe!
But anyway, I was intrigued by this tuna-curry-hazelnut salad that was on the menu. I ordered it and was presented with a big pile of romaine, flaked tuna, hazelnuts and apple cubes, all with a curry dressing. It was not pretty to look at but it had a really great, interesting taste. So much so that I couldn't help but wonder how those flavors would be if presented a little nicer, using tuna steaks (instead of canned tuna) and generally just fancifying it up a little. Here's the answer that I came up with — Albacore Tuna with Apples, Hazelnuts, Curry Dressing and Red-Leaf Lettuce.
Tuna Marinade
1 tbsp curry powder
3 tbsp olive oil
3 tbsp mango juice (had some leftover from the other night's halibut)
1 clove garlic, peeled and mashed
1 tsp white wine vinegar
3/4 – 1 lb albacore tuna steaks, cut into 1-inch cubes (I've found that Trader Joe's frozen albacore steaks work great for this)
Juice of half a lemon
Combine the first five ingredients in a bowl or sealable plastic bag. Add the tuna cubes and let marinade in the refrigerator for about 2 hours. Make sure you smoosh it around a little to get all the tuna coated before you put it in the fridge.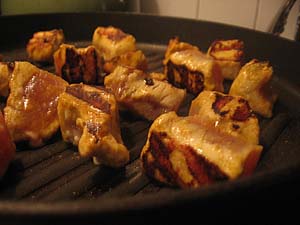 When ready, heat a grill pan, sprinkle the tuna cubes with a little salt and cook the tuna, getting nice grill marks on all the sides — probably 4-5 minutes total. Take it out of the pan a bit before you think it's completely done. It'll finish cooking through off the heat. Pile it in a bowl, squeeze half a lemon over it, and cover it with foil until you're ready for it.
Dressing
1 tbsp mayonnaise
1 tsp lemon juice
1 tsp curry powder
1 tbsp olive oil
salt & pepper
Whisk all ingredients and set aside until needed, which will be in a couple of minutes.
The Rest
1/2 cup toasted hazelnuts, chopped
1 green apple, cubed
Red leaf, romaine or other lettuce
Toasted flat bread or naan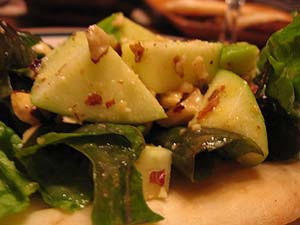 In a bowl, combine the torn lettuce leaves, hazelnuts and apple. Toss with the dressing. Serve with the bread and tuna cubes. You can make a sandwich by putting some salad on the bread and topping with tuna (what I did) or have a pile of salad, a pile of tuna and a piece of bread and eat in that fashion (what jwa did). No matter which you choose, it's so, so good.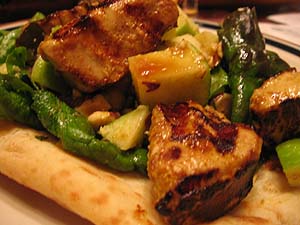 Wow, I just realized we've had a lot of fish lately. Awesome.