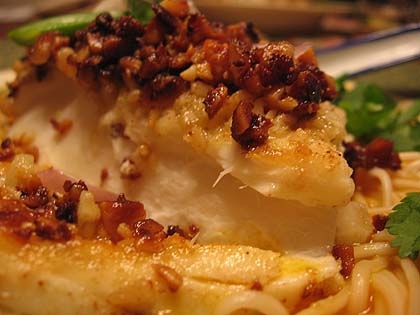 Super Foods Friday? Uh, he went on vacation. Or something. In his place? A delightfully healthful meal with carrots, mango, halibut and macadamia nuts — or Macadamia Nut Crusted Halibut in a Spicy Carrot-Mango Broth over Soba Noodles. Hmmm, that's a mouthful.
Like the title suggests, half the recipe is based on one by Bobby Flay (the carrot-mango broth that was originally paired with a potato-crusted halibut) and half by Ming Tsai (the macadamia nut crusted halibut in an Asian-fusion type sauce that I can't remember right now). I took a little from column A and a little from column B and combined the two. Put them together and it was a tasty and amazing meal. And healthy! Ha! Take that Super Foods Friday.
Carrot Mango Broth
2 cups fresh (or packaged if you can't get fresh) mango juice
2 cups fresh (or packaged if you can't get fresh) carrot juice
1 tbsp toasted whole fennel seeds
2 tbsp toasted whole coriander seeds
1 habanero chile (or about a 1/8 – 1/4 tsp chili paste)
1 clove garlic, peeled and whacked open
Salt and pepper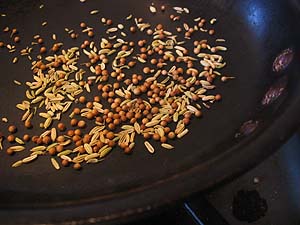 Toasting the seeds.
In a medium saucepan over high heat, combine the juices, fennel, garlic, coriander and chile and bring to a boil. Reduce the heat and simmer 20 minutes, or until reduced by half.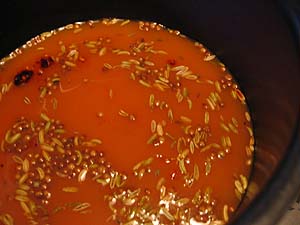 Strain through a fine strainer and season to taste with salt and pepper. Sauce can be made to this point and the set aside while you cook some soba noodles and make the halibut.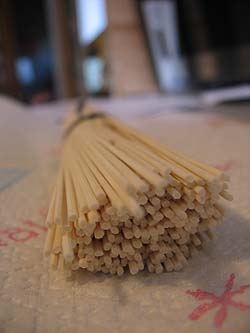 Noodles awaiting the boiling water.
Macadamia Nut Crusted Halibut
1 pound halibut, cut into 2 (8 ounce) portions
1 cup macadamia nuts, roughly chopped in a food processor
Salt and black pepper, to taste
1 egg white
2 tbsp vegetable or canola oil
Lay the 2 pieces of halibut on a clean work surface. Season each piece with the salt and pepper. Using a brush (or, hell, your index finger), quickly spread a thin layer of the egg white on top of the fish and then sprinkle over the chopped macadamia nuts. Press the nuts into the fish to secure.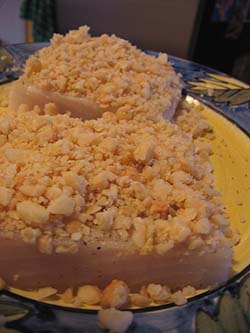 Preheat the oven to 400 degrees. Heat a large saute pan coated with the oil to medium heat. Place the fish, macadamia side-down, in the pan and sear for 2-3 minutes, until the macadamias are golden brown. Now, this may be a little tricky and some of the nuts will fall off. Just do the best you can. And when you flip back over, try to get the spatula all the way under the fish and flip quickly. Any nuts that fall off, just stack back up on the fish.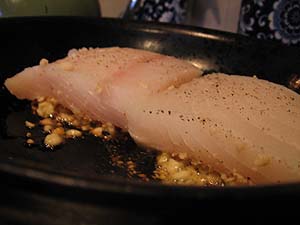 Flip the fish and cook for another 2-3 minutes. Place the fish in a baking dish and cook in the oven for another 6-8 minutes. Or, if you're using an oven safe pan, just pop the pan in the oven.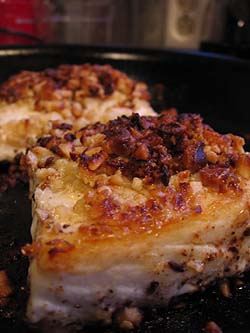 To finish it all:
Cooked soba noodles
green onions and chopped cilantro for garnish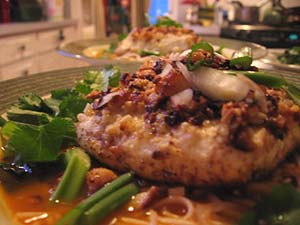 Reheat your broth. Place some cooked soba noodles in a bowl and ladle some of the broth over. Place a piece of fish on top and garnish with diced green onion and chopped cilantro.