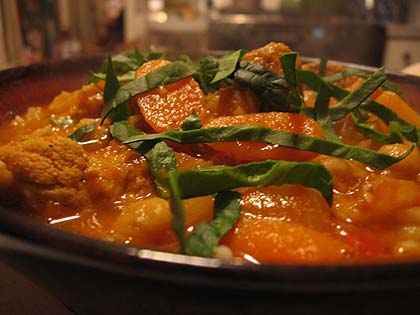 Ah, the first recipe from the most recent Eating Well — the one with the asparagus on the cover. Except there's no asparagus in this one. It's a Moroccan-influenced pork ragu. This even included a special trip to Pasta Works (which has kind of become my go-to place when I need an imported, out of the ordinary, ingredient). In this case it was preserved lemons.
This really cooks pretty quickly, so I guess it's a cheater's ragu as I think normally it's something you would cook for hours and hours. You'd also, because of that, use tougher meat. But the pork chops the original recipe calls for and the cubes of pork tenderloin that I used, both are very tender and don't need to cook for hours.
I changed a couple of things from the original recipe — added a bit more olive oil, sauteed the veggies, used tenderloin instead of chops since that's what I had in the fridge and doubled up on the butternut squash.
Moroccan Pork Ragu
2 lemons
2 tbsp extra-virgin olive oil, divided
2 tsp smoked paprika
1 tsp ground turmeric
1 tsp ground coriander
1 tsp ground cumin
1/2 tsp freshly ground pepper
1/4 teaspoon plus 1 pinch ground ginger, divided
1 1/2 pounds boneless pork chops (1 inch thick), trimmed of fat, cut into 1-inch cubes (or 1 pork tenderloin, trimmed of fat and cut into cubes)
14 oz chicken broth
2 cups diced butternut squash
1 cup sliced carrots (1/2 inch thick)
1 15 oz can chickpeas, rinsed
1/2 cup chopped onion
1/2 cup diced tomatoes (canned or fresh)
2 tbsp chopped rinsed preserved lemon (optional — if you can't find it just leave it out)
1 tbsp tomato paste
2 cloves minced garlic
1/4 teaspoon hot sauce, such as Tabasco (or a bit of chili paste)
Pinch of ground cinnamon
Pinch of ground allspice
6-8 leaves of fresh spinach, sliced into strips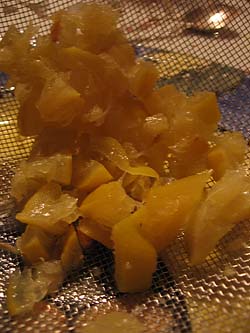 Chopped preserved lemon
Zest and juice the lemon(s) to get 1 tablespoon zest and 2 tablespoons juice; reserve the zest. Combine the juice, 1 tablespoon oil, paprika, turmeric, coriander, cumin, pepper and 1/4 teaspoon ginger in a medium bowl. Add pork; stir to coat. Marinate in the refrigerator for 30 minutes or up to 4 hours.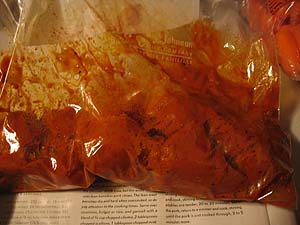 Heat the remaining oil in a large nonstick skillet over medium-high heat. Add the pork and cook, stirring, until no longer pink on the outside and beginning to brown, 2 to 3 minutes. Transfer the pork to a plate. There should be a nice coting of the pork marinade in the pot — leave it in there and cook everything else in that.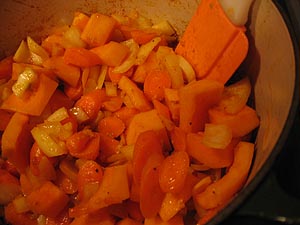 Add the squash, carrots, garlic and onion. Saute for about five minutes and then add the broth chickpeas, tomatoes, preserved lemon (if using), tomato paste, hot sauce or chili paste, cinnamon, allspice, the reserved lemon zest and the remaining pinch of ginger to the pan. Whew! A lot of stuff, but it mostly goes in at once.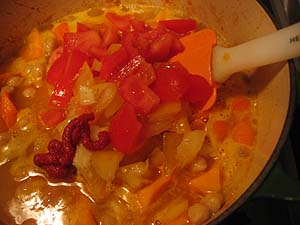 Bring to a boil, stirring occasionally; reduce heat to a simmer and cook, stirring occasionally, until the vegetables are tender, 20 to 30 minutes. Next, stir in the pork, return to a simmer and cook, stirring, until the pork is just cooked through, 5-8 minutes more. The kitchen will smell all fragrant and you will be hungry. Call it done and get some bowls.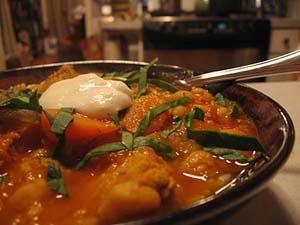 We had this over some rice. I thought it looked very orange so I garnished it with a little spinach. Very pretty. Oh I also added a dollop of yogurt to the top because that's just like something I'd do. jwa was a little skeptical at first. He gave it a few sniffs (as he's apt to do with new meals), tried a bit and decided that he liked it very much, as did I. We both had leftovers for lunch the next day. So there you go. It's quite tasty!