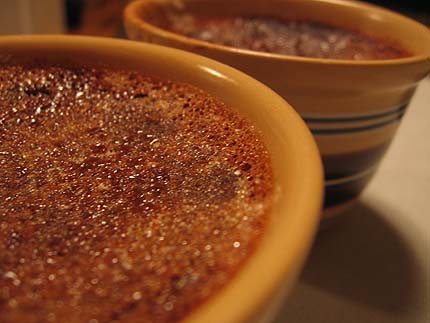 For Christmas this year, one of my presents from jwa was a creme brulee torch. It's awesome. I used to always use the broiler for caramelizing the tops, and that works fine, but it's just so nice to whip out the torch and do it quickly, without heating the custard up as much as putting it under the broiler does. Plus, it is kind of fun to burn things!
Here's a recipe I adapted from Bon Appétit magazine. When making creme brulee at home, I tend to use half and half, rather than heavy cream. I know, I'm deluding myself there, but it does make me feel a little better.
Oh and I also added a little orange zest to the half and half while it simmered on the stove top. I like to think that added a little extra something. In addition, I chopped my ancho very roughly (okay, I just cut it in half) and then strained all the floaty things from the cream after it had simmered. That worked very well rather than dicing things smaller and leaving them in the custard, I think.
This wasn't strongly spicy but it did have a slight after taste of heat. I liked it a lot. So did jwa.
Ancho Chocolate Creme Brulee
3 cups whipping cream (or half and half)
1 cinnamon stick
1 dried ancho chili with seeds, stemmed and roughly chopped
Pinch of ground cumin
1 strip of orange zest
1/3 cup plus 6 tsp sugar
6 ounces bittersweet (not unsweetened) or semisweet chocolate, chopped
6 large egg yolks
1/2 tsp ground cinnamon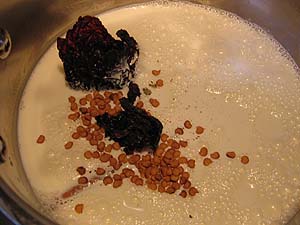 Preheat oven to 350 degrees. Combine first 5 ingredients and 1/3 cup sugar in heavy large saucepan and bring to boil, stirring occasionally. Let simmer for a minute or two and then remove from heat.
Strain the hot mixture into the chocolate and whisk until melted and smooth. Whisk egg yolks in large bowl to blend.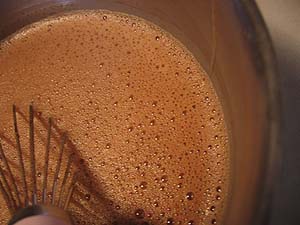 Gradually whisk in hot chocolate mixture.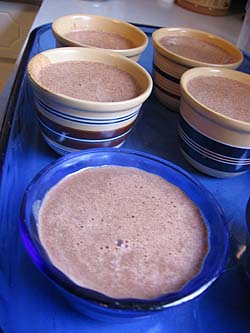 Divide custard among eight 3/4-cup custard cups or soufflé dishes. Place cups in heavy large baking pan. Add enough hot water to pan to come halfway up sides of cups. Bake custards until almost set in center, about 35 minutes. Remove cups from water and cool completely. Cover and refrigerate overnight. I had a few bubbles on the top of my baked custards from the pre-bake whisking, but since I was covering with sugar and bruleeing I wasn't too concerned.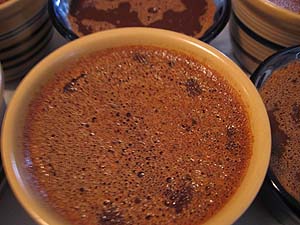 Preheat broiler. Mix remaining 6 teaspoons sugar and ground cinnamon in small bowl. Sprinkle sugar mixture over custards. Broil until sugar melts and caramelizes, watching carefully and turning often, about 2 minutes.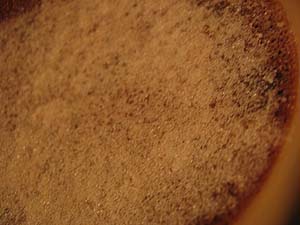 Alternatively, if you have a handy-dandy kitchen torch, use that to caramelize the tops of the custards.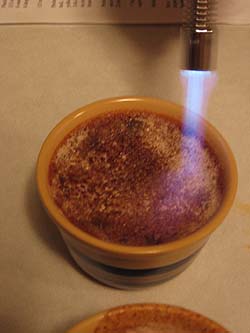 Let it sit a minute or two to make sure the top hardens and then crack it with a spoon. Ahhh. Now that's a great sound. And it tastes very good too!