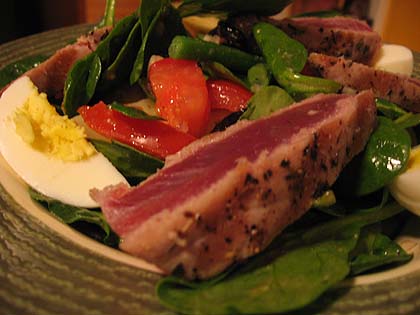 This month's Weekend Cookbook Challenge — #14, for those keeping track — is all about salads. This event is also being guest hosted by running with tweezers.
The cookbook that I chose is Donna Hay Modern Classics Book I, which is probably one of the most beautiful cookbooks I own. It's paperback but the pictures, oh the pictures. I want to eat the pages. Well, okay, not really, but wow, she makes everything look so good
I was especially lured by the photo of the niçoise salad on page 53. "Okay", I said to myself. "That's what I'm making." And so I did.
Niçoise Salad
This serves 4 — easily halved to serve 2
12 baby new potatoes, halved
10 oz green beans, trimmed and halved
14 oz ahi tuna steaks
olive oil for brushing
5 oz baby spinach leaves
2 tomatoes, sliced into wedges
2/3 cup black olives, halved (I used niçoise olives!)
salt & pepper
2 hard boiled eggs, quartered
Dressing
1/3 cup extra virgin olive oil
2 tbsp sherry or red wine vinegar
2 tsp dijon mustard
1 tbsp chopped flat leaf parsley
salt & pepper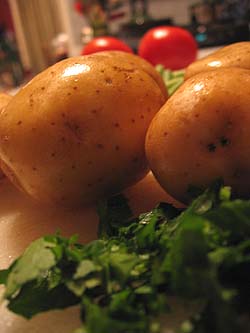 Place the potatoes in a saucepan of boiling water and cook for 5 minutes or until almost soft. Add the beans and cook for 2 more minutes, until the beans and potatoes are tender.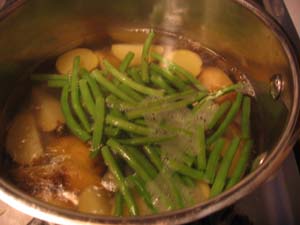 Drain and cool under running cold water.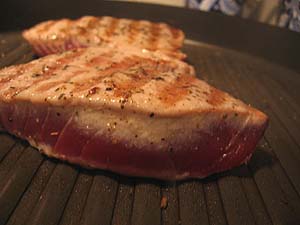 Next, brush the tuna with a little olive oil and sprinkle with some salt and pepper. Grill (outdoors or on a grill pan inside) for 1-2 minutes on each side, or until the tuna is seared nicely but still rare inside. Set aside for five minutes and then slice.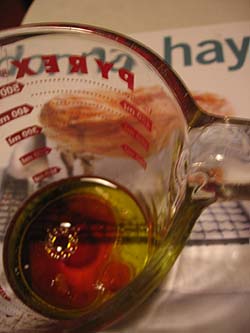 To make the dressing, place the oil, vinegar, mustard, parsley, in a bowl with a little salt and pepper. Whisk to combine. Taste and adjust salt and pepper as needed.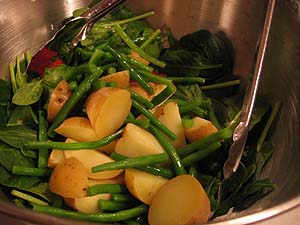 Place the spinach, tomatoes, olives, potatoes, beans, eggs slices and dressing in a big bowl. Toss to combine. Then, place the tuna slices on top, along with the egg quarters. Serve immediately.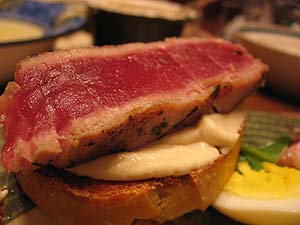 I also toasted up some baguette slices with a little olive oil and garlic and had those on the side with some leftover hummus. It was especially good to place some of the tuna slices on a hummus-topped bread.
Thanks again to Weekend Cookbook Challenge, Running with Tweezers and Donna Hay!
***
Do you love Firefly? Then you must go buy this. jwa's hopefully buying a copy and bringing it home from work tomorrow night. Oh and speaking of all things Joss, I have it on pretty good authority that the Buffy Singalong is coming to Portland the 4th weekend of June (Friday and Saturday nights). Dates will be officially announced March 15th.
***
One more unfood-related item. We just saw Act a Lady at Portland Center Stage. If you can get to it before it closes, your really should. It was so funny! An accordion! Men dressing as ladies! Fancy-Paris talk! Ghosts!
This was also the first time we were at their new space in The Pearl. I really like it.