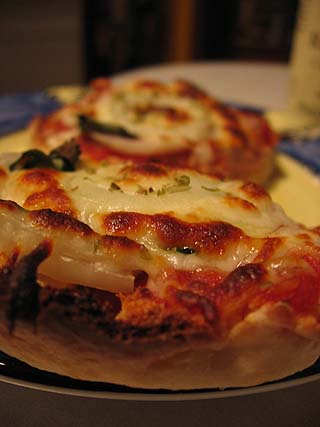 It was so pretty, I just had to take a picture…
Last weekend jwa and I went out for lunch and had enough food so that neither of us was starving that evening. At the same time, we both wanted a little something for dinner. Enter the English muffin pizza — a staple of my youth and it turns out, his too. Toast an English muffin, spread with tomato sauce, top with appropriate toppings (in this case onion, cheese, tomato and garlic) and stick under the broiler until toasty. Takes five minutes to make and it hits the spot as required.
That is all. Spent a long weekend in Gearhart (two meals at Pacific Way Cafe!) and am too lazy to post about Pear-Ginger Pie tonight. Perhaps tomorrow.