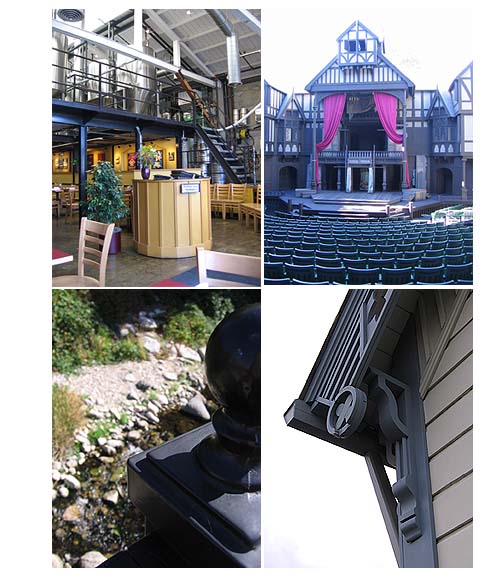 Ashland for the Shakespeare Festival
I recently got an e-mail from the Winchester Inn (which we call "The Winchester Mystery Inn", having lived in the Bay Area), offering one night's lodging, $30 coupon towards dinner in the dining room — hey, it's about a free bottle of wine — tickets to a play for two and a hot breakfast the next morning. Needless to say, I picked a date, a room from the Web site, decided which play I wanted to see and called jwa to let him know about this mini-getaway all in a span of 30 minutes from getting the e-mail. I'm very easily convinced to return to places we like a lot.
On April 15th, while others are slugging away on their taxes (due Tues, the 17th this year) we'll be kicking back in Ashland, enjoying a lovely dinner at the Winchester and seeing Tracy's Tiger. This works out very well, as it is sold out for our traditional Ashland trip in October and I couldn't get tickets, which made me very sad. Now I am happy.
Since we do go to Ashland every year, I figured I'd throw out a few recommendations. Although, be warned, lodging reservations should be made as early as possible. Depending on when you go, things might be booked up to a year in advance. Seriously. I know. I was shocked too when I had to scramble one year to find a place to stay. This is especially true for the first weekend in October.
Winchester (Mystery) Inn
A cross between a B&B and small hotel. Breakfast is included in the morning and is big and satisfying. Usually a choice between some sort of pancake/waffle option and a savory egg dish. Includes fruit, coffee and juice. We've only stayed in one room — The Sunset Room — which was very nice, albeit a bit small.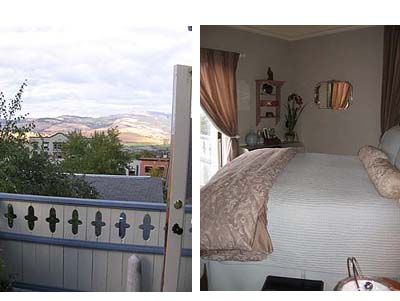 The Sunset Room
There is an awesome, private balcony though, so it was worth it. The rooms are a bit pricey though,$145 – $250, so you may want to save it for a special occasion.
Abbott's Cottages
Our new favorite place to stay. They fill up very quick, though. Studio, one-bedroom and multiple bedroom "cottages" with kitchens, tile floors, balconies/patios and cuteness. Behind Al's Pancake World. Okay, fine, Al's diner. We've stayed in the Egret and the Duck. Rates are very reasonable, starting at $110 for a studio cottage and going up to $230 for a 3-bedroom rental house.
Casa Bella — Backyard Bungalow
We stayed here once and it was very, very cute but a little small. Lots of character. There's a small kitchen, a small bathroom, closet and a bedroom/sitting area. The price is very good at $85-125/night (depending on season) and there is a parking spot located a few steps outside the kitchen door. It's attached to a larger rental house, but still managed to seem pretty quiet and private. A good deal for Ashland. The Web site doesn't seem to work anymore — not sure if this place is still available.
Fiddle Family Inn — The Cottage
Small one bedroom cottage, with a back deck and a soaking tub. We stayed here once and while it was nice, it was nothing special for the price of $150/night. Based on the outside, which is very cute, I was expecting more from the inside, which just looked like an ordinary, "first apartment" type interior. Also, there was no parking spot included. Not a big issue as we had no problem finding a spot on the street, but for $150 I'd like off-street parking. The owner was extremely nice though, so it'd be an okay choice if you looked and looked and everything else was booked.
Manor Motel
Ashland on a budget. We stayed here last year three nights and saved enough money to splurge and stay at the Winchester for one night. This is a very good deal. Rooms start at $65 a night and go up to $95 for multiple bedrooms. The website makes it look slightly nicer than it really is, though and the kitchens are very dated. That said, it was a perfectly nice place to stay as long as you're not expecting a $150/night type of room. I did really like sitting at the kitchen table in the morning, having coffee and reading. There is also a picnic table outside and a back gate that leads out into the neighborhood.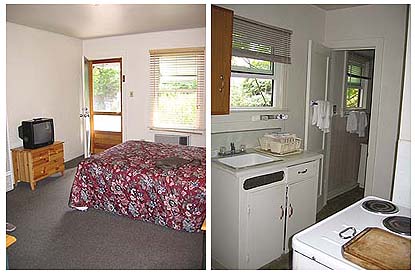 I forget the room number that we had…
The owner was very friendly and out in the morning doing yard work on the property. I could not, however, stop myself from wondering how nice our room would be with new carpeting (or even better, hardwood floors), some bright wall paint, new artwork and a new, unstained chair. But then again, if you're looking to save a few bucks and don't care about fanciness or cuteness in your lodging, this is a great option.
Places we haven't stayed at but I'd either like to or have heard good things about…
Ashland Springs Hotel
Right downtown, looks very nice. One day we'll splurge and try it.
The Palm
We almost stayed here the first year we went but then I found a rental cottage to stay at instead (that place is no longer available). This looks like a great deal and people on Tripadvisor.com seem to like it too. It's probably a bit longer walk to downtown than most places we stay at but then, walking is good for you so that's not a bad thing. $64 – $169/night.
Restaurants coming soon…