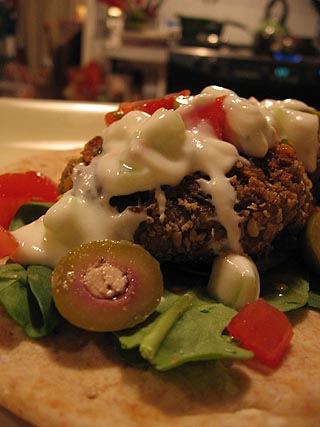 Today's Super Foods recipe is a little like falafel — 'cept it's not. Instead of garbanzo beans it uses lentils. I was very surprised by the overall flavor difference, in that there was one. These have a nuttier taste and were very, very good. Even jwa expressed a surprised liking for these. That's quite a recommendation as he typically does not get too excited about lentil recipes.
These were a little crumbly, so you probably don't want to over stuff the pita. Two-three patties per each sandwich.
Next week, Sugar High Friday kicks Super Foods Friday to the curb.
Lentil Fritters with Yogurt Mint Sauce
From a recipe in Gourmet Magazine
1 1/4 cups lentils, picked over and rinsed
1/2 cup rolled oats
3 garlic cloves, minced
2 tsp ground cumin
dash of red pepper flakes
1 large egg, beaten lightly
Olive oil for frying
6 pita pockets, split (or flat bread)
Spinach leaves
1 tomato, chopped
1/4 cup olives, chopped (mine were feta-stuffed)
Yogurt Mint Sauce
1 cup plain yogurt
1 tbsp chopped fresh mint leaves
1/4 cup cucumber, chopped
1 clove garlic, minced
Add lentils to a large saucepan of salted water and bring water to a boil. Cook lentils at a bare simmer until tender, about 15 to 20 minutes.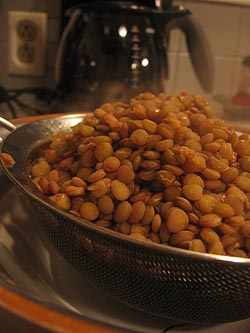 In a blender or food processor grind oats into meal.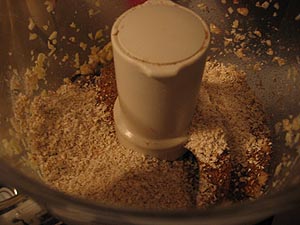 Drain lentils and combine in a bowl with the garlic, coriander, pepper flakes, cumin, and 3 tablespoons of the ground oats. Mash mixture with a potato masher.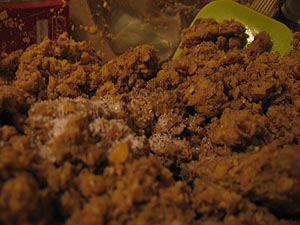 Stir in egg and salt and pepper to taste and form mixture into small patties — I got about eight.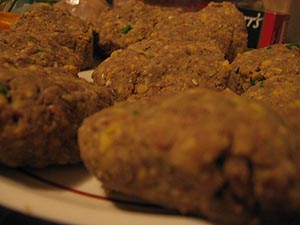 Coat burgers with remaining ground oats and chill, uncovered, 15 minutes.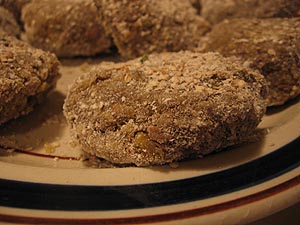 In a small bowl stir together yogurt, mint, and salt and pepper to taste.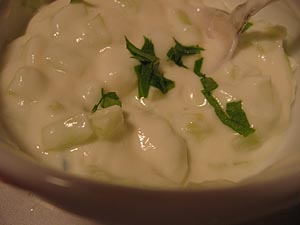 In a large skillet heat a liberal coating of oil (a few tablespoons) over moderately high heat until hot but no smoking and fry burgers, in batches if necessary, until browned and crisp, about 3 to 4 minutes on each side.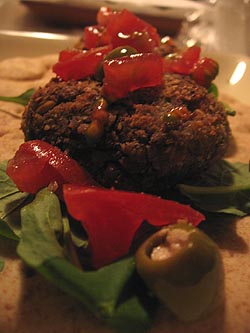 Serve burgers in pitas with lettuce and yogurt mint sauce.
Super foods used: beans (lentils), oats, and yogurt.