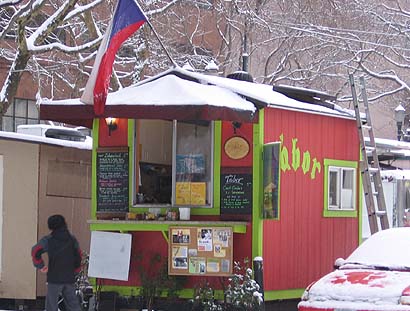 Tábor
Downtown at SW 5th and Stark
503-997-5467
Mmmmmmm…schnitzelwich
Before I even tried Tábor, I thought it was the lunch cart with the most personality. The colorful Eastern European cottage facade, the music from the outdoor speakers … cute! After reading the little write up in Portland Magazine I finally managed to stop by for lunch and now I am in love with the schnitzelwich.
Breaded pork loin or chicken breast in a Ciabatta roll with lettuce, paprika spread, sautéed onion and horseradish $5.00.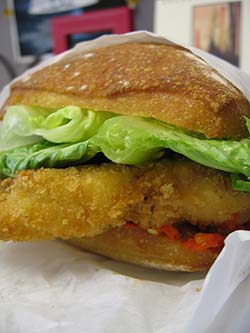 It is, first of all, huge. H-U-G-E. I eat half for lunch, wait an hour or so, then eat the rest because I loved the first half so much. Crispy chicken, caramelized onions and horseradish, you say? Fabulous. Sign me up.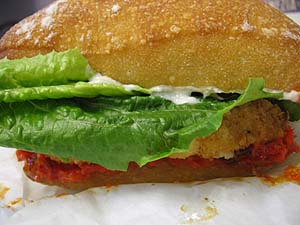 I need to try a few of the other items on the menu — the potato pancakes and chicken paprika are especially calling to me — but it's hard to not order the sandwich. They have all sorts of authentic Czech food including goulash, soups, dumplings and sausages. They also cater and (their web site says) will offer cooking classes. Fun! I try to go there once every couple of weeks, as I know my desire for hot, crispy, big sandwiches will leave me once the weather gets warm. Stupid summer.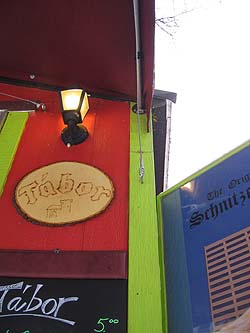 When I visited during the snow storm yesterday, before getting to go home early, the owners were telling me how they got in early that day, before all the snow and now they were stuck at work. Bad for them but good for me. I got my schnitzelwich.
Schnitzelwich. Schnitzelwich. So much fun to say too.