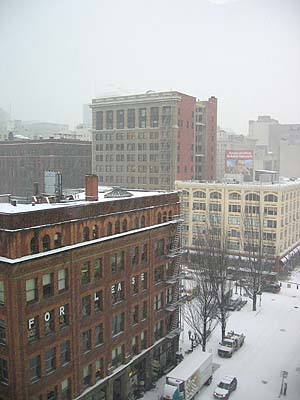 I had no idea that it was supposed to snow today, Neither, apparently, did Trimet. It started out as a nice walk in the snow at 7:20 AM, down to the bus stop at 34th & Hawthorne.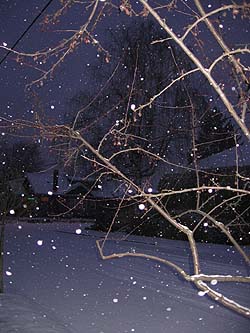 Once there, I only had to wait about 5 minutes before a bus came. It was packed but I got a spot right in the front, standing just a hair behind the yellow line. Good for me but bad for everyone at stops past 30th, as we had no room and he didn't make any other stops.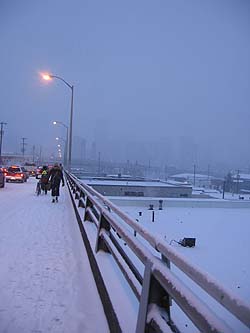 Once we hit Madison though, it was all backup and no bus lane. So, I decided to get off at Grand and walk the rest of the way into work. So did a lot of other people. I even beat the bus across the bridge by walking it.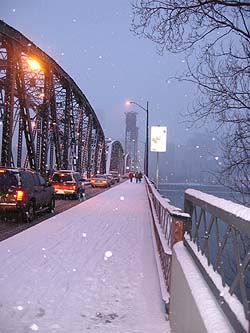 Got to work at 8:20 so it took me about 60 minutes. It usually takes 30 minutes so not too bad.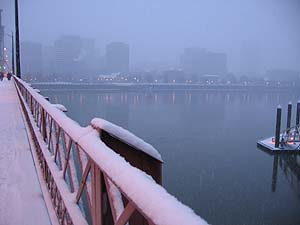 Another bridge picture.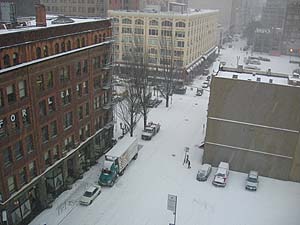 View from my office window.
Around 11:10 I decide to go out and forage for lunch, walk around and take a few pics.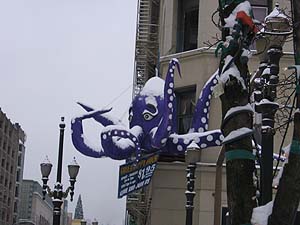 Snow covered octopus outside Greek Cusina.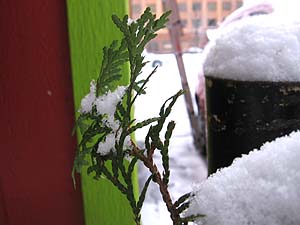 Snow outside Tabor Cafe where I grabbed some lunch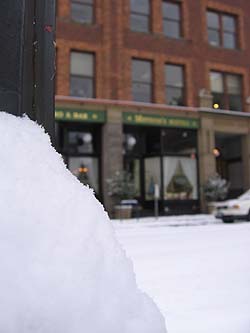 Art-y snow pic back by office, across the street from Mother's.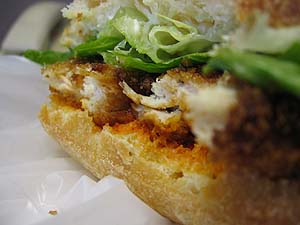 The awesomeness of the Schnitzelwich — more on that tomorrow.
Get back to work and find out we all get to leave at noon. Yay! Eat half of lovely schnitzelwich and tasty sobe green tea and check the Trimet page for bus tracking. It said there was a Hawthorne bus due at the corner of SW 2nd and Alder in 10 minutes. I'm somewhat skeptical, though, as it had said this for the last hour. Got my stuff and started out anyway.
When I get there, it's chaos. There's 25 or so people standing about and a Trimet dude trying to help people with the new bus stops downtown. I asked him if the transit tracker was lying when it says there was a 14 coming in 10 minutes. Two ladies waiting for the 15 laughed. They had been waiting for the Belmont bus already at this stop for 1 1/2 hours. They had not seen a 14 come by in all that time. In fact, no buses had been by at all. I start walking home.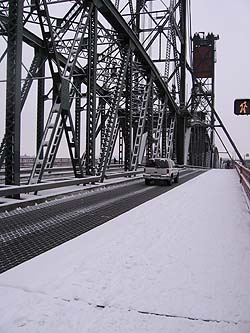 Called jwa and informed him of my new (and improved?) transit plans. He said he'd leave the house now (he had a full, work-from-home snow day), and that we'd meet on Hawthorne and walk back home together. How sweet.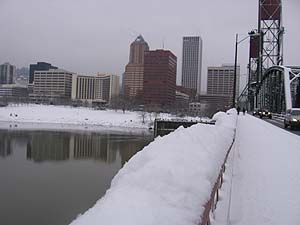 Looking back at downtown.
We met up around SE 18th and stopped in Starbucks so that my legs could warm up, as they were frozen by this point. Got a green tea latte, defrosted a bit and headed back out. Further up Hawthorne, around 25th, a bus has wiped out and was blocking the right, east-bound lane. Now it just sat there, deserted, stuck and forlorn.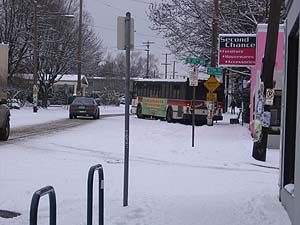 Boo.
We got home around 1:30 and now I am going to curl up on the couch with a book, Tim Powers, Three Days to Never, which I highly recommend.
Hmmmm, wonder if tomorrow will be a snow day too?