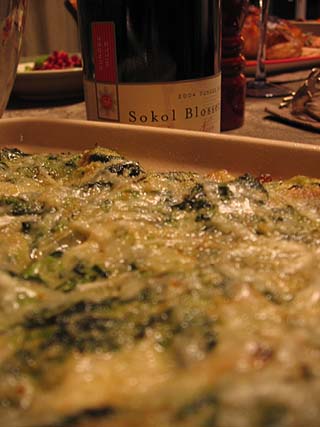 Spinach Gratin on the holiday table
Looking for something to do with a gallon of whole milk? Well, today's a two-fer. Sure, the holidays are over and so is the time for cream and non-non-fat milk, but if you do choose to splurge anytime soon, here are two really good recipes to make and enjoy. Add a roast chicken to the mix and you have a whole cold weather meal.
The Spinach Gratin is from Ina Garten and the rice pudding is from Giada Delaurentis aka: Little Big Head.
Spinach Gratin
(works well halved)
4 tablespoons (1/2 stick) unsalted butter
4 cups chopped yellow onions (2 large)
1/4 cup flour
1/4 teaspoon grated nutmeg
1 cup heavy cream
2 cups milk
3 pounds frozen chopped spinach, defrosted
1 package button mushrooms, sliced (10-12 mushrooms)
1 cup freshly grated Parmesan cheese
1 tablespoon kosher salt
1/2 teaspoon freshly ground black pepper
1/2 cup grated Gruyere cheese
Preheat the oven to 425 degrees F. Melt the butter in a heavy-bottomed saute pan over medium heat. Add the onions and mushrooms, saute until soft, about 15 minutes. Add the flour and nutmeg and cook, stirring, for 2 more minutes. Add the cream and milk and cook until thickened. Squeeze as much liquid as possible from the spinach and add the spinach to the sauce. Add 1/2 cup of the Parmesan cheese and mix well. Season, to taste, with salt and pepper.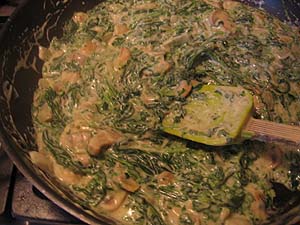 Transfer the spinach to a baking dish and sprinkle the remaining 1/2 cup Parmesan and the Gruyere on top. Bake for 20 minutes until hot and bubbly. Serve hot. Leftovers? Use it to make a decadent spinach lasagna by alternating noodles, red sauce and your spinach mixture. Top with extra red sauce and mozzarella.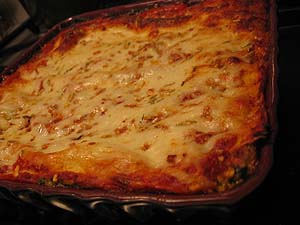 Next, this is an awesome dessert. The orange/vanilla combo gives it a really great dreamsicle quality. If you don't have dark rum, you can use some grand mariner. The risotto rice makes it extra creamy.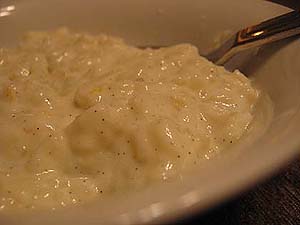 Vanilla-Orange Rice Pudding
5 cups whole milk
2/3 cup Arborio rice or other short-grain white rice
1 vanilla bean, split lengthwise
1/2 cup sugar
2 teaspoons dark rum or Grand Marnier liqueur
1 teaspoon grated orange peel
Combine the milk and rice in a heavy medium saucepan. Scrape in the seeds from the vanilla bean; add the bean. Bring the milk to a boil. Reduce the heat to medium and simmer until the rice is tender, stirring frequently, about 25 minutes. Mix in the sugar, alcohol, and orange peel. Discard the vanilla bean. Cook until the mixture thickens, 5 to 10 minutes longer.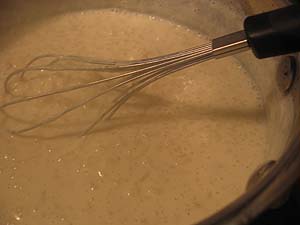 Spoon the rice pudding into bowls. Serve warm or cover and refrigerate until cold, about 5 hours.
Snow!
Whoo! It's snowing in Portland! We have about 2 inches so far and we're supposed to have snow until 4pm today. How high will the accumulation be then? I made it into work (took 60 minutes instead of 30 on the Hawthorne bus). But, will I make it home tonight? Perhaps I will be walking. We'll see. When I get home, I'll have some snow photos of downtown and the SE!