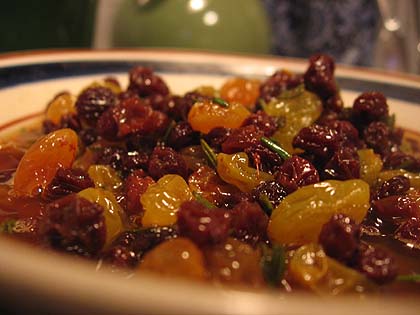 There's something about the Fall and early Winter that makes me want to chop fresh herbs — specifically sage, rosemary and thyme. Oh hell, parsley too. And this raisin compote has them all.
We had this very recently with a roast chicken (sort of like a pre-mini-Thanksgiving) and it was quite good. The original recipe called for all raisins, but I used half golden raisins and half currants. I'm thinking of making this to go with our traditional Christmas Cornish Game Hens next month.
The recipe that I use for those is out of the same book that the raisin compote is in — The Cook's Illustrated Complete Book of Poultry. This book is worth it's weight in gold, if you ask me, even with the new name.
Raisin Compote with Rosemary & Thyme
1 cup golden raisins
1 cup dark raisins or currants
1 cup fresh orange juice
1/4 cup fresh lemon juice
1/4 cup sugar
1 tsp cayenne pepper
1/4 cup minced parsley leaves
1 1/2 tsp minced rosemary leaves
1 1/2 tsp fresh minced thyme leaves
1 tsp fresh minced sage leaves
salt & pepper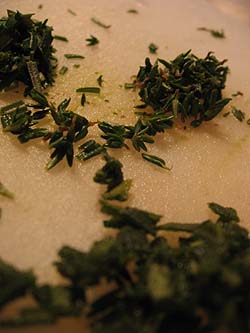 Bring the raisins, juices, sugar, cayenne, and 1 1/2 cups water to a simmer in a heavy-bottomed pan. Reduce the heat to low and simmer, stirring occasionally, until the raisins plump, about 15 minutes.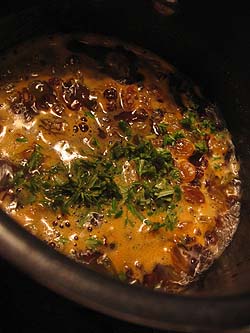 Add the herbs and simmer five minutes more to blend the flavors. Cool to room temperature, season with salt and pepper, and refrigerate until ready to serve.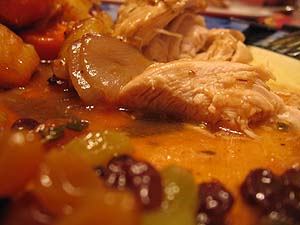 Quick Synopsis of the Cook's Illustrated Roast Chicken
1 chicken
3 tbsp butter, 1 tbsp of that melted, the other 2 softened
salt & pepper
Set the oven to 375 degrees and preheat the roasting pan and oiled rack as well. Push softened butter up under the skin of the breast. Drizzle the melted tablespoon over the chicken, then sprinkle liberally with salt and pepper. Roast on a rack, wing side up for 20 minutes. Turn chicken over, other wing side up and roast for 20 more minutes. Turn breast side up. Return to oven and continue roasting until a thermometer inserted into the breast reads 160 degrees and the thigh reads 170 (25-30 minutes longer). Let rest for 10 minutes.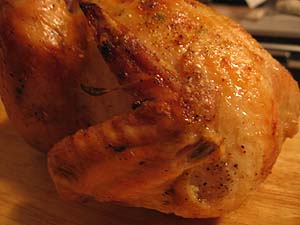 And I will definitely be posting about the Cornish hen recipe in the next couple of weeks as it really does make a wonderful holiday meal!