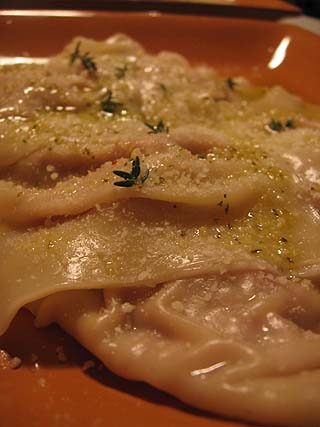 Wondering what to do with the leftover turkey and other side dishes from Thursday, I came across this recipe from Giada of Everyday Italian. Although this recipe was originally intended as a Thanksgiving meal for two, I figured it would work well enough with leftover, cooked turkey (as opposed to the raw, ground turkey she uses). It did. I made one other alteration to the original recipe — I added some ricotta cheese to make it a bit creamier. I was quite pleased with the way these ravioli turned out.
Oh and speaking of Everyday Italian, whenever I watch that show and she talks about her husband, Todd, I visualize him as The Todd from Scrubs. And then I laugh and laugh.
Turkey and Cranberry Ravioli
1 cup diced leftover turkey, a mix of dark and white meat (my turkey had fresh herbs — parsley, sage, rosemary and thyme under the skin, so I skipped the fresh parsley listed below)
3 tbsp cranberry sauce
1/4 cup ricotta cheese
3 tbsp grated Romano or Parmesan cheese
2 tbsp bread crumbs
1 tbsp chopped fresh parsley leaves
1 egg
1/4 tsp kosher salt
1/4 tsp freshly ground black pepper
20 store-bought wonton wrappers
For the sauce:
1 tbsp butter
2 tbsp olive oil
1 garlic clove, minced
1 tsp parsley leaves, chopped
1 sprig fresh thyme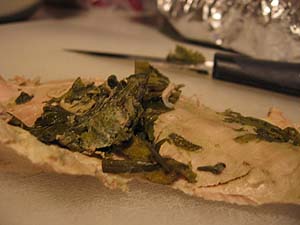 In a medium bowl, stir together the turkey, cranberry sauce, cheese, bread crumbs, parsley, egg, salt, and pepper.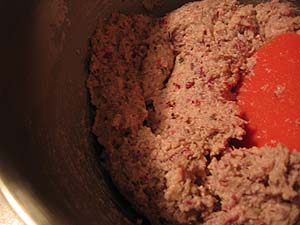 You could also place all of those ingredients in a food processor and pulse a few times. This will give you a smoother filling. It's what I did. It's really personal preference and whether or not you have a food processor.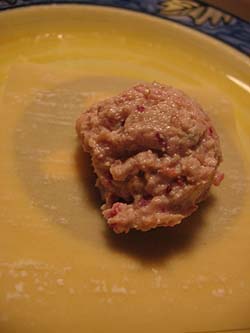 Place a wonton wrapper on a work surface. Brush the edges lightly with water, using a pastry brush or your finger. Place 1 tablespoon of the turkey mixture on each of the wonton wrappers. Top with another wonton wrapper. Push out any air bubbles and press the edges tightly to seal.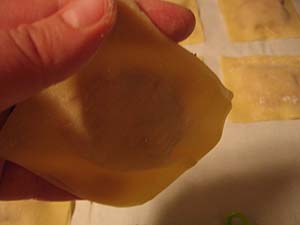 Repeat with all the wrappers. These are very big ravioli and about five per person is a good serving. I used a whole package of wonton wrappers (about 30) and froze the extra ones. I also had some filling leftover. I popped it into the freezer to use in some butternut squash lasagna I'm going to make next weekend. Oh and also in the freezer? More diced turkey, goat cheese and potato soup, carrot & parsnip soup, extra stuffing, extra gravy and two pieces of pumpkin-orange-marscapone pie. I tell you, one day in February is going to be Thanksgiving II.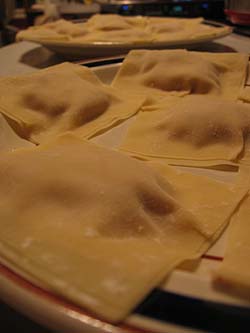 But, back to the ravioli. Bring a large pot of salted water to a boil over high heat.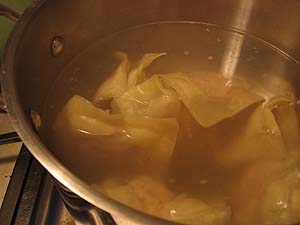 Add the ravioli and cook until tender but still firm to the bite, stirring occasionally, about 3 minutes. Be gentle with them and also just do this at a simmer. Meanwhile, in a small pot, heat together the butter, olive oil, garlic and parsley. Stir until warm and the butter is melted. Drizzle sauce over the cooked and drained ravioli and garnish with a little fresh thyme and Parmesan cheese.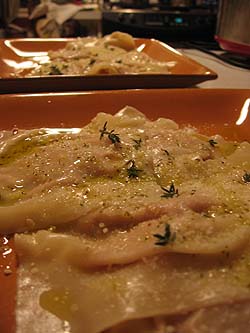 A nice pre-dinner cocktail for this meal is the Grapefruit Cosmo, inspired by a drink I recently had at Wildwood.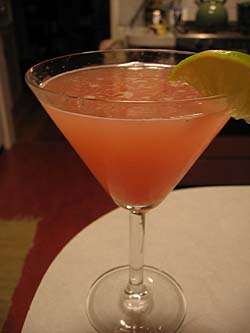 Grapefruit Cosmo
1.5 oz really good vodka — Ciroc is awesome
1 ruby red grapefruit, cut in half and juiced
1 lime, cut in half and one half juiced
splash of cranberry juice
ice
Add ice to a cocktail shaker and add in the juice from the whole grapefruit, half the lime, the cranberry juice and the vodka. Shake and strain into a martini glass. Cut a slice of the remaining lime for a garnish. Ahhhh, refreshing.
***
Je Mange la Ville has a new holiday/Winter look. Also, I have added a spam-fighting device for comments. To post a comment now, please do the simple math problem you get when you add your name, email and comment. Sorry to have to add this feature but I am getting sick of deleting comments about tranny pics and viagra. Ew. Ew. Ew.