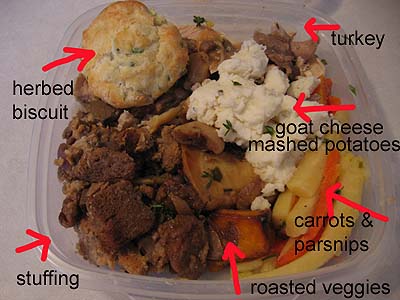 Leftovers, as taken by jwa to work on Friday morning.
Mostly pictures today, as I am mostly tired. I stupidly tried to go shopping with a bunch of other people and although the check-out line at Cost Plus was not bad, actually getting on the ramp to come home sucked.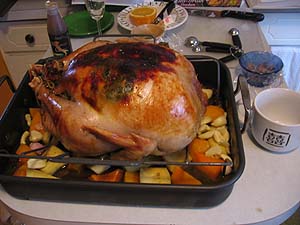 The final basting. It went back in the oven for about a half hour more after this.
Oh well. I'm home now and making turkey stock. Tonight, we are taking jwa's parents to Wildwood. As far as last night's dinner went, I thought it went well. I will say that the brussels sprouts are better when I can give them more attention. I steamed them ahead of time and although that saved a bit of time, I think they suffered a bit for it. C'est la vie, I'm not going to dwell on it.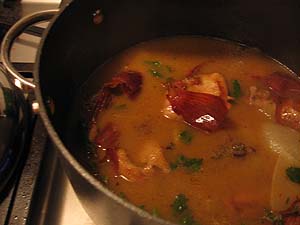 Starting the gravy the night before. Turkey parts, thyme, onion and chicken broth
Note to self: Next year, only one vegetable side dish. Okay, that doesn't include the mashed potatoes. Or the sweet potatoes, butternut squash and garlic. That just means just stick to the carrots and parsnips in the honey lemon glaze. That will work fine. Are you reading this future-self? Trust me.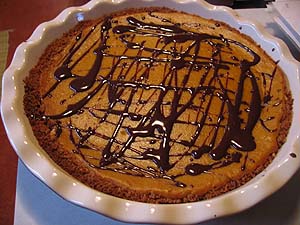 Pumpkin-orange-marscapone pie with amaretto cookie crust and bittersweet chocolate drizzle.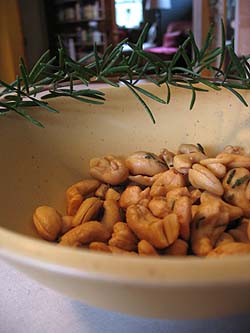 Rosemary cashews to snack on
Before we sat down, I put out some veggies and dip, cheese and crackers and these awesome rosemary cashews. The recipe is from Ina Garten and it's so good. You will want to make some to snack on as soon as possible.
Rosemary Cashews
1 1/4 pounds cashew nuts
2 tbsp coarsely chopped fresh rosemary leaves
1/2 tsp cayenne pepper
2 tsp dark brown sugar
2 tsp kosher salt (if you are using cashews that are already salted, reduce this to 1/2 a teaspoon or so)
1 tbsp melted butter
Preheat the oven to 375 degrees. Place the nuts on an ungreased baking sheet and bake for about 10 minutes until they are warmed through. Meanwhile, combine the rosemary, pepper, sugar, salt and butter in a large bowl. Toss the warm nuts with the rosemary mixture until the nuts are completely coated. Serve warm.
They are slightly sticky when warm but you won't care. As they cool, they get less messy. Just set out some napkins.