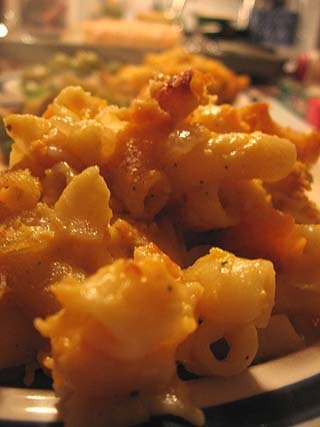 This was creamy and cheesy and squashy. The color makes it look like it's a regular cheddar mac and cheese but that's really the color of the roasted butternut squash. Sneaky! But, of course, there's cheese in it too, so it's not like the meal is completely healthy. On the other hand, it's also not completely unhealthy. It's a nice mix of good for you and gooey, melted cheese in a bowl.
Butternut Squash Macaroni & Cheese with Sage
1 lb elbow macaroni
2 tbsp flour
3 tbsp butter
1 tbsp olive oil
1 lb peeled and cubed butternut squash (You can also use whole squash, just slice in half, remove seeds and bake it that way. Scoop roasted squash out and use that in place of the roasted cubes).
2 cups 2 % milk
1 tsp jarred rubbed sage (if using fresh sage, mince it and use a bit more)
a nice sprinkle of nutmeg
3 cloves garlic, minced
dash of cayenne pepper
salt and pepper
1 small onion, diced
2 oz goat cheese
1/4 cup Parmesan cheese
1/2 – 3/4 cup grated fontina, mozzarella or provolone cheese (or a combination of cheeses — I used the above mix)
1/4 cup bread crumbs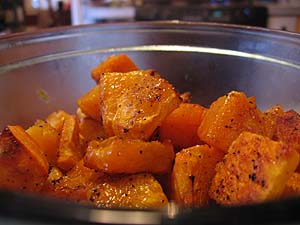 Preheat the oven to 425 degrees. Toss squash cubes with the olive oil, salt and pepper to season. Roast in the oven 30-40 minutes until soft and beginning to caramelize. Set aside and turn the oven down to 350 degrees.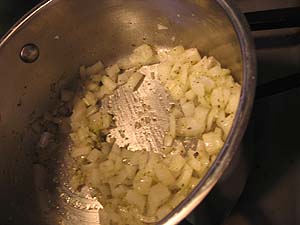 Melt the butter in a pan and add the onion, sage and garlic. Saute until soft, over medium heat, about 4-5 minutes. Add the flour and stir to combine. Let it all cook about 2 more minutes. Then, pour in the milk and stir and let come to a boil to thicken up.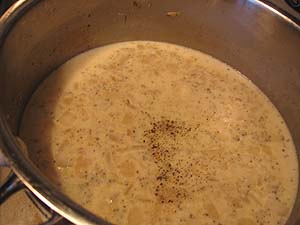 Next, add the cheeses (add as much of the grated mix as you'd like — I just sort of added a big handful, tasted and called it enough after a little bit more), cayenne and nutmeg. Stir to combine. Then, mix in the squash. Use a whisk to break it up a little.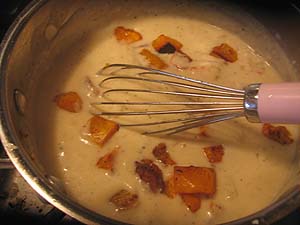 You want some of the squash pieces to blend with the sauce but you also want some pieces to stay a little chunky. Add salt and pepper to taste. It should be so good and creamy that you taste another spoonful of the sauce just because you can. Ha! It's good to be the cook.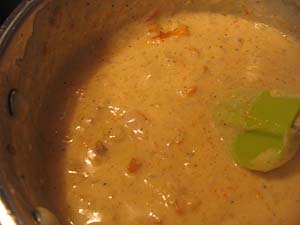 Keep sauce warm and covered while you cook the macaroni in salted, boiling water until just al dente. Combine the pasta with the sauce and pour into a buttered (or non-stick spray-sprayed) casserole dish.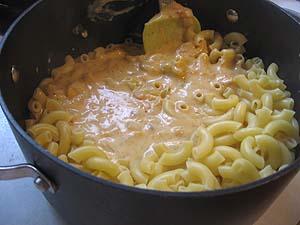 Sprinkle the breadcrumbs over the top and dot with a little butter or hit it with a little spray of olive oil or canola oil.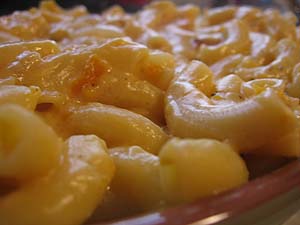 Bake 30-40 minutes until it's all bubbly and the top starts to brown a little.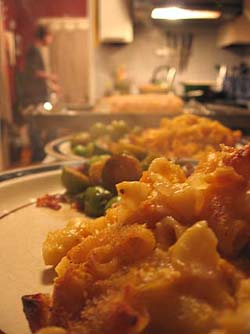 We had the squash mac and cheese with Everyday Italian's Pancetta Brussels Sprouts (in a test run for Thanksgiving). They were excellent and we will be having these Thursday!