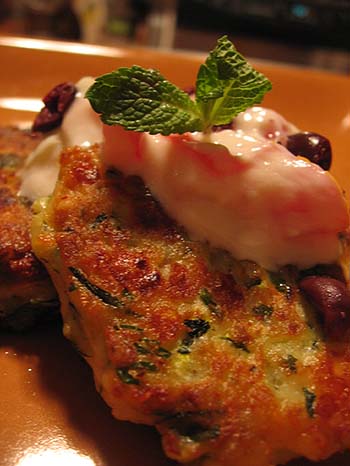 This month's Weekend Cookbook Challenge, (which I almost forgot about — oops!), is all about party food. So, to accomplish this, I turned to a book all about parties, entertaining and proper hostessing — I Like You: Hospitality Under the Influence, by Amy Sedaris. It's very funny, kitschy, deadpan in tone and is sprinkled with hilarious photos of Amy and (quite honestly) some very unappetizing food photos. Ah, so what? I love this book. There's also some handy and practical advice for entertaining:
A good trick is to fill your medicine cabinet with marbles. Nothing announces a nosy guest better than an avalanche of marbles hitting a porcelain sink.
or
Have toilet paper.
Genius!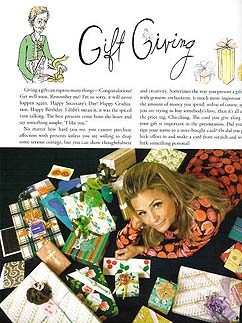 While looking through the book I was tempted to make a cheese ball (one of her "famous cheese balls"), but figured another stick of butter is one of the last things jwa and I need right now. Instead, a recipe in the book submitted by Paul Dinello caught my eye. Paul's Zucchini Fritters. The suggestion for serving these is at a "grieving party" but I say they just make a tasty breakfast, dinner snack or happy party snack! No one has to die!
The original recipe also included no measurements. Apparently Paul finds cooking without specific measurements, "exciting." Huh. Okay. So, I've listed the measurements below that I used when making these. Help yourself. For the more adventurous, disregard those and just wing it like Paul. Oh and I added the mint and red pepper flakes and halved the amount of onion in my version. I just couldn't help myself from making a couple of tiny changes, that is my way.
For a party, I'd make little fritters to serve as finger food. To make a meal of fritters, form larger patties, as I did, and serve three to a plate. The below amounts will serve about 3-4 as a meal. On the side, I whipped up some plain yogurt with garlic, tomato and cucumber. Excellent.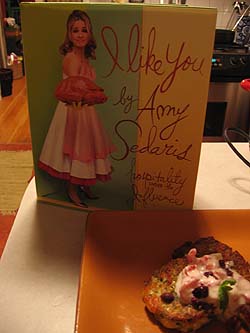 Paul's Zucchini Fritters
2 medium zucchinis
2 cloves garlic, sliced or minced
1/2 a white onion, diced
8 oz feta cheese, crumbled
2 eggs
6-8 tbsp flour
Salt and pepper
2 tbsp fresh parsley, chopped
1/2 tsp fresh mint, chopped
Dash of red pepper flakes
Grate the zucchini. It's important to get as much water out of the shredded vegetable as possible. It helps to salt it and then place a heavy lid on top it and press down. You can also wrap the grated zucchini in a tea towel and squeeze until you can't squeeze anymore. Paul says, "When you think you've got all the water out keep pressing, because I can tell you, you haven't." He's right about that.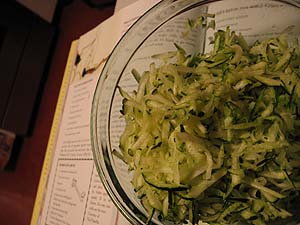 In another bowl mix six tablespoons of the flour, eggs, onion, garlic, parsley, mint and feta. Combine with the zucchini and some salt and pepper. Add more flour if it seems too liquidy. Oh and don't forget the red pepper flakes.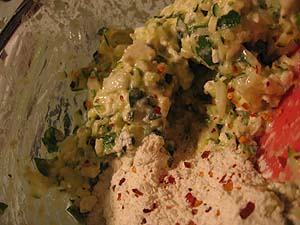 Coat the bottom of a hot frying pan in olive oil. For best results, make sure your pan is good and hot before adding fritters. Scoop a fist full of mixture from the bowl and shape into a small patty and place in skillet.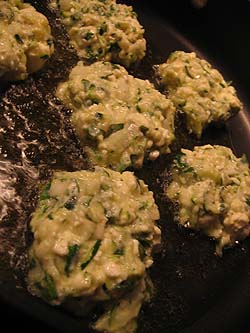 Let cook about 4 minutes on each side for larger fritters, 2 minutes per side for smaller ones.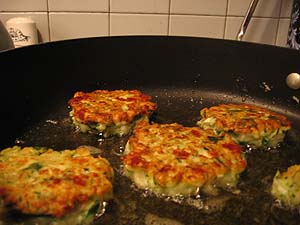 I made medium-sized fritters and I got about 10 from this recipe, but if you made them slightly smaller (and depending on the size of your zucchinis), you could probably get 12. I've also doubled the original recipe (which said you could get 20-40 fritters from one zucchini) but I'm not really sure how that's possible. They would have to be pretty damn tiny fritters.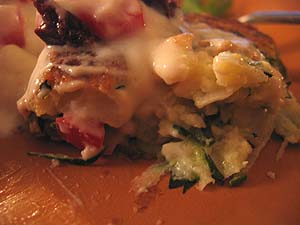 I took two leftover ones today to work for breakfast and ate them cold. Wow. Still so very good. I think I'm going to definitely make these again. Thanks (as always) to Sara for hosting!