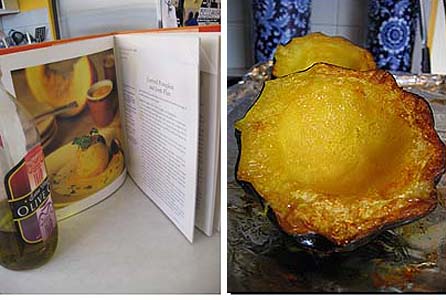 Round-up here!

The theme this month was to use a neglected gadget. I didn't have to look far for this one — my immersion blender. Ever since I got my food processor, I've hardly ever used it. I only grabbed it last week for the white bean soup because both the food processor bowl and the blender were dirty. But for this Tenth Weekend Cookbook Challenge, it was the hand held blender I turned to first.
The dish I chose was a Curried Acorn Squash and Leek Flan from the Williams-Sonoma Autumn cookbook. The original recipe calls for pumpkin but I had an acorn squash, so that is what I used.
The only other thing I changed in this recipe, was that I didn't make the sauce described in the cookbook. For that they took some of the squash and cream, held it out of the flan, and used it for a sauce, along with some chicken stock. Instead, I reduced some apple cider, spices, chicken stock and used that. More syrupy and less fat than the cream option. I thought it worked well (and I was also using the sauce for a pork tenderloin I made that night too — recipe here!)
Now, the sad news — none of my final pictures of this turned out at all (blurry, cut-off, etc), so unfortunately, not really any finished product pictures this post. Wah.
Curried Acorn Squash & Leek Flan
Note: This is a full recipe, which makes 6 flans — I made a half recipe of this, using 2 whole eggs and 1 egg yolk for the egg part)
1 small pumpkin (about 2 pounds) or an equal amount of acorn or butternut squash
2 tbsp unsalted butter
6 leeks, rinsed and sliced
3 whole eggs and 3 egg yolks
1 cup heavy cream
2 tbsp sugar
1 tsp curry powder
salt & pepper
boiling water as needed
1 tbsp flat leaf parsley, chopped
Preheat oven to 375. Lightly oil a baking sheet. Cut squash in half and remove seeds. Place cut side down and roast until done 40-50 minutes. Let cool and scoop out flesh. Use a hand held blender (or food processor) to puree the squash with about 1/2 cup of the cream.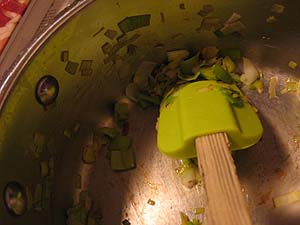 Meanwhile in a large frying pan over medium heat, saute leeks in oil until soft and golden, about 30 minutes. Remove from heat and set aside until needed.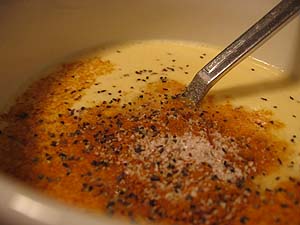 In a small bowl, whisk together 1/2 of the remaining cream, the eggs and yolks, sugar, curry powder, salt and pepper. Add all of the squash puree and the leeks. Mix well to combine.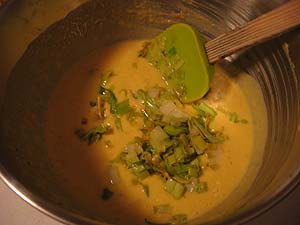 Butter six ramekins and place in a large baking pan with high sides. Divide the flan mixture between the ramekins and fill the baking dish up halfway with boiling water. Cover pan loosely with aluminum foil and bake 25-30 minutes. (Remember, custard sets at around 165 degrees — take the temp if you're not sure).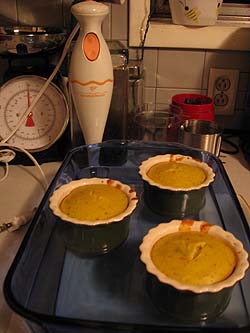 Remove flans from oven and let cool five minutes. Spoon a little of the cider sauce onto a plate and then run a knife along the inside edge of each ramekin. Turn the flan out onto the sauce, sprinkle with a little chopped parsley and serve.
Thanks as always to Sara at Weekend Cookbook Challenge and Mary from The Sour Dough, this month's guest co-host!