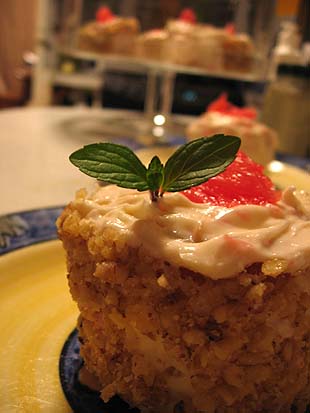 Round-up for the event is posted: here
My post for Sugar High Friday this month, hosted by Cook Sister, is something that I have wanted to make for quite some time. The recipe is from Butter Sugar Flour Eggs by Gale Gand, Rick Tramonto & Julia Moskin. I originally was thinking of making grapefruit cupcakes for the Je Mange la Ville birthday thing, but instead decided on lemon and chocolate-stout. So, grapefruit cakes got bumped.
Until today, that is. I used the regular cake recipe and used a 2-inch biscuit cutter to make mini cakes for this SHF's theme — mini bites of delight.
Mini Grapefruit Cakes with Cream Cheese Frosting
3 eggs separated, room temperature
1/4 cup vegetable oil
1/4 cup fresh grapefruit juice
3 tbsp grapefruit zest
1/2 tsp lemon zest
1 1/2 cups cake flour
3/4 cup sugar
1 1/2 tsp baking powder
1/2 tsp salt
For the frosting
1 grapefruit (2 if making a full-size cake)
12 oz cream cheese, room temperature
1 tsp lemon juice
1 tsp grapefruit juice
1 tsp grapefruit zest
3/4 cup powdered sugar
1/2 cup walnuts, crushed
mint leaves
Heat the oven to 350 degrees. Butter and flour a 9-inch cake pan (square or round).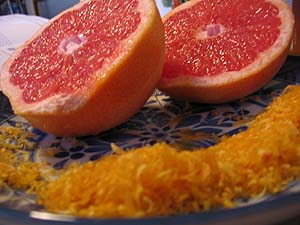 Whisk the egg yolks in a mixer with the paddle attachment (it says in the book to use a whisk attachment, but the paddle will work better for mixing in the flour, so I just used that one). With the mixer running, drizzle in the oil. Next add in the grapefruit juice, the grapefruit zest and the lemon zest.
Sift the flour, sugar, baking powder and salt. Add to the egg yolk mixture and mix. It'll be a little stiff.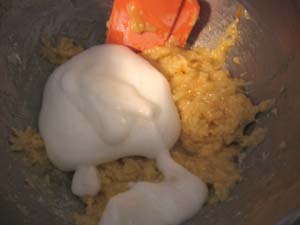 In a clean bowl, whisk the egg whites until frothy and a bit stiff. Fold half into the cake batter, being not super gentle — just too loosen it up a bit. Fold in the remaining egg whites a bit more carefully.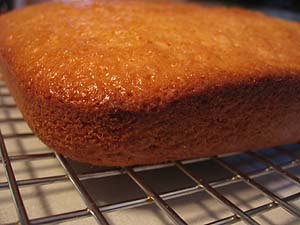 Pour the batter into you cake pan. Bake until springy in the center, about 25-30 minutes. Let cool in the pan for about 15 minutes, then run a knife along the edge and turn out onto a wire rack. Cool completely. Use a biscuit cutter to cut out smaller circles. You could also use a knife to cut into small squares. If you do use a round shape, the remnants are great snacks while you are frosting. I'm just saying…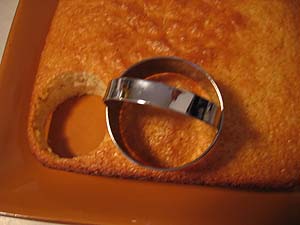 Make the frosting
Use a small knife and section the grapefruit. Let pieces sit in a paper towel. Beat the cream cheese in a mixer until fluffy. Add the sugar, juice and zests. Add 2-3 diced up grapefruit sections and beat a bit more.
The original recipe just used lemon zest and juice in the frosting (aside from the grapefruit segments), I added the grapefruit zest and juice to the cream cheese to make it more grapefruity.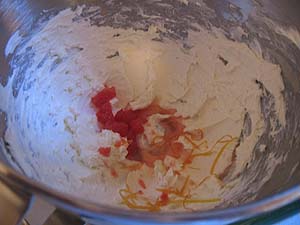 Frost the cakes. For some of them, frost only the sides first, then roll in walnuts. Frost the tops of those last, so that you can hold onto them easily while rolling in the nuts. Decorate the tops with the grapefruit sections and some mint leaves.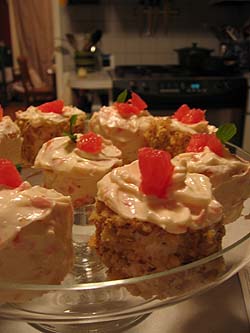 For a whole cake (instead of mini-cakes), this recipe make one cake. Cut that in half horizontally after it is cooled to make two layers. Put a layer of frosting and some grapefruit sections between the cakes. Frost the sides and top and garnish with the grapefruit sections and mint leaves.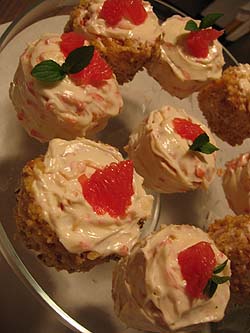 Thanks again to Cook Sister for supplying a great theme and for hosting this month's event.