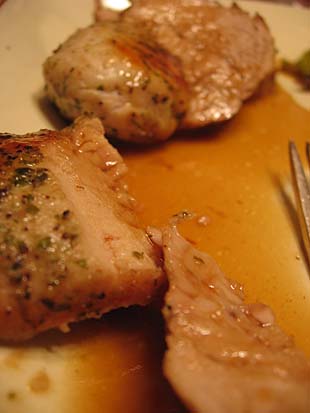 One of the reviews at Epicurious said of the sauce for this pork,"I could drink it with a straw." It's not like I can pass up a recommendation like that! And, after making it, I totally concur. Bring on the straws, I say.
The original recipe called for 5 tablespoons of butter (practically a whole stick) — imho, not at all needed. I used 1 tablespoon of butter and the sauce was very rich, flavorful and straw-able just like that — and a bit healthier.
For the pork, I used my old-standby way of preparation — slather with olive oil, salt, pepper, garlic and fresh chopped rosemary. Sear in an oven-proof pan, roast to finish cooking. I always pull it out around 145 and it's always perfectly moist, tender and juicy.
We had this with the curried acorn squash and leek flans — my WCC10 post (coming early next week) and some braised brussels sprouts. Quite a nice Fall dinner!
Roasted Pork Tenderloin with Apple Cider Jus
2 cups apple cider
1 cup low-salt chicken broth
3/4 cup chopped onion
6 whole allspice
3 large fresh thyme sprigs (or a big rosemary sprig, which is what I used)
2 cinnamon sticks
2 teaspoons apple cider vinegar
1 bay leaf
1 tbsp unsalted butter
1 12-ounce pork tenderloins, well trimmed
Olive oil
2 Rosemary sprigs
2 cloves garlic, minced
salt & pepper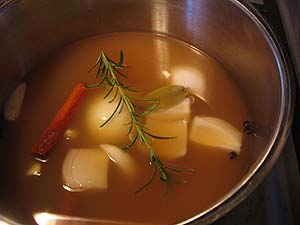 Mix first eight ingredients in medium saucepan. Boil until mixture is reduced to 1 1/2 cups, about 30-40 minutes. Strain, pressing on solids to extract liquid. Discard solids. Return liquid to saucepan and boil until reduced to 1/2 cup, about 10 minutes. Whisk in the butter and season with salt and pepper, if needed.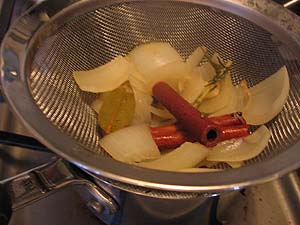 Meanwhile, preheat oven to 375 degrees. Slather pork with olive oil, salt and pepper generously and coat with the minced garlic and rosemary.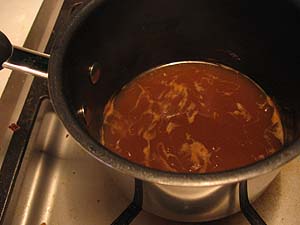 Brown on all sides in a oven-proof pan. Finish roasting in the preheated oven, 20-22 minutes or until the pork reaches 145 degrees.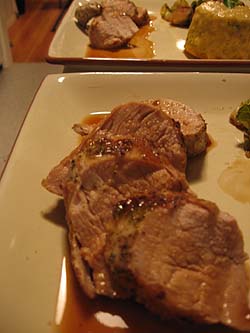 Cover with foil and let rest for 5-10 minutes. Pour any pork drippings from the rested meat into the cider sauce.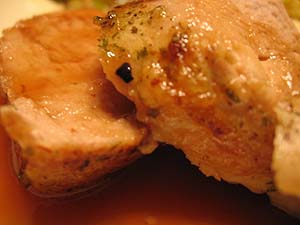 Then slice and serve with the sauce drizzled over the top. Deee-licious.