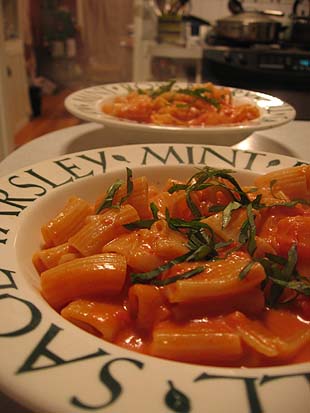 Yes, we're taking a break in the Fall Foods Fest (Pumpkin!) for a post about vodka sauce. Typically, penne is served in this dish but I had some fresh pasta from Pastaworks so there you go.
This recipe was in the most recent issue of Cook's Illustrated magazine — a subscription that I make far too little use of. One of the tips they list is to use good quality vodka. Rot-gut booze will produce sub-standard, rot-gut sauce. Okay, I can get behind that sentiment and luckily I had some Crater Lake vodka from Bendistillery in the freezer. (Hmmmm, did luck really have anything to do with that?)
I also bought heavy cream (something I try to not use very much of) specifically for this recipe and another recipe that I will be posting about later in the week for WCC10.
Was the cream purchase it worth it, you ask? Hell, yeah.
Penne alla Vodka
Mostly from the Nov/Dec 2006 Cook's Illustrated.
1 28-oz can whole tomatoes, drained, liquid reserved
2 tbsp olive oil
1 small onion, minced
1 tbsp tomato paste
3 cloves garlic, minced
1/4 – 1/2 tsp red pepper flakes
1/2 salt
1/3 cup vodka
1/2 cup heavy cream
1 lb penne or rigatoni pasta
2 tbsp finely chopped basil leaves
freshly grated Parmesan for serving
Puree half of the tomatoes in a food processor until smooth. Subsequently, you could also crush them with your fingers. Dice the remaining half of the tomatoes. Combine both in a measuring cup and add reserved liquid until you have two cups of tomato.
Measure your vodka out so that it is ready for you.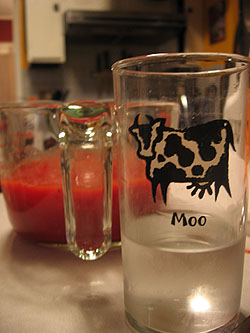 The vodka cow goes, "vooooo."
Heat the oil in a saucepan over medium heat and add the onion and tomato paste when hot. Stir occasionally, until the onions are light golden around the edges, about 3-4 minutes. Add the garlic and pepper flakes. Cook about 30 more seconds.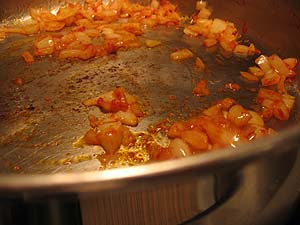 Stir in the tomatoes and about a 1/2 teaspoon of salt. Remove the pan from the heat and add the vodka. Return to medium heat and simmer briskly for about 8-10 minutes. Start your pasta water around now. When ready, add the pasta and some salt and cook until almost al dente. Drain but reserve some pasta water.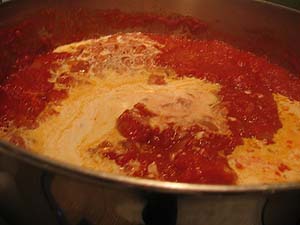 Stir in the cream to the tomato sauce and cook about a minute.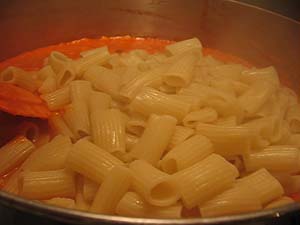 Add the drained pasta to the sauce and cook 1-2 minutes. Add reserved pasta water if sauce is too thick. Taste and adjust salt if needed.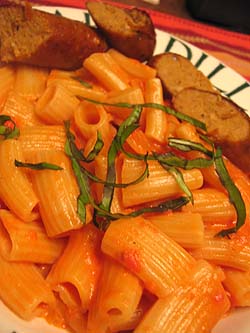 Rigatoni alla vodka with vegetarian Italian sausage,
Garnish with basil and Parmesan cheese. This should serve about four — three if someone is super-hungry.