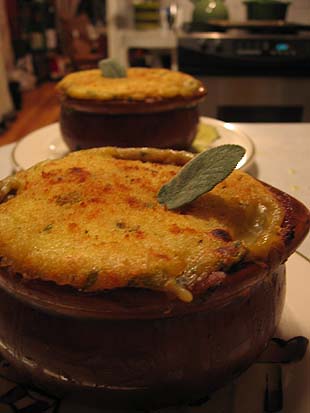 At Thanksgiving this year, we are having two non-meat-eating guests, which is not a super big thing as I myself was one of those types for many years. Because of this, I understand the holiday meal made of mashed potatoes, green beans and rolls. So, I have been trying to come up with some sort of main dish for them, along with the non-meat sides, of course.
I kept envisioning a vegetarian shepherd's pie, which after throwing all of my ingredients together, is pretty much the kind of dish that I came up with here. And the best part? It can be made and assembled the day before, stored in the refrigerator and baked in about 30 minutes — while the turkey rests, I'm thinking. Perfect!
Aside from it fitting in the schedule nicely, it was also very good. jwa and I had a practice meal last week — I even made it the day before and baked it from the fridge, so I do know that part works. In addition to being very hearty and satisfying, it's very Fall-ish and incorporates a lot of the Thanksgiving flavors into one non-meat dish.
And now I don't feel as guilty about deciding to use pancetta in the braised Brussels sprouts! Ha!
For the Vegetable Stew:
2 tbsp olive oil
1 medium leek, cleaned well and sliced
1 medium onion, diced
3 cloves garlic, minced
15-20 button mushrooms, sliced
2 carrots, peeled and chopped
1 small delicata squash, peeled and cubed
1 apple, grated
1 cup frozen spinach
1 ear of corn or 1/2 cup frozen corn
3 cups vegetable broth (+ 2 tbsp more)
3 vegetarian sausage patties
2 fresh sage leaves, chopped
1/2 tsp poultry seasoning
1 tsp corn starch
sprig of fresh rosemary and 3-4 sprigs of thyme, bundled together by a little string if you are feeling very organized or — just loose if feeling lazy
salt & pepper
For the mashed Sweet Potatoes:
2 medium sweet potatoes, peeled and cubed
1 tbsp butter
2% or fat-Free milk
Fresh sage leaves
Fresh thyme leaves
salt & pepper
2 tbsp seasoned bread crumbs
cooking spray
This starts like many stews start, by adding the olive oil to a large soup pot, over medium heat. Toss in the onions, garlic and mushrooms. Let it all cook for about 5-6 minutes, then add the stock. Stir.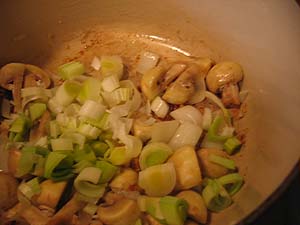 Next comes most of the vegetables. Add the carrots, squash and grated apple. Also add the poultry seasoning now along with the fresh herb sprigs. Let the stew simmer for about 10-15 minutes, until the vegetables are getting pretty tender.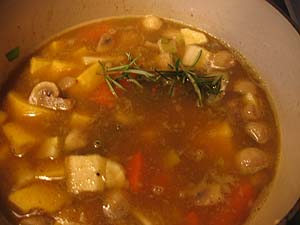 Meanwhile, in a separate pan, brown the veggie sausage. When it's done, crumble it and set aside.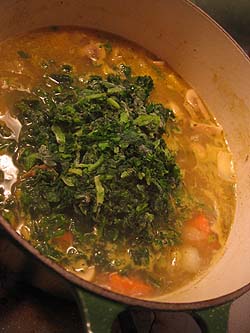 Add the spinach and corn kernels next. Also, mix in the veggie sausage. Combine the cornstarch with the extra broth and stir that in as well. It should thicken a bit. Add salt and pepper to taste and also the chopped sage leaves now.
Adjust the other seasonings and fish out your herb sprigs. Next, ladle the stew into small oven proof bowls (this will make at least four servings with some likely leftovers) and set aside.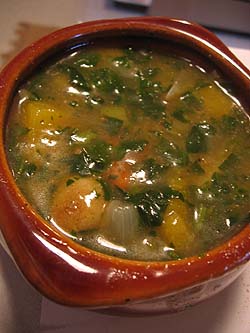 You can also do this while the stew simmers…
Add the sweet potatoes to a pot of water and let simmer/low boil until the potatoes are done — about 12 or so minutes. Test with a fork to be sure. Drain and either use a potato ricer to mash or a potato masher.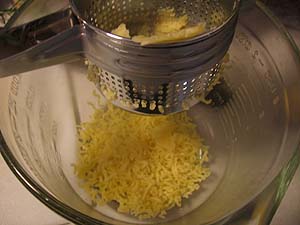 Myself, I couldn't love my potato ricer more. It is my best friend at Thanksgiving. Well, the ricer and my oven, actually. They are my best friends. Oh, and the wine. The wine is a very good friend at Thanksgiving.
Anyway, add the butter, milk, salt and pepper to the potatoes. You want the potatoes creamy but not soupy. Add enough milk to do that. Add fresh thyme and sage. Fresh chopped chives would also be nice if you have some.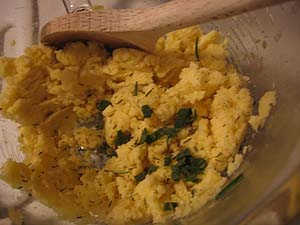 Let the potatoes cool a little and then spread some on top of each stew bowl. Try and get it even, this is best achieved by dropping little spoonfuls of potatoes over the whole top and then spreading it out. Cover each with a little bread crumbs. You can either bake it now at 375 for about 20-25 minutes or you can let it cool completely, cover with plastic wrap and refrigerate.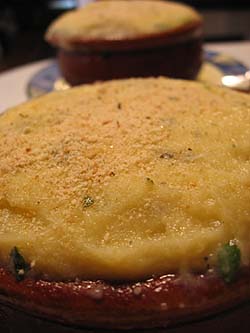 Before you do bake the stews, hit the to of each with a a little cooking spray. This will encourage browning. From the fridge give them about 35 minutes in the oven.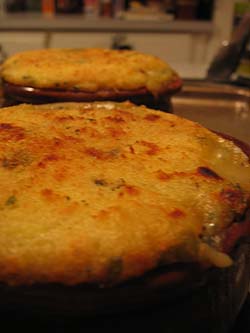 When done, top each with a sage leaf and serve.