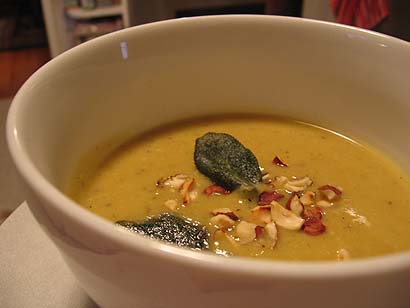 This is one of the best kinds of recipes — one of the recipes where you just throw everything together that you think will be pretty good and it is. The kind that works pretty much like you hoped it would. One of the things that I love about Fall soups is that you can just simmer vegetables with broth, blend them up and the result pretty much always works out.
This soup also has many of my favorite Fall ingredients — squash, sage, hazelnuts and pears. In fact, that's pretty much how I came up with it — everything I like about the season in a blender. In this version I used vegetable stock and water, as I was testing it out as a soup for vegetarians, but feel free to use chicken broth. Or even a combination of chicken broth with a little apple juice. Really, you could probably experiment with the liquid component a bit and still end up with something pretty satisfying and good.
Delicata Squash & Sweet Potato Soup with Hazelnuts & Sage
This will make about 4 servings — double it for more.
1 medium Delicata squash, peeled and diced* (a butternut or acorn squash will work too)
1 medium sweet potato, peeled and diced
1 small onion, diced
3 cloves garlic
1 pear, peeled and diced
1/4 cup hazelnuts, toasted and as much skin as you can get off, removed
4 – 5 leaves fresh sage, rubbed between your fingers a bit
1 tbsp Calvados (or other brandy — or no brandy)
2 tbsp + 1 tbsp olive oil
1/4 tsp dried thyme
1 cup vegetable broth + 2 cups water, which is what I used (or you could use 2 cups chicken stock + 1 cup water or even maybe some apple juice would be good — this can probably be played with a bit)
Juice of 1 orange
Optional: 1 tbsp butter and 4 more sage leaves and a handful more hazelnuts
Preheat the oven to 400 degrees.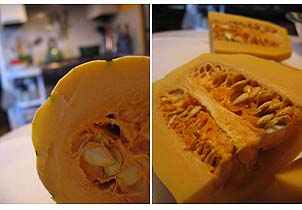 Add 2 tablespoons olive oil to a soup pot and the garlic (you don't need to mince the cloves, I just smashed with a knife and threw them in like that), the pear and the onion. Cook over medium heat until soft and a bit golden, about 10 minutes.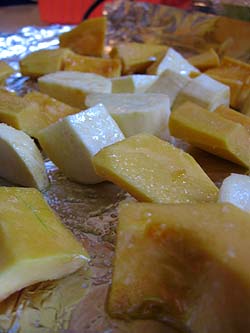 Meanwhile toss the squash and sweet potato pieces with the remaining olive oil and roast until they color — about 25 minutes. They don't need to be cooked all the way through, as your going to add them to the soup and finish cooking them in the liquid. After you remove the veggies, turn down the heat to 350 and give it a few minutes to adjust. Then, toast the hazelnuts at that temperature for about 5-7 minutes. Rub in a towel to remove most of the skins and set aside.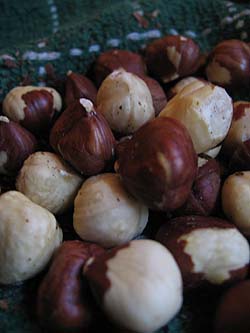 Add the brandy to the soup pot and stir a bit until it's evaporated. Add the broth, dried thyme and water. Add the roasted potato and squash chunks and simmer about 15-20 minutes.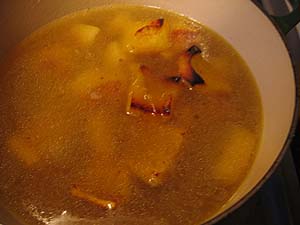 Next, blend the soup in batches, adding the toasted hazelnuts and the sage in one of the batches. Return to the pot and squeeze the juice of one orange into the soup. Stir to combine it all.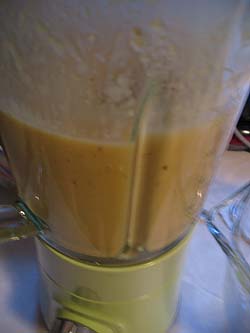 Add about a teaspoon of salt and a half teaspoon of pepper and taste. Adjust that as needed — you might want a bit more, but start there.
Optional portion: Toast a few extra hazelnuts and then crush them and use a few on top of the soup as a garnish. Also, melt the butter in a small pan and fry the sage leaves for about a minute per side until a little crispy. Let drain on a paper towel and serve on top of the soup.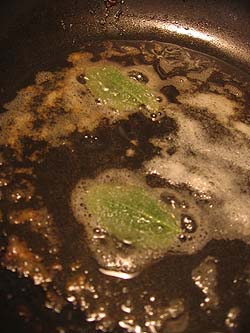 If you are in a crazy-decadent mood, you may look at the browned sage butter and then at your pot of soup. Back to the butter, then to the soup. "Hmmmmm," you will think. You will shrug and pour the sage butter into the soup (holding back any solids) and stir it all together. Or, you could just fry your sage leaves first in the soup pot, remove those, add a little olive oil with the sage butter and start your soup from there.
I liked this quite a bit. jwa proclaimed this batch a little too "peppery" but I think we will have something like it on Thanksgiving! Perhaps with a little less pepper.
You could also stir a little half and half or heavy cream into the soup before serving. But you didn't hear that from me.
* I think delicata are not too hard to peel and dice, but if you use a butternut or an acorn, I would just cut it in half, roast it with the olive oil cut side down and scoop out the flesh. Give it about 40 minutes and take the cubed potatoes out after about 20. Let those simmer in the soup while you finish cooking the squash. The add the squash and continue on.