This is the meal we had during a break from the armoir assembly. It may sound like a lot of steps but it comes together very quickly. And it was really good — I loved the soy dressing. The original didn't call for wasabi but I had some wasabi oil from Trader Joe's and decided to add some of that — so good. If you don't have a TJ's by you (or you don't want to get any wasabi oil) just add a little wasabi to the blender with the other ingredients — but just a little.
The mango adds both a nice texture and a sweet compliment to the spicy and the salty. And what can I say about the udon noodles besides — I love noodles! Soba noodles will work too, though.
Oh and I have a question for all you expert salmon poachers out there. Sometimes I get those white clumps coming from my salmon as I poach it — is there a good way to avoid that happening? I poach salmon very rarely but this seems to happen to me maybe half the times that I do poach salmon. Any tricks to avoid this? Thanks! There's a great explanation/tip from Jacque in the comments.
If you are more a fan of grilling than you are of poaching (as I usually am) you could also try grilling the salmon with salt, pepper, oil and a bit of sake brushed onto the fish while cooking. I bet that would be pretty good too!
Sake-Poached Salmon with Mango & Soy Dressing Over Udon Noodles
Based on a recipe by Ming Tsai
For the salmon:
1 cup sake
1 celery, sliced
1 peeled carrot, sliced
1 small onion, sliced
1 tbsp sugar
1 tbsp chopped parsley
2 bay leaves
8 black peppercorns
2 tbsp soy sauce
Water
1 lb salmon fillets, skin removed
Salt and pepper
For the dressing:
1/2 cup ponzu
1 large shallot, quartered
1 clove garlic
2 tbsp Japanese soy sauce
1/2 tbsp sugar
1/4 cup wasabi olive oil + 1/2 cup olive oil or 3/4 cup olive oil and 1/4 tsp wasabi paste
The rest:
2 bunches udon noodles
1 mango, peeled and sliced
2 sliced scallions
sesame seeds for garnish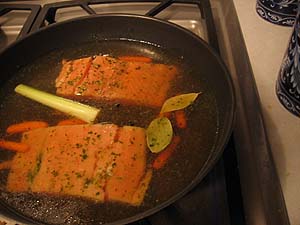 In a large sauce pot, mix the sake, celery, carrot, onion, sugar, bay leaves, parsley, peppercorns and soy sauce. Add the seasoned salmon and add water to cover. Slowly bring the liquid to a simmer. Simmer for 3 minutes then turn off the heat. Let stand for 5 to 10 minutes depending on doneness desired.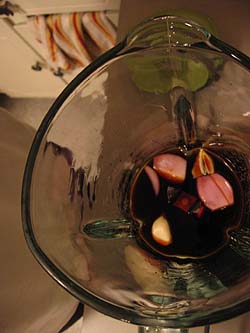 In a blender, add ponzu, shallot, soy, and sugar. If using wasabi paste add that too. Blend on high speed and drizzle in the oil. Season with salt and pepper.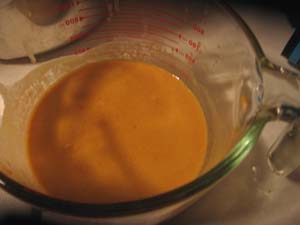 In a large bowl, mix together the cooked udon noodles and enough enough vinaigrette to coat. There will be some left over for plating. Check for seasoning.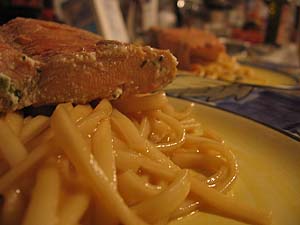 Plating: On a large plate, place a mound of the noodles and top with hot salmon and top with a few mango slices. Garnish with the diced scallions and sesame seeds. Drizzle on a little of the vinaigrette over the top and serve.