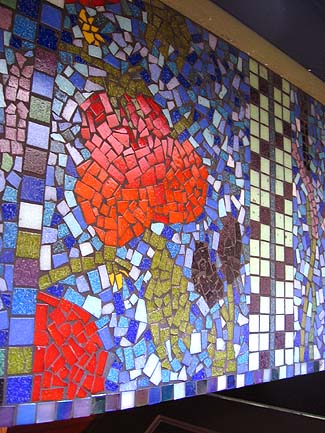 So, my SHF dish is done but my extra-credit materials are not. So, SHF post this weekend. Today, we bask in the glory that is my finished (!) mosaic project — see, the last post was almost a year ago.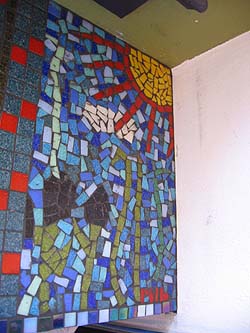 We live in a bungalow. When you go up the stairs, there is a counter with built-in bookshelves, a bathroom and three bedrooms. When we first moved in, I knew I wanted to do something fun with this large 12 foot by 1 1/2 foot counter top space. I just didn't know what exactly. I just wanted to add something to the house that would be here after we left. Sort of like adding a piece of mine and jwa's history to our house.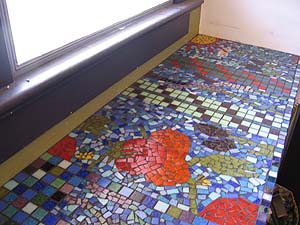 Then it came to me. A mosaic. There's shattering glass involved, toxic fumes, grout, it's some-what permanent and it involves hours and hours (and hours) of tedious work! It's perfect. It started well. I think I finished laying out half the glass tile designs in the first three months. But then…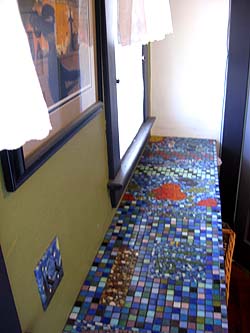 I had longer and longer breaks between work sessions. Then, two years passed. Well, finally last week I laid the last piece of cut glass down and then I grouted the whole damn thing. (Very messy!)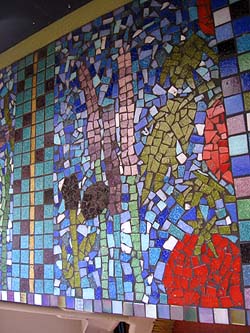 But it's done. And I feel a huuuuuge sense of accomplishment. Yay!