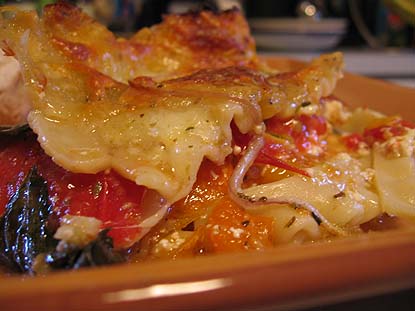 This was very simple and very good. I wanted to make a lasagna (we were having milder weather in the mid/high 70's) and I had a bunch of heirloom tomatoes that I got at New Seasons and a pint of cute little yellow pear tomatoes. I had just recently made a tomato salad and wanted to do something a little different. What to do? What to do?
Oh yeah. Combine them with cheese and pasta. Okay. This lasagna is extra Summery because it's really only in the oven for about 25-30 minutes. Plus, you could make this with plain Romas or Hot House tomatoes or whatever you may have this Fall.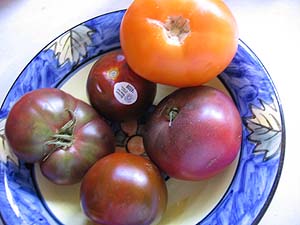 Summer Lasagna with Heirloom Tomatoes
4-5 Heirloom Tomatoes (any varieties)
1/2 pint yellow pear tomatoes, halved
2 tbsp extra virgin olive oil
2 cups ricotta cheese
pinch of red pepper flakes
3 cloves garlic, minced
1/4 cup feta, crumbled
1/4 cup kalamata olives, pitted and chopped
1 red onion
1/2 tsp dried oregano
1 handful fresh basil, chopped
1 1/2 cup shredded mozzarella
salt and pepper
1 box of lasagna noodles, cooked (use as many as you will need for your baking dish, figure on needing 4 layers of noodles — if you use a large lasagna pan, use more cheese and tomatoes)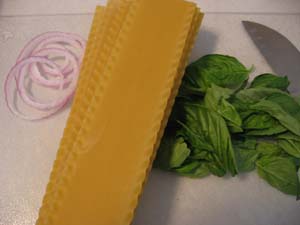 Preheat the oven to 375 degrees. Then, start by making a quick sauce. Heat the olive oil in a pan and saute about 3/4 of the onion — dice it first. Add the yellow pear tomato halves, 2 cloves of garlic, the oregano, and the kalamata olives. Cook for about 5-7 minutes, until it comes together a little bit. Salt & pepper to taste. Remove from heat.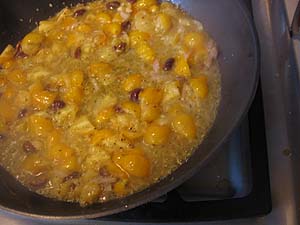 Mix 1 clove of minced garlic, a pinch or red pepper flakes and the feta to the ricotta. Set that aside. Then, slice your heirloom tomatoes into thin slices.
Assembly
Okay, start by drizzling a little of your olive oil on the bottom of your baking dish. Add a layer of ricotta (about 1/2) and a layer of tomato slices. Spoon a little sauce over it and then cover with more noodles. Your going to need four layers of sauce so use just a little for the first three, so that you have a good amount to use for the top. You may also want to give each layer a very light sprinkling of salt and pepper. Err on the side of not enough.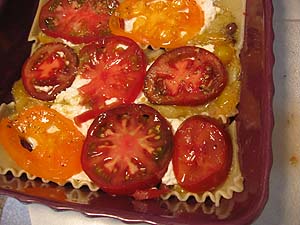 Next is a sauce layer with a sprinkling of mozzarella and some tomato slices. Cover in noodles. Next, repeat the ricotta/tomato layer. Use all of your slices tomatoes in this layer. Cover with the fourth layer of noodles, the sauce, the mozzarella and some red onion slices.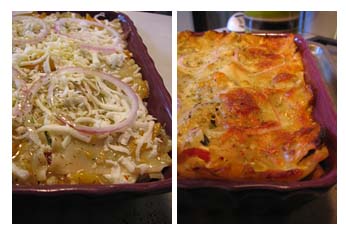 Bake the lasagna for about 25-30 minutes, just until the cheese melts and it starts to get a little bubbly. Let rest for a couple of minutes before cutting into slices. Serve with a green salad and the chopped, fresh basil on top. Originally, I put the fresh basil leaves in the lasagna (between the middle layer) but I think it will work a lot better on the top, after it comes out of the oven.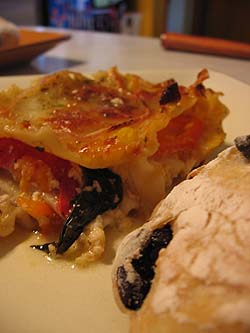 I think Friday will be Sugar High Friday. We'll see….