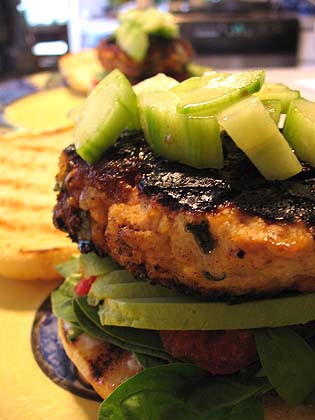 I know! Blasphemy! Burgers without cheese is crazy talk. But these burgers don't even need any cheese. Really. Besides, what kind of cheese would work here? The only kind I could think of was cream cheese. But again, no need. These burgers are great just like this.
I played with the herbs here — the original called for 1/4 cup mint, 1/4 cup basil and 1/4 cup cilantro. I used about 1 tbsp mint, 1/4 cup basil and 1/3 cup cilantro. I also add a few splashes of Worcestershire sauce. The original recipe is from Gourmet Magazine.
The burgers are garnished with a Asian cucumber slaw, just like the one I usually serve with Seared Tuna.
For pickled cucumbers
1/2 an English cucumber, peeled and diced
1/2 tsp salt
1 tbsp rice wine vinegar
1 tsp sugar
1 tsp pickled ginger (optional) — if you have a container of sushi lying about, use the ginger in there
A pinch of crushed red pepper flakes
Mix everything together. Taste and add more of any of the above if needed. Set aside (in the fridge) until ready to eat.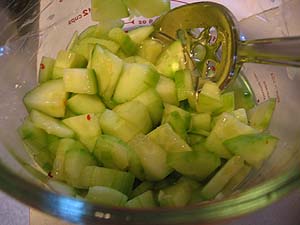 For burgers
1 large garlic clove, minced
2 slices firm white sandwich bread or two baguette slices or plain breadcrumbs
1 pound lean ground turkey
1/3 cup chopped fresh cilantro sprigs
1/4 cup chopped fresh basil leaves
1 tbsp chopped fresh mint leaves
1/2 tsp Worcestershire sauce
2 tbsp fresh lime juice
2 tsp sugar
1/4 tsp Tabasco
For Grilling
salt & pepper
olive oil
1 tbsp chili garlic sauce
1 tsp honey
1 tsp vegetable oil
1 avocado, pitted and sliced
4 light hamburger buns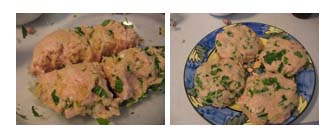 Prepare your grill or heat up your grill pan. Use a food processor to make the breadcrumbs — or just use store bought bread crumbs.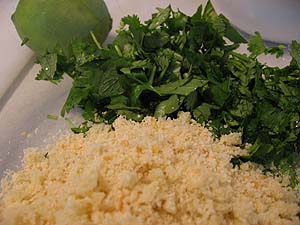 Use your hands to mix the garlic with bread crumbs and remaining burger ingredients until just combined (do not over mix) and form into four 1-inch-thick patties. edited to add Ah! I forgot to mention the Rachael Ray trick here — divide the meat in your bowl by scoring it into 4 sections. That way each burger is roughly the same size.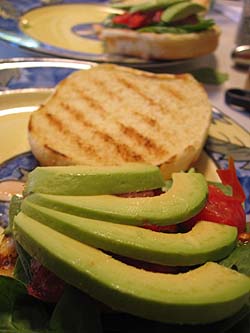 If you want to grill the buns, do it now. Spread a little may on the bottom buns and top with lettuce, tomato and some avocado slices. Set aside.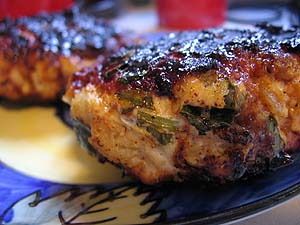 Mix chili garlic sauce, vegetable oil and honey. Brush lightly on the burgers. You can also use a bottled glaze or just olive oil. It's pretty flexible and up to you, I was just playing around with the above ingredients and thought they worked pretty well. Season them also with salt and pepper and grill on a lightly oiled rack set 5 to 6 inches over glowing coals about 5 minutes on each side, or until just cooked through. If using a grill pan, liberally brush the pan with olive oil and grill each side for about 5-6 minutes or until done.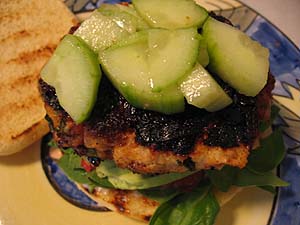 Transfer burgers to buns and top with drained cucumbers. Put the lid on.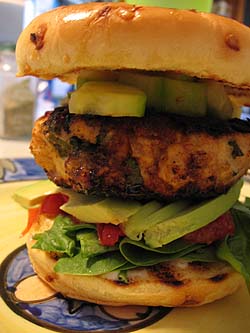 Don't worry, it flattens down a bit!