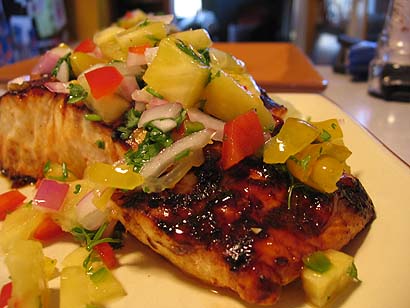 This was a meal that exceeded my expectations. I'm not sure why, because I typically love halibut but the salsa was surprisingly good as well. Very fresh and tropical tasting. I ended up using a whole pineapple, as I knew we'd eat the rest during the week but I think canned pineapple would work too. So, go ahead and use that if you have some.
For the glaze, I used my trusty bottle of Ginger People Chili-Ginger Sauce. Because I have some and because I like it a lot. You could certainly make your own chile-ginger glaze, I'm sure, so do that if you are so inclined. You could also use a different brand of bottled sauce or just use some olive oil, salt, pepper, garlic and a few red pepper flakes on the fish and grill it just like that! I'd even try rubbing it with a little fresh ginger before drizzling it with the oil. Really, the most important aspects of this meal are the halibut and the salsa.
Chili-Ginger Grilled Halibut with Fresh Pineapple Salsa
2 6-8 oz halibut fillets
1/3 cup chili-ginger sauce (or any of the above alternatives)
1 cup diced pineapple (if canned, drain well)
1 jalapeno pepper, diced finely
1/2 cup yellow pear tomatoes, halved (you could also use cherry tomatoes)
1/2 red onion, diced
1-2 garlic cloves, minced
juice of 1 lime
juice of 1/2 an orange
1 red bell pepper, diced finely
salt & pepper
Start with making the salsa. Combine the pineapple, tomatoes, jalapeno, onion, garlic, bell pepper and juices in a bowl. Taste and add salt and pepper as needed. Set aside.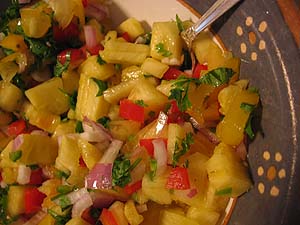 You can either grill the fish outside or use a grill pan. I used a grill pan, as that is my way. We also only have a little, short outdoor grill that you have to crouch down to cook anything on it.
But I am digressing. Prepare the fish by giving it a little salt and pepper and then slather it with a little chili-ginger sauce or whatever you are using. Mine had skin on one side, so I placed it on the pan skin side up and let the top get some nice grill marks, over medium-high heat for about 3-4 minutes.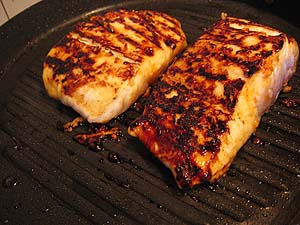 Then I flipped it over, turned the heat down to medium and let it cook for about 10-12 minutes. I had a lid on my pan for a few of those minutes. I let it cook until it was just barely opaque. I would err on the side of pulling it out of the pan a minute or so before you think it's done, as carry-over heat will finish it off.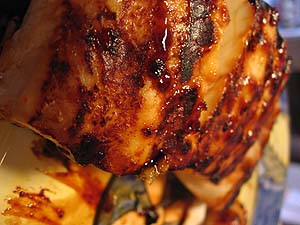 Remove from the pan and let it sit for a couple of minutes, tented with foil. Use this time to open a bottle of wine or dress a nice spinach salad.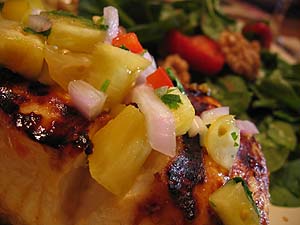 Serve the fish topped with the salsa.
***
Eeek! I start a new job tomorrow. I've worked there before, so it shouldn't be that weird of a first day but it's still a big change from what I have been doing. It's also sort of a "settling" job — I now know that I will probably never work at a museum or in the Arts or Cultural fields.
On the other hand, it's double the salary of my last job so I think I'm okay with everything. It's also at a government agency (not NPS…booo!) and I'm pretty sure it'll be interesting and maybe even a little fun. Sure, I'm cataloging engineering documents and reports rather than Megiddo Pottery but we'll get the new kitchen floor and my savings account will grow.