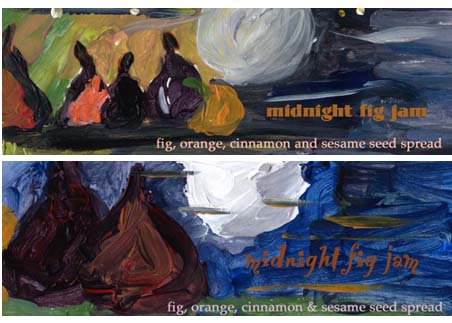 Midnight Fig
Here, finally is my Sugar High Friday#22 entry — only two days late. Not too bad. This month, the theme was — Can you can? Well, no, probably not. But, I can throw a bunch of ingredients into a pot, bring to a boil and store them in my refrigerator for a month. Does that count? I hope so!*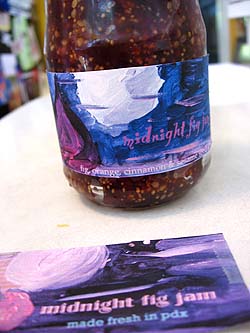 This recipe is based on one from Gourmet magazine. I found it at epicurious.com. One of the things I really like about that site is that the comments have all kinds of helpful hints and ideas. There it was suggested to use orange instead of lemon and to add some cinnamon to the mix. These were excellent suggestions!
My title image are the labels that I made for this SHF. That was the issue that made my entry late. I did the jam last week but procrastinated on painting, scanning and texting the labels until Saturday night — I was working on this until about midnight. And there you go.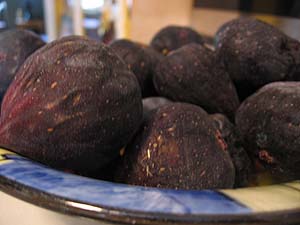 Midnight Fig: Fig-Orange Jam with Cinnamon & Sesame Seeds
3/4 cups sugar
1/2 cup freshly squeezed orange juice (about 1 orange — zest it first though)
1/4 cup water
1 lb firm-ripe fresh figs, trimmed and quartered (about 2 pint-sized containers)
1/2 tsp cinnamon
zest of 1 orange
2 tbsp sesame seeds, toasted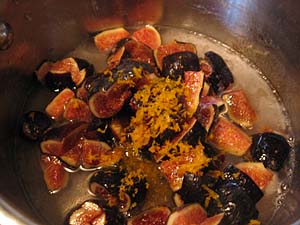 Simmer the sugar and orange juice, plus the water in a large heavy saucepan, stirring, until sugar is dissolved. Next, gently stir in figs, cinnamon and zest, and simmer, uncovered, stirring occasionally, until thick and syrupy, 1 to 1 1/2 hours.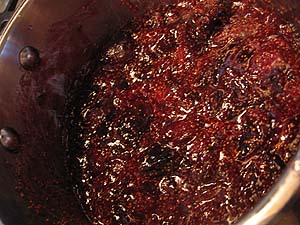 I think mine took about an hour and 15 minutes. When it's done, stir in sesame seeds.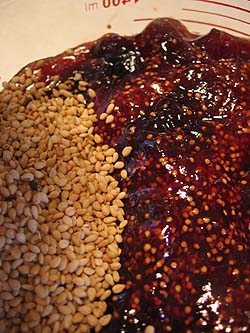 The original directions stated that this would keep about a month in the refrigerator. This is also excellent on crackers or slices of baguette, along with some creamy goat cheese.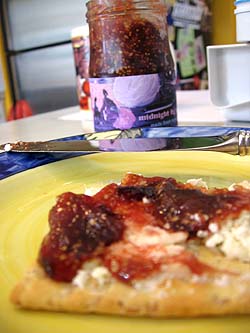 Also, I've discovered that if you slather about two tablespoons of the jam on a pork tenderloin, along with some salt, pepper and fresh thyme leaves and then pan sear it in some olive oil, it is very good.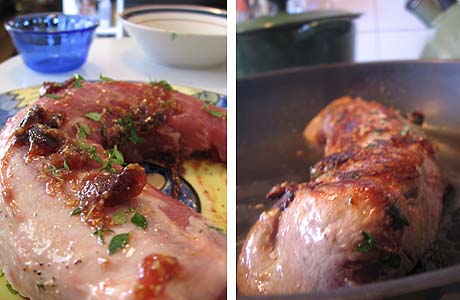 Finish it in a 350 degree oven for about 30 minutes or until the temperature is about 140-145. Mmmm!
Check out all the SHF entries here. Thanks to Delicious Days for hosting the event!
* Standard Disclaimer: I'd like to state that this is in no way "real" canning or preserving. I didn't sterlize anything and this went right in the refrigerator like any leftover or homemade sauce.